Book of Lists Profile: Shipping Companies CMA CGM, American President Lines Make Quite a Team
Monday, December 28, 2020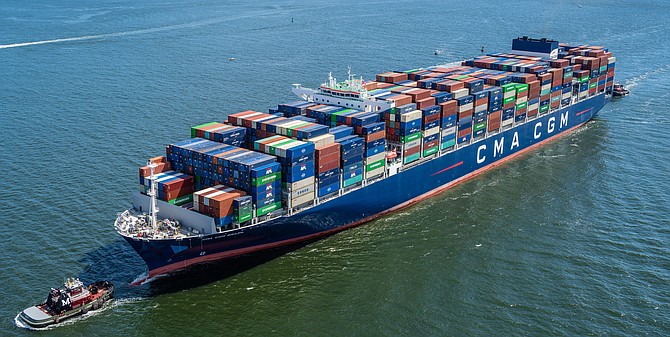 CMA CGM Group and American President Lines occupy adjacent spots on the Business Journal's list of shipping companies that serve the San Pedro Bay port complex.

That seems appropriate, given the companies' close ties.

Marseille, France-based CMA CGM acquired Singapore-based APL in 2016 but continued using APL's name, which is a well-known brand in the shipping industry. 

"The addition of APL strengthened CMA CGM's global operations and allowed us to give our customers even more focused and streamlined customer service," said Edward Aldridge, who oversees CMA CGM's and APL's U.S. operations. 

"It has also provided us with additional scale in key markets like the U.S., Intra-Asia and Japan that enhances competitiveness and delivers sustainable performance," he added.

CMA CGM ranks No. 7 on the Business Journal's list based on container volume at the ports of Los Angeles and Long Beach. The company has grown from one ship and four employees in 1978 to 538 vessels and 110,000 employees operating in 160 countries in 2020. 

Its cargo volume at local ports added up to 787,263 containers in 2019. Worldwide last year, CMA CGM shipped 22 million twenty-foot equivalent units of cargo.

APL, which sits at No. 6 on the Business Journal's list, has about 150 vessels and operates in more than 140 ports, including Singapore where CMA CGM has set up a major regional office. 

APL's local footprint included the 292-acre Pier 300 until 2017, when Sweden-based EQT Infrastructure acquired a 90% stake in the business from CMA CGM Group for $875 million. APL's local container count was 830,550 in 2019, a 6.7% dip compared to 2018 volumes.

In July, the group announced it would simplify its network serving the trans-Pacific trade with CMA CGM handling all U.S. commercial cargo and APL focusing exclusively on supporting the logistics needs of the U.S. government and military, as well as servicing cargo headed to Guam.

"This change keeps our global network more efficient and diversified — and will help us serve more customers in Los Angeles and Long Beach," Aldridge said. "It also strengthens the group's service offering and enhances our No. 1 position in the U.S. while enabling us to build upon APL's rich heritage of U.S. flagship operations and service to the United States government."

He added that APL's nine U.S.-flagged ships and related rail and intermodal infrastructure will continue to participate in the Maritime Security Program and Voluntary Intermodal Sealift Agreement program, both of which assist the Defense Department with deployment of military forces during a national emergency or wartime operations.

A historic line
APL has a long and storied history, starting as Pacific Mail Steamship Co., with its first ship sailing from New York to San Francisco in 1848. About 20 years later, it launched a trans-Pacific passenger service to Yokohama, Japan, and Hong Kong. In 1875, it added routes to Australia and New Zealand. 

The company traded hands several times in the early 1900s, including a 1924 acquisition by Dollar Steamship Lines. The U.S. Maritime Commission took over the business and changed its name to American President Lines Ltd. in 1938 when its owner filed for bankruptcy. 

Ralph Davies, a former executive at Standard Oil of California, and a group of investors bought the company in 1952 for $19.3 million. 

During the decades that followed, APL was among the first companies to deploy container ships (the President Tyler and the President Lincoln in 1961) and the first shipping line to set up a rail service (the Liner Train in 1979) to transport containers from port cities to other parts of the country.

Singapore-based Neptune Orient Lines Ltd. acquired the company in 1997 for $825 million. Both were absorbed by CMA CGM in 2016 in an all-cash deal for $2.4 billion.
The history of CMA CGM dates to 1978 when Lebanon-native Jacques Saadé 
launched Compagnie Maritime d'Affrètement with one shipping line running between Beirut, Lebanon; Latakia, Syria; the French port city of Marseille; and Livorno, Italy. 

The company expanded quickly. In 1983, Saadé's ships crossed the Suez Canal, and in 1992 he opened CMA's first office in Shanghai. Strategic acquisitions by the company would include Compagnie Générale Maritime in 1996, Australian National Line in 1998, Mac Andrews in 2002 and Delmas in 2005.  

Three more deals closed in 2007, with CMA adding CNC in Taiwan, Comanav in Morocco and U.S. Lines in America. More recent acquisitions include Oldenburg-Portugiesische Dampfschiffs-Rhederei & Co. in 2014 and CEVA Logistics in 2019. 

The group generates more than $30 billion in annual revenue. Its third-quarter business showed "a marked recovery in demand for transportation of goods, following the scaling back triggered by the Covid-19 pandemic during the first half of the year," according to the company. 

Revenue for the quarter was up 6% to $8.1 billion compared to the year-ago period while its net income jumped more than 500% to $567 million.

"The third-quarter business activities saw a marked recovery in demand for transportation of goods, following the scaling back that was triggered by the Covid-19 pandemic during the first half of the year," Aldridge said. 

"In response to this recovery, the CMA CGM Group stepped up the redeployment of operated capacities during the third quarter, once again demonstrating the agility of its business model and the commitment of its employees," he added.
For reprint and licensing requests for this article, CLICK HERE.