Canoo Debuts Electric Vehicle With Plenty of Cargo Space
Monday, December 21, 2020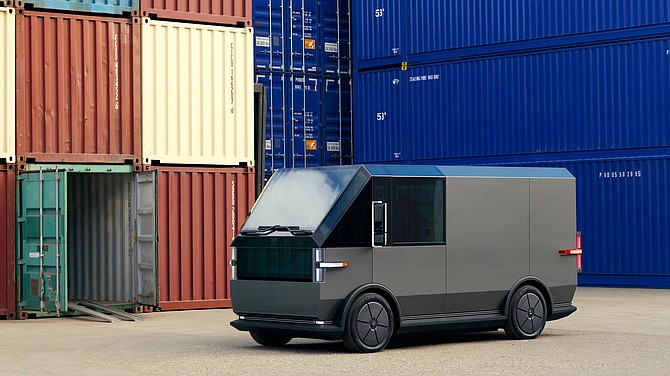 Gearing up for an initial public offering expected to occur before the end of the year, electric vehicle-maker Canoo Inc. debuted a new delivery vehicle Dec. 17 that the company aims to bring to market in 2022.

The multipurpose vehicle is equipped with an abundance of cargo space that can be loaded with parcels or equipment.

The Torrance-based company says the vehicle is designed to meet the needs of large delivery and logistics companies as well as small businesses and independent contractors.

"The vehicle is affordable and offers greater cargo capacity than the current electric delivery offerings in its class," Executive Chairman Tony Aquila said in a statement. "We aim to lower the total cost of ownership and increase return on investment for everyone from local small-business owners to large fleets."

Canoo says the vehicle's base model will be priced around $33,000 and could be available in limited supply in the next two years. The company plans to begin mass production of the vehicle in 2023.

The vehicle-maker launched in 2017 as Evelozcity Inc. but rebranded as Canoo last year. In August, the company announced plans to go public via a reverse merger with Hennessy Capital Acquisition Corp. IV.

The latter entity is a special purpose acquisition company, or SPAC, founded for the sole purpose of bringing a private company public, thereby sidestepping the difficult process behind a traditional IPO.

SPAC-driven IPOs have become increasingly common recently, particularly in the EV sector, with companies using public offerings to raise funds necessary to bring vehicles to market.

Canoo said in August that the reverse merger with Hennessy would provide $600 million in capital. The deal gives Canoo a pro forma market valuation of $2.4 billion.
A shareholder vote on the merger is scheduled for Dec. 21, and the company could make its market debut the following day. Canoo is slated to trade on the Nasdaq with the ticker symbol GOEV.

Canoo is also developing a passenger vehicle which, unlike the delivery vehicle, will be sold under a subscription model. Both vehicles are set for a 2022 debut.
For reprint and licensing requests for this article, CLICK HERE.