Kilroy Shows Off New Netflix Campus in Hollywood
Monday, December 14, 2020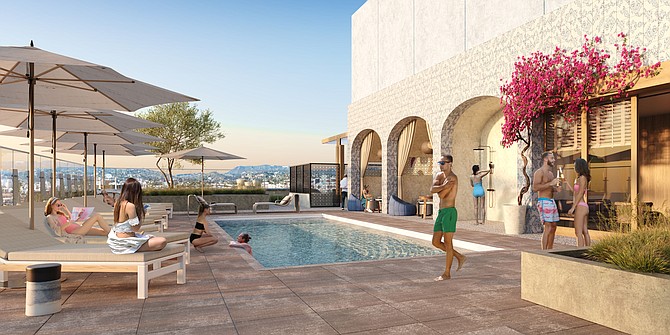 Kilroy Realty Corp. recently completed construction at On Vine, a Hollywood office complex leased to Netflix Inc., and showed off the property in a virtual event.

The campus is part of a larger development that includes a multifamily component.

Sawtelle-based Kilroy on Dec. 1 hosted a remote event to showcase the 3.5-acre site. The office component is 100% leased to the Los Gatos-based streaming giant.

"Netflix On Vine offers something that we don't have at any other property," Genoveva Carmona, Netflix's senior manager of global workplace design, said in a statement. "It will have more of a campus feel — the indoor-outdoor quality where anyone can sit and work, have a meeting, event or a party. In that sense, it's very versatile."

The campus includes a 260-seat theater that will be used by Netflix for marketing and events.

The site also features extensive use of art, including a five-story art installation called Spectrum that's made up of 39,000 powder-coated, laser-cut, stainless-steel sequins.
Kilroy highlighted the installation during the unveiling and said in a press release that art is something that's important "during a time of isolation."

The Netflix campus is still undergoing some tenant improvements that are expected to be completed in the first half of next year.

"Every single floor will have a different look and feel," Carmona said. "And when you think about the balance of that piece of artwork that is sitting outside, the public art will complement the interiors from any vantage point."

"We feel it is such a special and unique story to have that piece within our environment," she added.

The 600,000-square-foot mixed-use On Vine project is not only home to the office campus but also to Jardine, a luxury residential tower.

The tower is wrapping construction, and preleasing on the property is expected to start in early 2021.

Jardine was designed by Shimoda Design Group's Joey Shimoda.

"The public art was instrumental in the masterplan of the property from the very beginning, and in this case, the architecture and the art become one," Shimoda said in a statement. "Given the sheer size of On Vine, we wanted to make sure that we were creating a space that pulled energy right into the heart of the project, rather than simply construct buildings that would block off the street," he added.

On Vine is one of several spaces in the area that house Netflix, which has leased more than 1 million square feet around Hollywood, including 700,000 square feet in Hudson Pacific Properties' Epic tower and Sunset Bronson Studios.

Earlier this year, Blackstone Group Inc. acquired a 49% interest in Hudson Pacific's Hollywood portfolio, which included the properties leased to Netflix. The deal valued the portfolio at nearly $1.7 billion.

Hudson Pacific expects to further develop its Hollywood portfolio, but plans have not been announced for Netflix to take additional space.

In May, Netflix acquired the iconic Egyptian Theatre on Hollywood Boulevard from nonprofit American Cinematheque.

The company has also signed a lease for 171,000 square feet at the Burbank Empire Center at 2300 W. Empire Ave. — the largest new office lease this year in L.A. at the time it was signed, according to CoStar Group Inc.


For reprint and licensing requests for this article, CLICK HERE.