Beautycounter Blends Store, Livestream Studio at New Location
Monday, December 14, 2020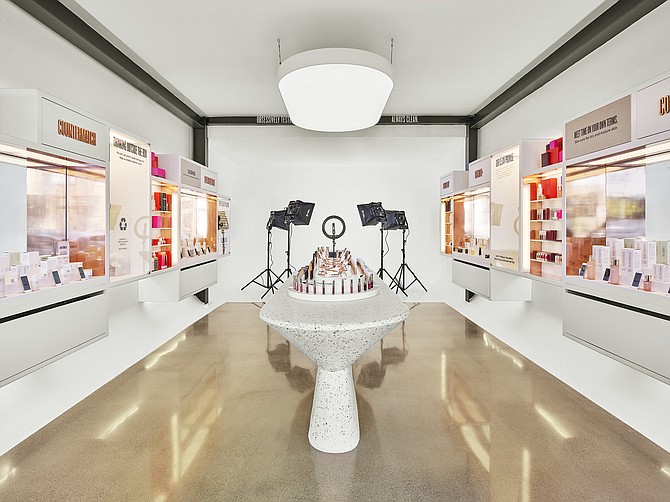 Santa Monica skin care and cosmetics company Counter Brands — doing business as Beautycounter — has a new hybrid store on Abbot Kinney Boulevard in Venice.

The location offers an array of on-the-shelf clean cosmetics products and doubles as a livestream studio creating what the company calls "shoppable makeup tutorials, skin-care tips (and) cleaner lifestyle hacks."

Meaghan Curcio, Counter Brand's vice president of public relations, hosted the first livestream from the 684-square-foot location, touring the new digs before settling in the back of the space where lights and cameras were set up for a broadcast featuring several Beautycounter products.

Fans who joined online had a chance to post messages and ask questions or click on a link on the screen to buy the product featured by Curcio. The brick-and-mortar store, meanwhile, used a window to allow passersby to watch the show being taped inside.

"As more and more people shop from home, live-selling is a way to reach and engage our community in an incredibly impactful and convenient way," Counter Brand Chief Executive Gregg Renfrew said in a statement. "Our in-store studio is not just a store feature. We see it as the future of dynamic content and ecommerce selling."

Renfrew, who previously served as chief executive of children's retail group Best & Co. in Greenwich, Conn., founded Counter Brands in 2011.

She launched a line of nine products in 2013, including facial cleansers, eye creams and shampoo, with a focus on clean beauty as her market differentiator.

Beautycounter, a certified B Corp., now sells some 150 products that are nontoxic and eco-friendly. It refrains from using more than 1,800 "questionable or harmful ingredients" in product formulations, which is "well beyond the 30 banned by U.S. law," according to the company.
Beautycounter's distribution channels include ecommerce, brick-and-mortar stores in New York and Denver, and a seasonal pop-up in Nantucket, Mass.
The company also has a salesforce of some 60,000 independent consultants who keep 25% to 35% of their sales. The brand paid about $120 million last year on commissions, which puts its revenue from sales consultants at about $400 million.
In August, Beautycounter kicked off a four-month retail partnership with Sephora, which was designed "to amplify our mission, educate a new audience and create real change," according to the company.

Beautycounter did a similar short-term deal with Target Corp. in 2016, offering 12 products at some 1,500 stores. It followed that with a partnership using select J.Crew Group Inc. locations in 2017. Nearly two dozen of Beautycounter's products are also sold at goop.com, a lifestyle website founded by Gwyneth Paltrow.

The brand has undertaken several fundraising rounds. The latest, for an estimated $65 million in 2018, was led by Mousse Partners Ltd., a New York-based family office that also invested in Ulta Beauty Inc. and Bonobos.

The company said at the time that the investment would help accelerate its "strategic initiatives, including the development of a more robust omni-channel business, and provide capital for investments in technology as well as digital and brand marketing."

Beautycounter also raised $21.3 million from a group of investors that included San Francisco-based TPG Growth in 2014, followed by a $13 million round in 2016, according to filings with the Securities and Exchange Commission.

The same year, the company acquired beauty product maker Nude Skincare Inc. from LVMH Louis Vuitton Möet Hennessy. According to Renfrew, the two brands "shared the same ethos on offering safer beauty products."

Nude's co-founders, Bryan Meehan and Ali Hewson, took an equity stake in Beauty-
counter along with Hewson's husband, U2 singer Paul "Bono" Hewson.

Other local brands livestreaming to promote their products include Legendary Apothecary, a Pasadena-based skincare brand, and fashion retailer Fred Segal.
For reprint and licensing requests for this article, CLICK HERE.