SpaceX Delivers New Airlock to International Space Station
Monday, December 7, 2020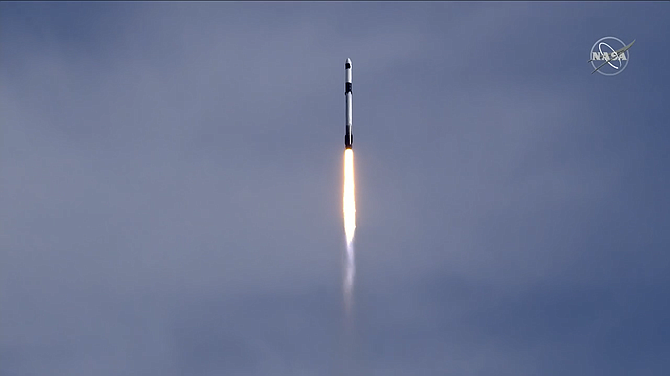 Space Exploration Technologies Corp. returned to the International Space Station on Dec. 7, successfully docking a spacecraft carrying a new airlock and thousands of pounds of other equipment.
The spacecraft launched Dec. 6 from the Kennedy Space Center in Cape Canaveral, Fla., and arrived at the space station just over 26 hours later.
It's the 21st space station resupply mission completed by the Hawthorne-based company on behalf of NASA. The mission comes less than a month after SpaceX wrapped its second crewed launch, sending four astronauts to the space station in the first of six planned crew rotation missions the company will undertake with NASA.
SpaceX now has two separate capsules docked to the space station, a first for the company.
The rocket booster used in the Dec. 6 launch was previously used in SpaceX's first manned mission earlier this year. Shortly after liftoff, the company successfully landed the first-stage rocket on a drone ship stationed in the Atlantic Ocean.
The latest launch is the first time SpaceX has used its updated Dragon cargo capsule, a modified version of the Dragon spacecraft that the company uses for its manned missions. The capsule can carry up to 328 cubic feet of cargo, weighing up to just over 12,000 pounds.
The capsule can also carry more than 6,500 pounds of material back to Earth on a return flight and is designed to be reused in future launches.
The spacecraft launched Sunday was loaded up with research equipment, as well as a new airlock, which NASA says will allow for "robotic movement of more and larger packages to the exterior of the space station."
It's shaping up to be a busy week for SpaceX. The company is also planning a test flight of its massive Starship rocket, a new spacecraft designed by the company specifically for lunar and interplanetary travel.
In the upcoming test SpaceX will attempt to launch the rocket to a height of nearly 50,000 feet from a test site in Boca Chica, Texas. The company has previously performed a number of smaller tests on the rocket but has not yet attempted a test launch of such a high altitude.
The Federal Aviation Administration has issued temporary flight restrictions for the area in a launch window extending from Dec. 8 to Dec. 10.
For reprint and licensing requests for this article, CLICK HERE.