Presto Zoomo — Local Magicians Maintain the Illusion Despite Covid-19
Monday, August 31, 2020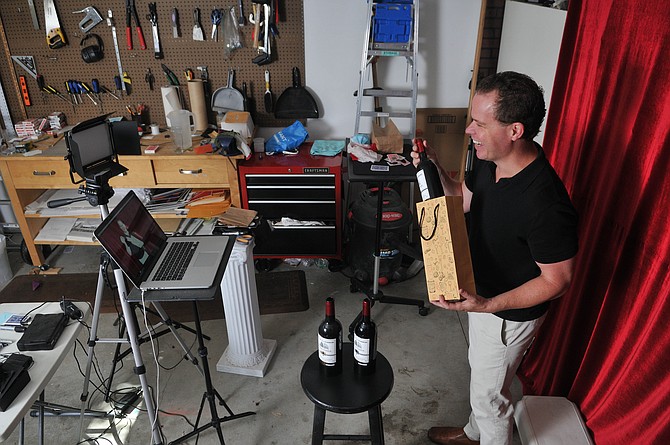 It was a less-than-magical moment for magician Jon Armstrong when Covid-19 shutdowns began in mid-March.
At the time, the Fairfax District-based performer was serving as the headline act on the Disney Cruise Line ship Wonder. The ship had left New Orleans on March 6 for a two-week cruise slated to end in San Diego. Armstrong was booked to spend five days entertaining passengers before turning over show duties to another act at a port along the way.
Instead, the cruise line made the decision to reduce possible coronavirus exposure by bypassing all planned stops. "My five-day trip became a 14-day trip. No other acts were allowed to get on the ship," Armstrong recalled. "I had to end up doing all the shows myself."
The stress level was heightened by the fact that Armstrong's pregnant wife, Vanessa, was also on board and worried about the future. The couple has since welcomed baby Maddie to their family.
That intense cruise experience served an unexpected purpose, however. Quickly filling shows with new material served as preparation for disembarking into a changed world that would call for Armstrong to reinvent his live performance career into a virtual one.
In the world of entertainment, streaming services including Netflix Inc. and Walt Disney Co.'s Disney Plus have shown massive increases in usage since pandemic safer-at-home recommendations have taken hold in much of the world.
However most live performance venues, including theaters, arenas, and music and comedy clubs, have been closed since mid-March. Affected venues range from the 17,500-seat Hollywood Bowl to West Hollywood's more intimate 500-seat Troubadour nightclub, which has launched a GoFundMe campaign to survive. The list also includes Hollywood's famed Magic Castle, home of the Academy of Magical Arts Inc.
Many performers are filling their schedules with online concerts and performances, but magicians face a particular challenge when it comes to the virtual world. While it's possible to sing or play the ukulele on Zoom, most magicians rely on hands-on props and audience interaction to enhance the illusion.
Pick a card?
"Pick a card, any card," becomes more problematic when the magician and the person pulling from the deck are not in the same room.
Still, L.A. magicians are stepping up to the challenge by creating shows that not only go on in spite of Covid-19, but in some cases use the limitations of Zoom to make an illusion appear even more astonishing.
Armstrong said he has resisted the temptation to take a standard performance and record it on video.
"That would be like taking an IMAX camera to film a stage play," he said. "I create magic that happens to people in their home, with their own items whether they are across the country or across the world."
Armstrong's prepandemic career was mostly centered on corporate meetings, cruises and other large audience events. When Covid-19 hit, he was staring at a possible $75,000 loss of business but said online work has allowed him to keep earnings competitive with his previous level.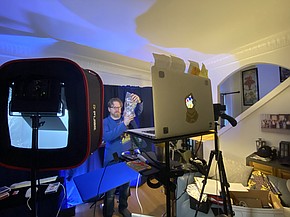 Like any magician, Armstrong would not reveal trade secrets but pointed out that he can potentially heighten the "how did he do that" effect on video chat.
In a live performance, Armstrong can hand you a deck of cards, ask you to shuffle it and pick a card. "Then I take the cards back, and I find your card," he said.
"But if I have you go into your house and find a deck of cards … and then I say name a number from one to 52, and you count down six cards, and your card is there, that's amazing. I never touched the cards."
Armstrong added that close-up magic has never been easier. "If I stand on a stage and do a trick for 1,000 people, maybe 50 people can actually see the playing card. Well, on Zoom, I can perform for a large group of people using the same sensibilities I would doing close-up magic."
Learning curve
Glendale-based magician Matt Marcy also has built his main career on cruise ships and corporate events, which are currently shut down.
"It's been a compressed learning curve for all of us, all over the world," Marcy said. "There are lots of ways for interaction. You can't have them physically take a card, but you can have them name a card, (or) they can write a word, and you can do mind reading."
Like Armstrong, Marcy has set up a mini-studio at home from which to create video-friendly illusions.
Because he no longer has travel and hotel expenses, Marcy said he can charge a company less for a virtual appearance or workshop, and a company can also save on providing a production crew.
He added that he can also take on a short assignment, like a 15-minute warmup act, and still have the booking turn a profit since the only commute is to the set-up in his garage.
However, Marcy's live act includes comedy and interaction, and he misses the in-person audience feedback.
"You don't really get the same reaction," he said. "(You see) people watching on the screen, but a lot of people will keep their microphones muted, so you can't hear them," he said. "I want them to unmute themselves, even if there are kids walking in, or their cat is running across (the room)."
Joe Furlow, general manager of the Academy of Magical Arts that oversees Hollywood's famed magic club, the Magic Castle, said not all magicians have been as inventive during the pandemic as Armstrong and Marcy, both of whom were frequent performers at the magic club.
However, Furlow said virtual demand for magic remains high. "We haven't had a shortage of people inquiring about magicians for birthday parties and corporate events," he said.
Furlow said the Magic Castle had 200 employees on March 14, and "now I have nine." But he believes the Castle can stay afloat through the crisis with its live virtual magic shows on Saturday nights.
Castle cooking
And since June, patrons may also order takeaway food from the Castle's dining room kitchen through the its new Dine & Delight program. A customer who spends more than $40 on an order any night will also receive a free link to the Saturday night virtual show.
Another bonus: Usually the private club maintains an aura of mystery by allowing attendance only by member invitation. But anyone may now get a taste of the Castle by ordering dinner or tickets to the virtual shows.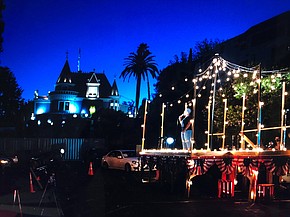 It also has begun using its large parking lot as a rental venue for comedy shows and hopes the future will include live magic shows tailored to a drive-in crowd.
"Sadly, the Castle is not built for social distancing," Furlow said. "I think this is going to be long term (as patrons) struggle to feel comfortable going out again. I think virtual shows are here to stay. … Everybody in the arts is having to reinvent themselves, and those who have done it are the ones who are going to move forward."
The local hunger for magic is not limited to the Magic Castle. Illusion Magic Lounge in Santa Monica also offers virtual shows, and Geffen Playhouse in Westwood is in the midst of its run of "The Present," a virtual interactive show performed by illusionist Helder Guimarães. "The Present" is sold out through Oct. 10.
Along with virtual shows, Marcy said he develops and markets tricks to other magicians and works on new material in the absence of live performance, but he remains concerned about the future of live magic in the age of Covid-19.
"I do fear that we are going to be the last people to return to live performances, that magic is going to be the last thing to open again," he said.
For reprint and licensing requests for this article, CLICK HERE.