Entertainment Payroll Startup Wrapbook Raises $4 Million
Monday, August 31, 2020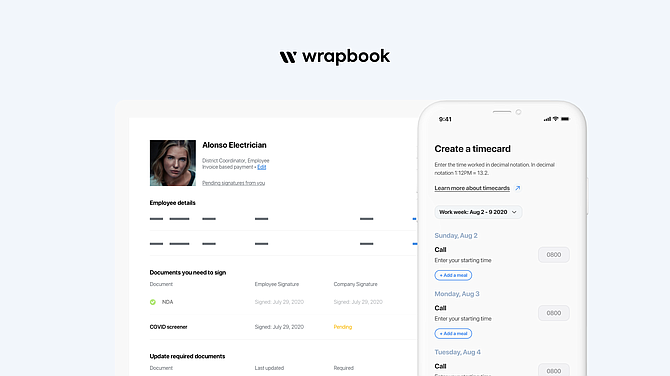 Entertainment payroll and insurance platform TakeOne Network Corp., doing business as Wrapbook, has raised $3.6 million in seed funding.
The raise was led by New York-based Equal Ventures, with participation from Uncork Capital, family office 4S Bay Partners and Paylocity Holding Corp. founder Steve Sarowitz.
The startup's first official funding round includes capital previously raised by Wrapbook through simple agreements for future equity, or SAFEs, according to company founders. SAFEs are similar to simplified convertibles notes, which allow startups to exchange future equity for funding.
Wrapbook divides its operations between Los Angeles, New York and Toronto. Although its legal headquarters are in Canada, the majority of the company's clients are entertainment businesses based in Los Angeles.
The company sets itself apart from established players in the entertainment payroll space through its portable profile for each cast or crew employee, according to co-founder and Chief Marketing Officer Cameron Woodward.
"Today when you are a cast or crew member going to work, you are working for anywhere from five to 15 companies in a month," Woodward said. "They have to fill out the same information for every employer. … With Wrapbook, if you have a profile with us, you have a single view that you can take with you to different employers."
According to Woodward, this approach benefits both employers and staff by simplifying the payroll process and providing a transparent view into payment status. "It saves time on the onboarding and eliminates a lot of the confusion around if a payment has been approved or issued," Woodward said.
Wrapbook's chief clients are employers such as film, photo or music studios with significant project-based workforces. The company earns money through transaction fees — typically 0.75% for worker payments — and additional financial services such as insurance, which Wrapbook sells through its platform.
Like nearly all players in the entertainment industry, Wrapbook was hit hard when the Covid-19 pandemic first broke out.
"There was one week in March when we saw a steep drop off," Woodward said. "That was when most production companies stopped work. It was painful."
As time wore on, however, Wrapbook's founders say the company actually started to benefit from the new normal.
"We have seen an acceleration of signups under Covid," said co-founder and Chief Executive Ali Javid. "Now that people are slowly coming back to work, they are looking at how they can do this safely with the fewest people on set."
The focus on minimizing manual processes, Javid said, has led to increased signups on the Wrapbook platform despite production activity overall being down.
Wrapbook's latest funding will be used primarily to grow the company's team and improve its technology platform, according to Javid.
For reprint and licensing requests for this article, CLICK HERE.