Health Care Panel & Awards: A Health Plan's Multi-Million Dollar Response to COVID-19 Goes Well Beyond Traditional Health Care
Custom Content by the Los Angeles Business Journal
Tuesday, August 25, 2020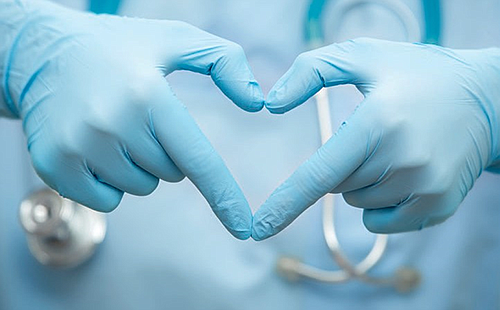 The COVID-19 pandemic has changed life as we know it in so many ways. We have had to adapt to social distancing and wearing masks. Those are the minor changes. Many families have been forced to live without loved ones who succumbed to the virus. Others are facing another kind of loss. Millions have lost their jobs. Many of those people are now relying on food banks to have food on the table, and other social services for basic needs.
Through all of these changes, we keep hearing the mantra "we're all in this together." It's absolutely true. Realizing that, L.A. Care Health Plan, the largest publicly operated health plan in the country, has taken many steps to help its members, providers and the community at large get through this crisis.
Initially, the health plan realized it was critical to support providers to ensure they could continue to provide high quality care to members. Hospitals that serve L.A. Care were under tremendous financial strain as COVID-19 shut down elective procedures early on in the pandemic. L.A. Care was quick to offer hospital partners up to $85 million in accelerated claims payments.
"L.A. Care is helping to lead our hospitals and communities down a more prosperous path," said George W. Greene, Esq., president/CEO of the Hospital Association of Southern California (HASC). "It's HASC's hope that this model will be emulated by other health plans in support of their provider partners."
The health plan also provided more than $21 million in advance incentive payments to individual primary care physicians and Federally Qualified Health Centers that treat L.A. Care members.
Provider support was critical, but it was also important to address the needs of health plan members and community members who suddenly found themselves with no income due to COVID-19 job losses. That's why L.A. Care committed more than $1 million toward efforts that address food insecurity.
Project Angel Food, which provides medically tailored food for low-income individuals with chronic illnesses like HIV, diabetes, congestive heart failure, cancer and more, received $550,000 to reduce its waiting list.
"L.A. Care has just delivered Project Angel Food the largest health care grant in our history," said Richard Ayoub, Executive Director of Project Angel Food. "This grant not only will impact the lives of 151 people, but every family member and every caregiver around them."
More than $404,000 was provided to a Meals to You meal delivery pilot program that offers two meals per day for 30 days to members and will connect them to sustainable food sources. In addition, L.A. Care has committed more than $150,000 to about two dozen food pantries run by community partners. That funding has helped provide meals to more than 8,000 families, to date.
Homelessness was at a crisis level in Los Angeles County prior to the pandemic, and COVID-19 is only exacerbating the problem. L.A. Care committed nearly $1 million in two grants to the United Way of Greater Los Angeles that involved efforts to support individual experiencing homelessness. One grant provided personal protective equipment for up to 5,000 frontline workers, and provided the funding to procure supplies for as many as 10,000 individuals living on the streets of L.A. County. The second grant supports United Way's Health Pathways Expansion program, which ultimately expands health services to people experiencing homelessness across the county.
Of course, there is also a concern about those who might fall into homelessness due to a job loss. The county has issued a moratorium on evictions until September 30, but legal aid agencies will tell you that efforts to evict renters have not stopped. L.A. Care just recently committed $750,000 to six legal aid agencies in Los Angeles. One of them is the Inner City Law Center.
"The pandemic has the potential to displace tens of thousands of poor and low-income families in Los Angeles County in the months after the courts re-open," said Adam Murray, Executive Director at Inner City Law Center. "We know the best way to prevent homelessness is to stop it from happening in the first place. With L.A. Care's support, our attorneys stand ready to defend tenants who could soon face eviction."
The COVID-19 pandemic has also shone a spotlight on the health disparities that have long existed within communities of color, and in fact, the National Institutes of Health recently released a report showing the virus has widened the gap of inequities. L.A. Care hosted a COVID-19 Disparities Leadership Summit that brought together 170 health care leaders to discuss strategies to address racial disparities in COVID-19 illnesses and deaths, especially in the Black community.
"Eleven percent of L.A. Care members are Black Americans, and we want to ensure that we are doing all we can to keep our members healthy," said James Kyle, MD, L.A. Care Medical Director for Quality Improvement. "By bringing together leaders from all facets of health care in the county, we can begin to develop strategies to prevent further COVID-19 spread in this population."
A second summit is in the planning. In the meantime, L.A. Care issued a Statement of Principles on Social Justice and Systemic Racism saying the health plan does not tolerate racism or discrimination in any form, and denounces anti-Blackness and the systemic oppression of people of color in America. L.A. Care also committed $1.5 million in grants to 10 clinics to conduct projects that will primarily help communities of color. The projects involve combatting diabetes, hypertension, periodontal disease and more.
The steps detailed here represent a partial list of actions the health plan has taken to respond to the impact COVID-19 is having on members and the wider community. Health plan leadership and staff are constantly looking for more ways to help. That's because, while we might getting tired of hearing it, we really are all in this together.
For more information on L.A. Care Health Plan, go to lacare.org.
For reprint and licensing requests for this article, CLICK HERE.