SpaceX Sets Record With Launch
Company also nears $2 billion in new funding
Monday, August 24, 2020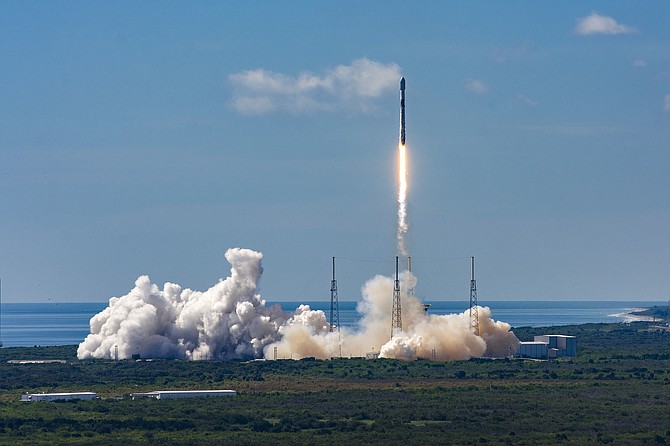 Elon Musk's Hawthorne-based Space Exploration Technologies Corp. passed one milestone and neared another last week.
On Aug. 18, the aerospace company launched a new Starlink rideshare mission on a Falcon 9 rocket, then successfully landed the rocket booster stage on a SpaceX droneship at sea.
This is the sixth time this particular booster has made the trip, marking a reusability record for the company.
SpaceX also announced it was closing in on its goal to secure an additional $2 billion in funding, which would bring the company's total raised to $46 billion.
The latest SpaceX launch included 58 Starlink satellites and three of Planet Labs Inc.'s SkySats, the company's small Earth-observation satellites.
The Falcon 9 rocket lifted off at 10:31 a.m. Eastern Time from Space Launch Complex 40 at Cape Canaveral Air Force Station in Florida.
Missions previously supported by the rocket's first-stage booster include Starlink launches in May 2019, January and June. The Falcon 9's fairing previously flew on the fourth launch of Starlink.
Following stage separation, SpaceX landed the first booster stage on the Of Course I Still Love You droneship stationed in the Atlantic Ocean.
Planet Labs' SkySats deployed sequentially, beginning about 12 minutes after liftoff, and the Starlink satellites deployed about 46 minutes following liftoff.
It's the second Starlink mission this month, following an Aug. 7 launch which carried 57 Starlink satellites. The latest launch brings the number of operational Starlink satellites in orbit to 653.
On the fundraising front, SpaceX is making steady progress. The company has raised $1.9 billion in new funding, according to an Aug. 17 Securities and Exchange Commission filing.
This boosts the company's valuation to $46 billion, according to Bloomberg. The round was reportedly oversubscribed. Investors for the new raise were not immediately disclosed.
SpaceX had been reported to be seeking $1 billion in funding since earlier this year. In early August, the company increased the size of investment it was seeking to $2 billion due to strong demand from the investment community, according to Bloomberg.
The funding will reportedly be used to accelerate development of the company's Starlink satellite broadband service, to conduct suborbital and orbital test flights of its Starship, and to develop an additional booster launch stage called Super Heavy.
For reprint and licensing requests for this article, CLICK HERE.