Macerich Results Point Up Retail's Challenges
Mall owner sees disruptions in rents, leases from Covid
Monday, August 24, 2020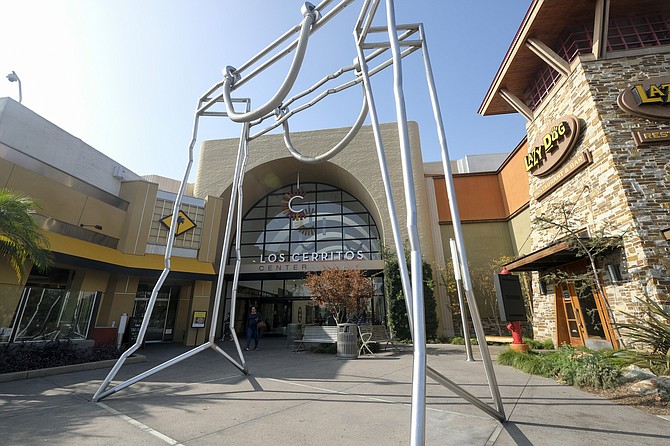 Macerich Co.'s latest earnings report includes some grim financials but it also provides a glimpse into challenges facing the retail industry as a whole.
The publicly held Santa Monica-based real estate investment trust, one of the nation's largest shopping mall operators, reported a net loss of $25.1 million for the quarter ended June 30, compared to a net income of $15.7 million for the same period last year.
Revenue was $178.6 million, a 56% decrease from $405.5 million in 2019's second quarter. The company's market value is about $1.2 billion.
Macerich, which earned $96.8 million on $927.4 million in revenue last year, owns interests in 47 regional shopping centers, comprising 51 million square feet of leasable space.
Its portfolio includes the open-air Santa Monica Place, as well as Los Cerritos Center, Lakewood Center and The Oaks, all enclosed malls that remain shuttered under Gov. Gavin Newsom's July 13 order.
During an earnings call with analysts, company management said that about 40% of its tenants paid rent for April and May, 58% in June and 66% in July while August rent collections are tracking at about 51%.
"Many of our retailers, especially the nationals, had the ability to open quickly and began paying rent yearly," said Doug Healey, the company's senior executive vice president of leasing. "Others could open but found the ability to pay rent difficult since they had not been trading for months. This, of course, was exacerbated by those retailers who do not have an adequate omnichannel platform.
"We worked with many of our retail partners to come up with economic agreements to ensure they could open and pay, albeit under modified terms. Most of these arrangements resulted in rent deferrals for a finite period, as opposed to reduced or free rent," he added.
Healey also said Macerich granted rent abatements to a limited number of "local tenants," which comprise about 8% to 10% of the company's leases. He added that Macerich plans to "continue to enforce our contractual rights from a legal standpoint" with 5% to 10% of its retailers that are late on rent and "refuse to accept what we believe to be very fair terms and conditions."
The mall operator also contended with some 32 tenants that filed for bankruptcy this year, accounting for roughly 2% occupancy loss across its properties.
"Covid-19 has accelerated bankruptcies that frankly were going to happen anyway," said Chief Executive Thomas O'Hern. "Those tenants that filed for bankruptcy this year were all on our watchlist for a number of years, and their bankruptcies were not a surprise."
Occupancy at Macerich's properties was at 91.3% as of June 30, slightly below the 94.1% it reported for the same period last year. Healey said his team is "optimistic" about upcoming lease renewals and has secured commitments for "almost 87% of the expiring square footage."
Macerich's pipeline of new executed leases scheduled to start in the second half of the year and in 2021 includes 138 retailers.
"As of today, only six of these retailers have indicated they no longer plan to open, and this equates to only 47,000 square feet of the 1.3 million-square-foot pipeline," Healey said, adding that the new lease lineup includes a two-level Tesla Inc. flagship store and ModelLand by Tyra Banks at the Santa Monica Place.
Healey also provided insight into retail trends that emerged since the beginning of the year. Sales and occupancy are improving weekly, and there's been a significant increase in fulfillment from stores for goods that were purchased online, including pickup in store, delivery from store and curbside pickup.
He said restaurants have quickly adapted to modified seating and operating plans and "have come up with very creative ways to expand and enhance their outdoor dining experience."

Healey also noted "there's a shift toward casual apparel from occasion to workwear (and) active wear remains the area of strength." Back-to-school shopping, he added, "is expected to be bifurcated (with) an uptick for laptops and remote learning tools and a downtick in apparel spend."
Healey added that pandemic-related disruptions will not change Macerich's leasing strategy, which is focused on transforming its properties "into town centers with many diverse uses and unique attractions that will provide something for everybody and all on one campus. The mix will include grocers and digitally native brands, likely sharing anchor spaces vacated by the department store chains.
"Covid definitely increased online shopping and introduced many new online brands to the marketplace," Healey said. "We all know the success that digital brands experience when they add or expand bricks-and-mortar as another source of distribution. And to this point, there will certainly be some great second-generation space coming available in some of our best centers, and this will allow these brands to add stores in an efficient, low-cost and low-barrier-to-entry manner."
For reprint and licensing requests for this article, CLICK HERE.