Canoo to Go Public in $600 Million SPAC Deal
Deal will give EV maker a valuation of $2.4 Billion
Monday, August 24, 2020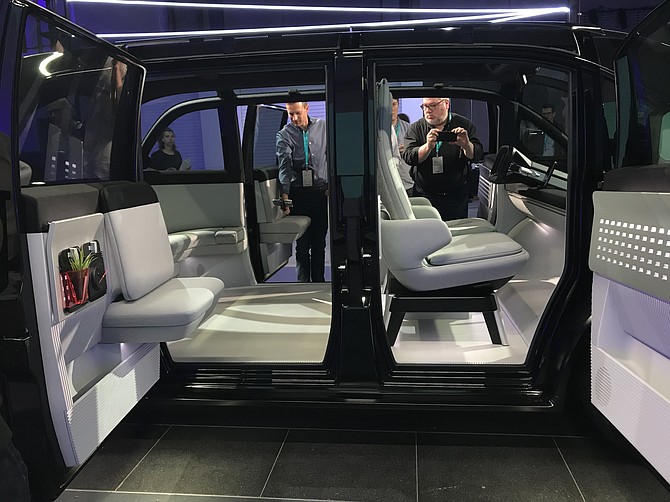 Torrance-based electric vehicle developer Canoo Inc. has announced plans to go public through a reverse merger in a deal designed to provide $600 million in total capital.
The company will merge with Hennessy Capital Acquisition Corp. IV, a special purpose acquisition vehicle, or SPAC, and list on the Nasdaq under the ticker symbol CNOO. The merger is expected to conclude in the fourth quarter of this year.
The transaction will give the company a pro forma market valuation of $2.4 billion, according to Canoo.
Launched as Evelozcity Inc. in 2017, the company rebranded early last year as Canoo.
It places heavy emphasis on its proprietary "skateboard" platform, which Canoo says is the "world's flattest," and can support a wide range of vehicle applications.
Skateboards, named for their skateboard-like appearance, are an increasingly common form of electric vehicle design that can provide a low center of gravity and maximize interior vehicle space.
The company unveiled its first prototype vehicle in September. The design, which Canoo calls a "loft on wheels," looks more like a small bus than a traditional car. It will only be available by subscription, which includes the car, maintenance, charging and access to insurance, according to the company.
The vehicle was originally slated for launch in early 2021 but appears to have been delayed to 2022, according to a company statement.
Canoo will be the fourth electric vehicle maker to go public via a SPAC deal this summer. Nikola Corp., Lordstown Motors Corp. and Torrance-based Fisker Inc. have all announced or completed plans to skirt the traditional initial public offering process by merging with SPACs.
Also known as blank-check companies, SPACs are business entities that have no operations of their own. They are created to raise funds through initial public offerings. Managers then use the funded vehicle to acquire a target business looking to go public in a reverse merger.
The SPAC process typically comes with lower risk and a shorter timeline than a traditional IPO. It has become increasingly common under the pandemic, where volatile markets have left some businesses looking for greater predictability in capital raises.
Approximately $300 million of the current transaction's funding, according to Canoo, will come from private investment in public equity, or PIPE, from investors including Blackrock Inc., the world's largest asset manager.
The remaining $300 million will take the form of cash raised from investors in the Hennessy SPAC.
"The $600 million of gross proceeds from this new partnership will support our vision, research and development, enabling us to meet our goal of beginning to mass produce EVs featuring our advanced skateboard technology in the near future," Canoo Chief Executive Ulrich Kranz said in a statement provided to the Business Journal.
Kranz said that his company's cars were unique in their affordability and in their emphasis on functionality and rider experience.
"Our vehicles feature the most usable interior space relative to vehicle footprint in the industry, which will come in handy in the L.A. market," he said.
In a statement, Hennessy Capital Chairman and Chief Executive Daniel Hennessy cited both Canoo's go-to-market strategy and versatile technology as core differentiators for the company.
Canoo says its skateboard platform can be implemented equally well in business-to-business or business-to-consumer applications and plans to roll out a commercial delivery vehicle by 2023.
The company's strategy received its first major endorsement earlier this year. Hyundai Motor Group signed a partnership with Canoo in February, which would incorporate the local company's technology into future Hyundai and Kia electric vehicles.
In a statement at the time, Hyundai called Canoo "the perfect engineering partner."
For reprint and licensing requests for this article, CLICK HERE.