CarParts.com Reports Big Second Quarter
Thursday, August 13, 2020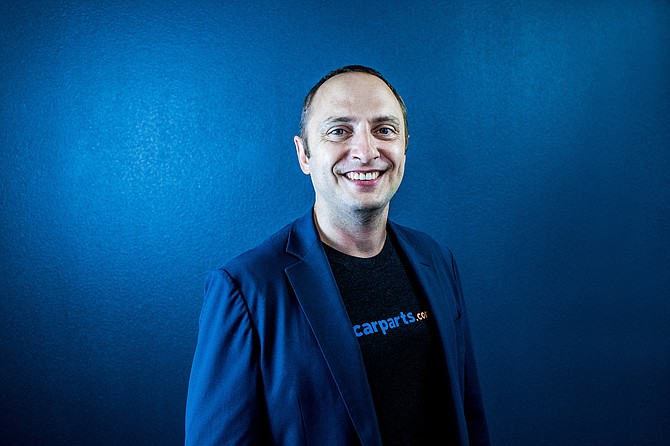 U.S. Auto Parts Network Inc. last month changed its name to CarParts.com Inc., a move that consolidated the Torrance-based company's 17 ecommerce websites.
"I don't have to explain to anybody what we do," said Chief Executive Lev Peker, adding that it's also "much easier to align everybody behind one vision, behind one website, one domain."
The new moniker, Peker said, pays homage to company's identity as a "technology company (that) happens to be in the auto parts business."
"We were being compared to the O'Reillys and the AutoZones of the world, and that's not who we are," Peker said, referring to auto parts retailers that operate numerous brick-and-mortar stores as well as ecommerce sites. "The way we think about ourselves is we're like the Chewy to pet food or Wayfair to furniture, so CarParts.com is that to auto parts."
For the second quarter, Carparts.com last week reported revenue of $118.9 million, a 61% increase compared to the same period last year. Net income was $1.6 million or 3 cents per diluted share, compared to 2019's second quarter net loss of $1.5 million or 4 cents per basic and diluted share.
Peker attributed the growth in earnings and revenue to several pandemic-related factors, including consumers' choosing DIY car repairs over buying new vehicles at a time of widespread unemployment.
"We don't sell a lot of performance and accessories. We sell a lot of parts for when your car doesn't start, or when you were backing out and you took your mirror off or when your (headlights) got yellow because of time and being in the sun and you want to replace them," Peker said. "So, we're really selling need products, not a want product, and so for us what's really important is getting close to the customer."
The company's market cap has nearly doubled to $606 million since June 30. It posted about $280.7 million revenue in fiscal 2019, 42% of which it generated through eBay and Amazon.
Peker said people who are worried about the pandemic are choosing to drive their own vehicle instead of taking public transportation to work or hopping on a plane for a vacation. This increases the need for car maintenance, a trend he expects to continue well into 2021.
CarParts.com has more than 1,000 employees, including 700 in Manila, Philippines, home to its main call center, website development, catalog management and back-office support.
It also has small offices in Taiwan and Shanghai, and an 80-person facility in India. The company plans to open a 210,000-square-foot distribution center in Grand Prairie, Texas, which will begin operations in later this year and employ about 400 workers.
"We've (hired) 450 people since March, including 23 here in Torrance," Peker said, adding that plans are in the works to hire another 30 corporate employees by year-end.
The company sources its products — engine, performance and exterior parts — primarily from manufacturers in Asia and in the United States. It operates distribution centers in Chesapeake, Va.; LaSalle, Ill.; and, Las Vegas.
The adoption of a new name called for a complete revamp of the CarParts.com website to make it more responsive for the mobile user.
"About 80% of our traffic today comes from a mobile device, so everything we do today is really based on making sure that the user can shop by just taking something out of their pockets," Peker said.
EstiBot, an Illinois-based domain appraisal service, pegged the price of CarParts.com name at about $270,000.
"It will be valued a lot more by the time we're done with it," Peker said.
For reprint and licensing requests for this article, CLICK HERE.