Big Changes Planned for Hollywood & Highland Complex
Monday, August 10, 2020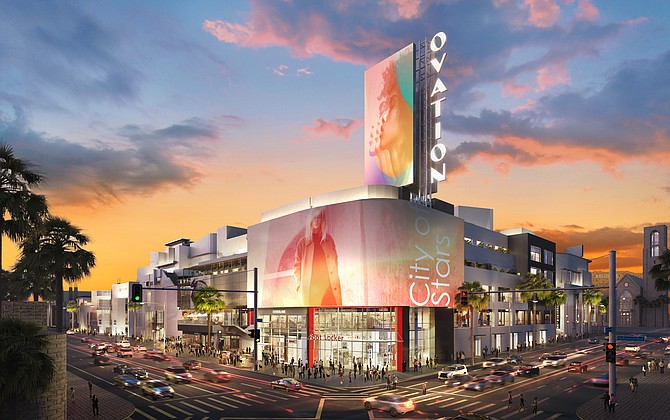 The Hollywood & Highland shopping center will soon have a new look and a new name to go along with it.
DJM Capital Partners Inc. and Gaw Capital USA purchased the 460,000-square-foot retail and entertainment property from CIM Group, minus the Dolby Theatre, for $325 million last year.
The property will get a $100 million overhaul, including the addition of 100,000 square feet of creative office space, and will be rebranded as Ovation Hollywood.
The center will have 135,000 square feet of retail, 85,000 square feet of dining, 65,000 square feet of entertainment space and 40,000 square feet of event space.
In a press release, DJM and Gaw Capital said the center would move away from its "outdated architecture, an uninspired project identity and confusing layout."
The two companies are working on a new tenant mix as well.
"Hollywood is as much an idea as it is a place," Stenn Parton, chief retail officer at DJM, said in a statement. "The idea of Hollywood is optimism — dreams and ambitions feel more tangible when you're here. Our reimagining of Hollywood & Highland into Ovation Hollywood is about creating a place that captures this idea."
The center is expected to be completed in late 2021. Gensler is overseeing the changes.
The first changes will be a new, simpler facade, color scheme and concept for the tower, as well as a layout that is easier to navigate and updated landscaping.
Gaw Capital also owns the nearby Roosevelt Hotel, which opened in 1927. After acquiring the property, Gaw Capital spent $24 million on a renovation to reposition it as a high-end hotel. It has 300 rooms.
"Over the years, I have developed a profound appreciation for Hollywood, its history, symbolism and potential; those sentiments are uniquely reflected in the Ovation project," Goodwin Gaw, chairman and managing principal of Gaw Capital Partners, said in a statement.
Prior to the pandemic, 1.3 million Metro riders were passing the center annually daily. and 90,000 drivers rolled past daily.
And the office market in the area was heating up as companies like Netflix Inc. signed large leases in the area.
Even during the second quarter the office market in the area was strong. The vacancy rate was 11.1% and the asking rent for Class A office space was $5.46 a square foot, behind only the Westside, according to data from Jones Lang LaSalle Inc.
For reprint and licensing requests for this article, CLICK HERE.