Beyond Meat Posts Second-Quarter Sales Gain
Friday, August 7, 2020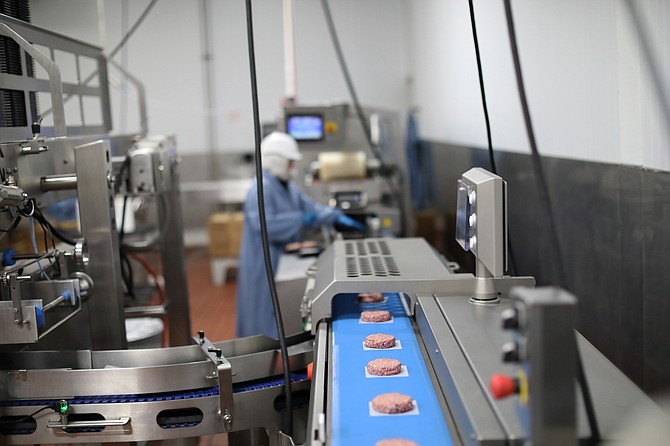 Shares of Beyond Meat Inc. dropped about 6% after the maker of plant-sourced meats reported second-quarter sales on Aug. 5 that beat Wall Street expectations but missed bottom-line forecasts.
The El Segundo-based company's revenue for the quarter totaled $113.3 million, a 69% increase from the prior year, topping analyst estimates of $99 million.
The revenue uptick was driven by a 192% year-over-year jump on the retail side and a 59% drop in sales to the foodservice sector, where the company "saw a significant deterioration in demand due to Covid-19," Chief Financial Officer Mark Nelson told analysts during an earnings call.
Beyond Meat expanded the number of distribution outlets both domestically and abroad, from 94,000 stores to 112,000 during the second quarter, including recently announced placements at Sam's Club and BJ's Wholesale.
It also reported higher sales at existing retail outlets and a slight revenue uptick stemming from new product offerings.
Chief Executive Ethan Brown said Beyond Meat is "fortunate to be in a position where three critically important consumer trends are concurrently increasing," including more households buying its products, the average spend per household on Beyond Meat products increasing, and more consumers who have tried the products continuing to buy them again.
The company also reported a net loss of $10.2 million, or 16 cents per share, compared to net loss of $9.4 million, or $0.24 per common share, in the second quarter of last year.
The adjusted net loss, which excludes $7.5 million in one-time costs directly attributed to Covid-19, was $1.2 million, or two cents per share. Analysts anticipated a loss of 1 cent per share.
"We experienced a sudden and significant shift in demand from our foodservice to our retail business, prompting our decision to convert a meaningful portion of our foodservice inventory into retail product items," said Nelson, adding that the shift "primarily involved costs associated with retrieving finished goods products from third-party storage facilities, transporting them to our own and our co-manufacturing partner's facilities for repacking, direct labor and holding fee costs associated with the physical repacking itself, installing new retail packaging as well as disposal of the original foodservice packaging and transportation back to our warehousing facilities."
Brown said that at the beginning of the year the split between Beyond Meat's retail and foodservice business "was approximately 50/50. And as we report today, the balance was 88(%) retail, 12(%) foodservice in the second quarter of 2020. Adapting to such a dramatic change in mix over a short period of time was no small feat."
Brown also said the company expanded its foodservice footprint by approximately 8,000 outlets, or 16%. The new doors and products include Beyond Sausage Wake-Up Wrap at Dunkin' Donuts, Beyond Spicy BBQ Cheeseburger at Carl's Jr. and Hardee's locations nationwide, three new Beyond Epic burrito items at Del Taco, promotion of Beyond Fried Chicken with KFC in Southern California, and a limited-time test of a new pizza offering at select Pizza Hut locations in Puerto Rico.
"We see no fundamental issues related to our foodservice business itself or our strategy that would preclude us from returning to a strong growth trajectory when some level of normalcy returns," Brown said. "For the remainder of the year, however, we do anticipate that U.S. foodservice demand will remain soft relative to a year ago, given the return of high rates of Covid-19 infections across many parts of our country, including here in Los Angeles."
Beyond Meat also accelerated its international activities, entering Brazil and Canada, and acquired a manufacturing facility in Netherlands to support its operations in Europe.
For reprint and licensing requests for this article, CLICK HERE.