GoodRx Adds Telehealth to Its Comparison-Shopping Platform
Monday, August 3, 2020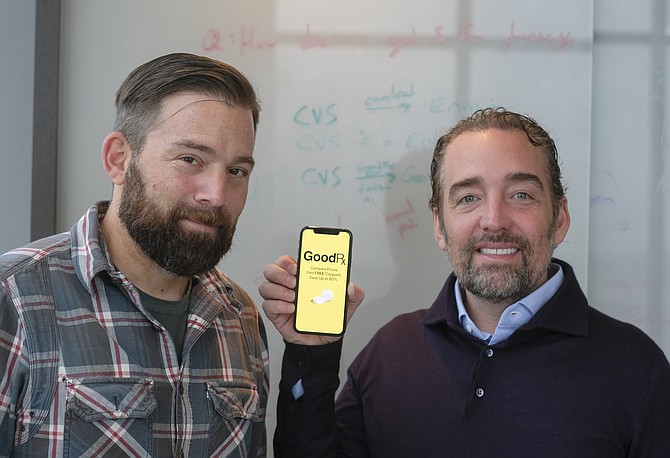 Santa Monica-based GoodRx Inc., which rose to prominence through its app allowing consumers to comparison shop pharmacies for prescription drugs, now wants to give consumers the power to lower their overall health care costs.
GoodRx's first foray into this grander vision: telehealth.
Last summer, the company acquired HeyDoctor, a San Francisco-based, physician-founded telemedicine app that launched in 2017. Financial terms of the deal were not disclosed.
In September, GoodRx launched a rebranded telehealth app under the name HeyDoctor by GoodRx. It then started expanding HeyDoctor's telemedicine offering from 20 states to all 50 states.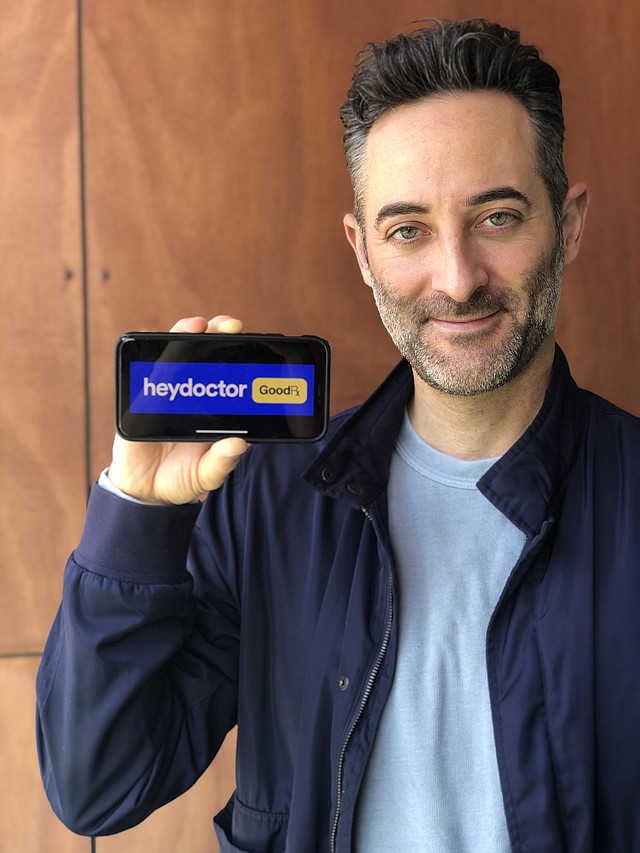 Next, GoodRx set out to do for telehealth what it had done for prescription medications: allow consumers to use an app to shop several telehealth providers and choose the one that suited their medical needs and price points.
In March, GoodRx unveiled its telehealth marketplace, allowing consumers to search more than 100 medical conditions and find the most appropriate telehealth service.
The company also paired this offering with its longstanding medication comparison shopping, meaning customers could choose their telehealth provider, conduct their telehealth doctor visit and have a prescription ready at a pharmacy of their choosing, all within a few hours.
"Our goal has always been to provide access to affordable and convenient health care to all Americans. We started by helping people find lower prices on prescriptions, but we've long wanted to help make doctor visits and other health care services affordable as well,"
GoodRx co-founder and Co-Chief Executive Doug Hirsch said in an email. "Telehealth is a natural extension of our platform."
But GoodRx now has plenty of competition in the telehealth market, thanks to Covid-19, according to Geoffrey Joyce, director of health policy at the Schaeffer Center for Health Policy & Economics at USC.
The pandemic has changed the entire telehealth landscape. "Everybody is going into this, and it will be an unbelievably competitive marketplace for telehealth providers," Joyce said.
GoodRx's decision to create a telehealth marketplace may present a better business opportunity for the company than just buying a telehealth service, Joyce said.
First, it complements the relatively limited telehealth offerings GoodRx inherited with the HeyDoctor purchase. For example, since HeyDoctor by GoodRx doesn't offer pediatric services, people using the GoodRx app can be referred directly to the marketplace where they can find another telehealth provider that does offer pediatrics. In this way, GoodRx serves as a gateway to the larger world of telehealth.
Shopping for deals
But the marketplace also plays to GoodRx's historic strength: enabling the consumer — especially those who have no insurance or are underinsured — to shop around and find the best deal.
That's how GoodRx helped transform the prescription drug marketplace for consumers. The company launched in 2011 when co-founders
Trevor Bezdek and Hirsch realized there was an open niche for a service that could help consumers find the best deal on prescription drugs at pharmacies.
In so doing, they exploited a little-known phenomenon: the wide variation in prices for the same drug at different pharmacies.
For the next seven years, GoodRx built up its platform, adding 70,000 pharmacies and thousands of federally approved prescription drugs to its database.
And the company attracted millions of users to its app and website, reaching as many as 10 million customers a month. As of March 2019, the company estimated it had saved its customers about $10 billion a year in prescription drug costs, or about $276 per customer per year.
The company makes money from referral fees from participating pharmacies and from advertisements on its website.
In 2018, GoodRx accepted a minority investment from Menlo Park-based private equity firm Silver Lake Partners; at that time, CNBC reported that Silver Lake placed a valuation on GoodRx of $2.8 billion.
With Silver Lake's investment, GoodRx sought to expand, and telehealth was its first target with the purchase of HeyDoctor.
Covid-19 effect
GoodRx executives had originally planned to launch the telehealth marketplace after they finished expanding HeyDoctor's platform. But the Covid-19 pandemic sped up the marketplace launch, according to John Asalone, GoodRx's general manager of telehealth.
"For years, Americans were reluctant to use telehealth, which was a challenge for those in the business," Asalone said. "Then everything absolutely changed overnight. People were suddenly fleeing to telehealth. We realized we needed to get this marketplace up and running right away."
According to Asalone, a key driver was that with no ability to visit their doctors, people were running out of their medications and needed to get their prescriptions refilled. Telehealth allows for the required doctor visits to get the refills.
People with health insurance could use telemedicine services hastily set up by their health care insurers or providers in the first weeks of the pandemic.
But with millions of people losing their jobs and their health insurance due to Covid-related shutdowns, many were on their own to find doctors to get refills. And that's where the GoodRx telehealth marketplace has come into play.
What's more, Asalone said, this initial forced experience in telehealth has prompted a major shift in consumer attitudes.
"We expect now that telehealth is here to stay," he said. "Consumers now see they can get lower cost care at the same quality level they were used to — and it's much faster, too."
That speedier turnaround time was a key factor for one HeyDoctor by GoodRx customer.
Sidney Olinyk, who recently moved to Los Angeles from San Francisco and runs an online marketplace startup, said she first used HeyDoctor two years ago before its acquisition by GoodRx.
But she said she's been using it regularly since the Covid-19 pandemic hit, primarily for medication refills.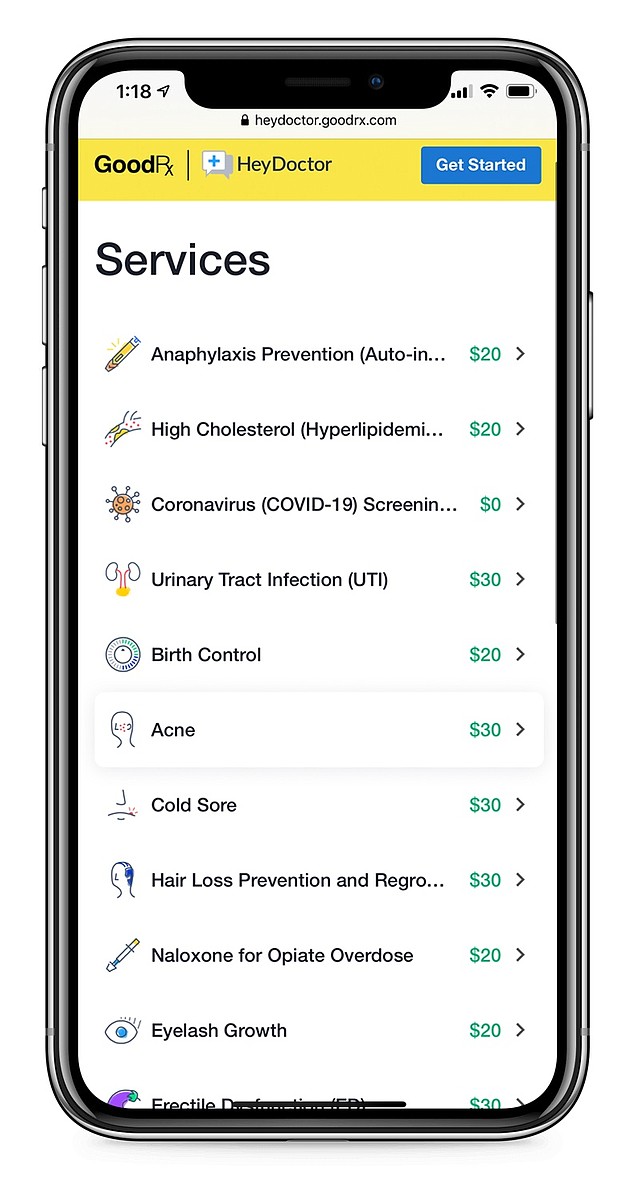 "I have found it to be a lot faster than going to the doctor, especially now that it's combined with GoodRx's platform that allows me to select the location and choice of where I pick up the prescription," she said. "The whole process takes me less than two hours, from scheduling the doctor telehealth appointment to picking up the medication."
Olinyk said she would likely continue to use the telehealth service, even after the Covid-19 crisis passes. "The convenience and speed of this option can't be matched with an in-person doctor visit."
Provider benefits
For telehealth providers who participate in the new GoodRx marketplace, it is a means to get higher visibility. Most providers pay a commission to GoodRx when they receive payment from customers referred from the marketplace though the fees have been waived for those providing Covid-19 tests or other services related to the coronavirus outbreak.
"GoodRx aggregates quality users for us," said Ran Shaul, co-founder and chief product officer of K Health Inc., a New York-based telehealth provider focusing on primary care. Its doctor network can address nearly 300 medical conditions, Shaul said, including many specialty conditions that GoodRx's telehealth option cannot address.
Looking ahead, USC's Joyce said GoodRx's telehealth marketplace could face some hurdles from major health insurers and providers.
"These are mostly independent telehealth providers," he said. "The telehealth physicians will want their patients' entire medical histories in front of them when they diagnose conditions and prepare prescriptions. But insurers and major health care providers may not want to give that access because it means they give up control."
As a result, he said, the GoodRx telehealth marketplace will likely make the greatest inroads among the uninsured or underinsured.
"Unfortunately, that market is big now and is likely to get even bigger with so many millions of people losing their health insurance," Joyce said.
An earlier version of this article misstated the name of GoodRx's telehealth option. It is HeyDoctor by GoodRx.
For reprint and licensing requests for this article, CLICK HERE.