Rebel Girls Turns the Page
Small publisher finds best-selling formula
Monday, April 27, 2020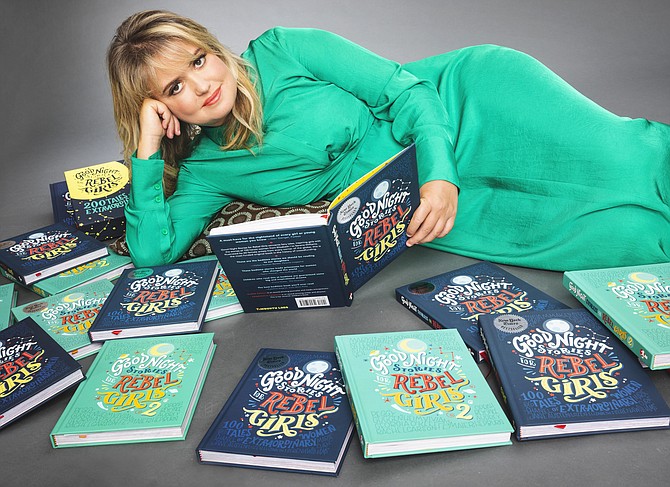 A rebel's approach to the rules of book publishing seems to be working for Elena Favilli, founder and chief executive of Rebel Girls, a Santa Monica-based independent publishing house that has built a brand through empowering girls and women to follow their dreams.  
The first book that the company published, "Good Night Stories for Rebel Girls," was funded through Kickstarter, as opposed to following the traditional publishing model of an author, or more likely an author's agent, selling a manuscript to an existing publishing house for distribution.
In 2016, Favilli and Francesca Cavallo, co-authors of "Good Night Stories," launched the Kickstarter campaign for the book, a collection of illustrated one-page stories about heroic women from all walks of life, including artists, activists, scientists and politicians.
Within 48 hours, the campaign had surpassed its goal of $40,000, and soon 13,454 backers had pledged $675,614 to have "Good Night Stories" published. Additional funds were generated by Indiegogo's On Demand platform campaign that took the total to $1.2 million.
The book eventually sold more than 3 million copies and became a New York Times best-seller.
In 2018, the company published "Good Night Stories for Rebel Girls Volume 2," another New York Times best-seller. Later in 2018, Rebel Girls released a companion book, "I Am A Rebel Girl: A Journal to Start Revolutions," encouraging various empowerment activities, such as writing a letter to a politician or having readers draw pictures of themselves climbing mountains. The cover leaves blank white space after the word "by," so the owner can fill in her name as the author.

Gone global
Since 2016, Rebel Girls has published multiple storybooks about prominent women, including Madam C.J. Walker and Ada Lovelace.
The company says it now reaches more than 10 million girls all over the world. It has sold 5.5 million books in 49 languages, and its podcast has been downloaded 4.5 million times.
Favilli, a former journalist born in Italy, earned her master's degree in journalism at UC Berkeley. She and Cavallo, also from Italy, returned to the Bay Area to launch Timbuktu Labs Inc., a digital publishing startup that mostly provided apps and games for kids. The company also published Timbuktu, a digital news magazine for kids to read on iPads.
Despite raising an initial $600,000 from Silicon Valley investors, Favilli said the revenue model "didn't take off," and in late 2015 she and Cavallo came to Los Angeles to try something different. (Cavallo has since left Rebel Girls to pursue other interests).
That "something different" was to start writing about topics Favilli was passionate about: gender equality and female empowerment. The work took the form of a biweekly newsletter, of sorts, for aspiring rebel girls.
"It didn't have a regular cadence at the time. I was sending out short stories, sometimes just texts, sometimes images, talking about sometimes famous women, sometimes women who were completely unknown," Favilli said. "And I quickly realized a lot of people kept signing up and sharing the newsletter on their social media and engaging with it.
"I started to understand there was a need and a specific interest in this subject. I thought how cool it would be to offer a collection of stories for children with, instead of the usual princess, real-life heroines."

A welcome change
Stephanie Malak, director of LARB Books, the book/print publishing arm of the Los Angeles Review of Books organization in Hollywood, said Rebel Girls' alternative publishing model is welcome in an industry that is forced to reinvent itself in the digital age.
"They are publishers of an idea, an ideology," Malak said. "It's really distilled and very clear that this is their brand and their mission. That is really beautiful.
"It's a kind of bottom-up model, marketing and finding the audience first (through) social media," Malak continued. "That seems very smart to me."
Daniel Lisi, co-founder of independent publishing house Not a Cult in Hollywood, agreed that building a legion of fans of the brand in advance of releasing a book title is the ideal way to test the market.
"In the Big Five publishing model, (major New York publishers) have such volume they can afford to see what sticks when they throw spaghetti against the wall," Lisi said.
For an independent without such deep pockets, he added, "it's so exciting to see a book project prove its audience before the print run."
The brand now includes greeting cards, clothing and art projects. Favilli said the plan is to add to the Rebel Girls universe with a TV series or movie.
For reprint and licensing requests for this article, CLICK HERE.