Disney Leads Pack of Industry Cutbacks
Production companies, talent agencies also turn to downsizing
Monday, April 27, 2020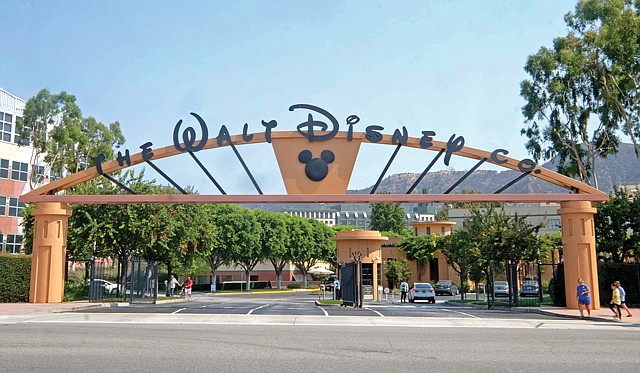 Walt Disney Co.'s recent announcement that it will stop paying more than 100,000 employees represents the latest blow to entertainment industry workers in a continuing wave of cuts, furloughs and layoffs spawned by the Covid-19 crisis.
Even Disney, one of the world's largest media companies and the biggest public company in Los Angeles with a market cap of more than $183 billion (down from $221 billion in late February) could not withstand the financial fallout of the pandemic.
The company has been forced to shut down Disneyland and other theme parks in the United States, Europe and Asia.
On April 20, reports surfaced that the entertainment giant would place 100,000 employees — nearly half of its workforce — on unpaid leave in a move expected to save the company $500 million per month.
Most of the cuts come from Disney's theme park staff.
Disney heiress Abigail Disney immediately took to Twitter to blast the decision to furlough the workers while retaining executive bonuses typically worth $1.5 billion.
"Pay the people who make the magic happen with respect and dignity they have more than earned from you. BE DECENT," Disney wrote.
Executive Chairman Bob Iger has said he will forgo his $3 million salary, and there have been reports that new Chief Executive Bob Chapek would either forgo or take a 50% cut to his $2.5 million annual salary. Other senior executives will be taking salary cuts of 20% to 30% for the duration of the crisis.
However, some have complained that most top executive compensation comes from bonuses.
Employee cuts also are in the works at NBCUniversal, which is similarly dependent on theme parks along with its media operations. Its theme park attractions include Universal Studios Hollywood in Universal City and Universal Orlando, both shuttered in mid-March.
In early April, NBC Universal said it would furlough its part-time hourly workers beginning May 3 and that full-time employees would suffer 20% pay cuts.
Other major studios in greater Los Angeles, including Sony Corp., Warner Bros. Entertainment Inc. and ViacomCBS Inc. subsidiary Paramount Pictures Corp., have not announced major layoffs or furloughs.
But all of Hollywood's major studios are content producers as well as distributors, and so are affected by production shutdowns that have idled film and television producers, casts, and crews.
High-profile movies that have halted production or had their release dates shuffled include "The Matrix 4," produced by Village Roadshow Pictures and distributed by Warner Bros.; "The Batman," produced by DC Films and distributed by Warner Bros. and "Dominion," the next chapter in Universal's lucrative "Jurassic World" franchise.
Networks and streaming services are, in some cases, juggling airdates to accommodate lack of product. But series production is virtually shut down.
NBC ceased production on 35 shows on March 13. HBO's "Barry" and "Succession" are among series that have shut down indefinitely.
The Fox hit "Empire" will end its sixth season run one week early on May 18 because the series was unable to shoot the season finale that was scheduled to air on May 21.
With production shutdowns, there are fewer deals to be made, so it's not surprising L.A.'s major talents agencies are suffering cutbacks as well.
Beverly Hills-based Endeavor is reportedly expected to complete ongoing furloughs and pay cuts affecting as much as one-third of the company's 7,500-member workforce by late May.
In late March, Paradigm Talent Agency laid off 250 staff members, reportedly including some top agents in music, motion pictures and TV literature.
Talent agencies ICM Partners, Creative Artists Agency and United Talent Agency have not announced layoffs at the executive or staff level to date, but CAA has announced pay cuts of up to 50%, and Variety reported that ICM "floating assistants," the term used to describe support staff not assigned to a specific agent or department, have been laid off as operations have gone remote.
For reprint and licensing requests for this article, CLICK HERE.