Smoke Signals
Most cannabis businesses are experiencing a virus-driven surge
Monday, April 20, 2020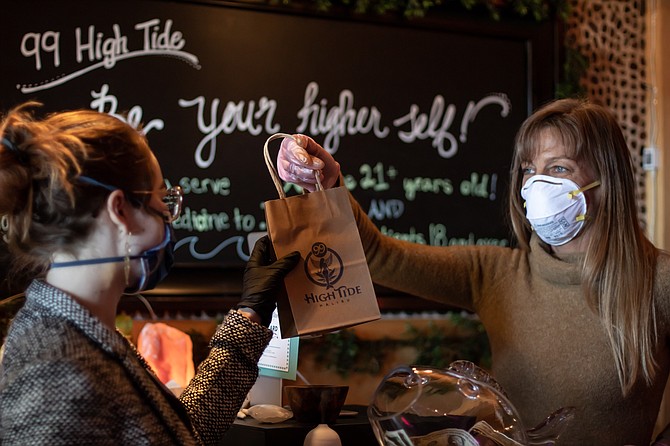 This spring has been a rollercoaster ride for many cannabis dispensaries in Los Angeles.
Most experienced sky-high sales in the first half of March as consumers rushed in to stock up because of "safer-at-home" orders. Many of those businesses then saw a rapid decline the rest of the month.
The Covid-19 effect varied depending on how the retailers conduct business.
"While we have seen an overall spike in cannabis sales, this has not been evenly distributed with retailers that have embraced online ordering for pickup and delivery seeing a much more positive impact in the last few weeks," said Juanjo Feijoo, chief marketing officer at Irvine-based Weedmaps, an online cannabis platform owned by Ghost Management Group.
March vs. February 2020 Cannabis Sales Data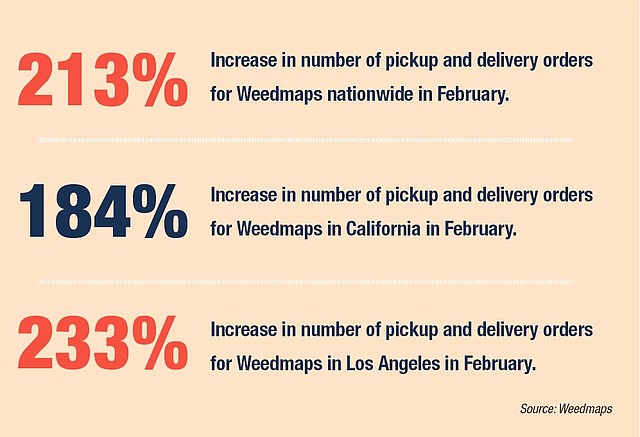 Weedmaps said orders in Los Angeles doubled in March from February, and the company said in a statement that "April is already on track to surpass this record."
Culver City-based Sweet Flower, which operates dispensaries downtown, in Beverly Grove and in Studio City, has served both regular customers and first-time buyers with its delivery platform, according to Chief Executive Timothy Dodd.
"The initial spike in sales driven by panic buying and stockpiling has slowed. There was a sales dip industrywide after the initial surge, but that looks like a one-off slump. Sales have stabilized and increased overall," Dodd said.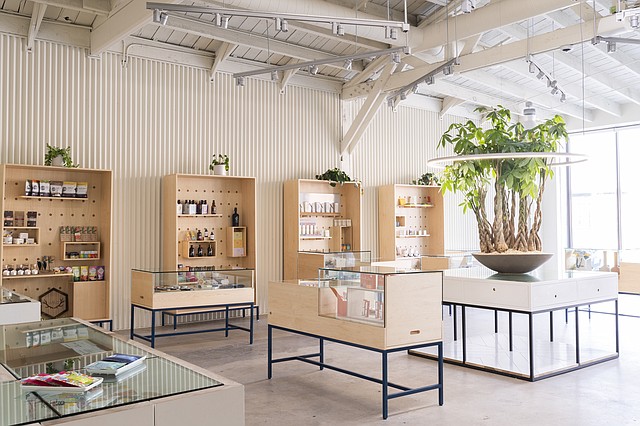 Sweet Flower said it has seen a 60% to 65% shift in sales from in-store purchases to curbside pickup and delivery.
The company has grown to about 80 employees since its founding in 2018. Dodd said Sweet Flower hired about 20 more drivers in late March and early April in response to increasing demand for delivery services.
Delivery challenges
But not all cannabis businesses — such as smaller operations that don't yet provide in-house delivery services — have seen a similar boost.
"We had this spike up, then the spike down. Then, the sales kind of bounced back. But overall, there's a lot less customers in town, so sales have taken a hit in the last month," said Armen Paronyan, president of L.A. Cannabis Co., which operates dispensaries in Mid-City, Leimert Park and Chesterfield Square.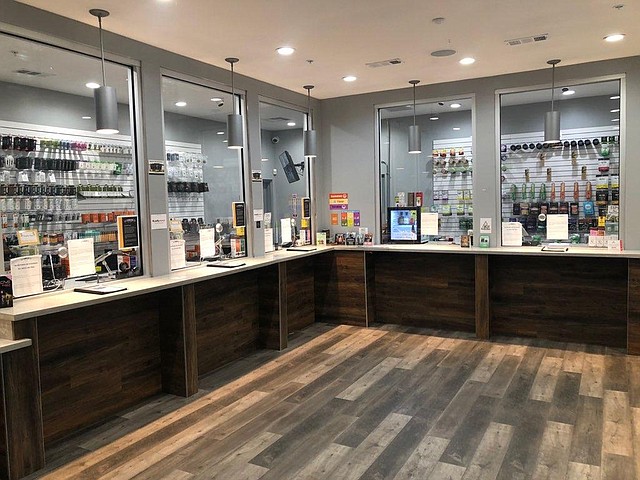 Aaron Justis, president of Studio City-based Buds & Roses Collective Inc., said he saw a similar pattern. "The increase in sales lasted for seven or 10 days, but I never got excited. People were just stocking up, and sales are now half what they were (before the lockdown)," he said, adding that the dispensary has reduced daily hours of operation from 13 to nine hours.
"I'm happy to be in business. I'm fortunate. But at the same time, the business has a whole set of its own challenges," Justis added.
Justis said Buds & Roses is preparing to launch an in-house delivery service, but he faces challenges. The cannabis industry has little access to banking support and financial options because it is still illegal on the federal level.
"People are not allowed to pay through the internet like you would with everything else that's delivered," Justis said. "So, it's just not as smooth as we would like it to be."
Tourism hit
Another factor contributing to the sudden decline in sales is the shutdown of the tourism industry, according to L.A. Cannabis' Paronyan.
"I would say about 20% of our sales is through tourism," he said. "On a good, busy weekend, we'd probably get 300 to 400 new customers. Last weekend, we had 130."
Los Angeles hosted 50 million visitors in 2018, according to the Los Angeles Tourism & Convention Board. For tourism-driven dispensaries, the increasing purchasing from local consumers would not offset the decreasing number of buyers who are visiting the city, according to Jerred Kiloh, president of United Cannabis Business Association, a trade organization representing about 160 retailers in California.
Kiloh said average seven-day sales for dispensaries across the state have had a 20% drop from pre-Covid days. But businesses that don't rely on tourism have seen "a pretty consistent increase in sales," he said.
"We keep thinking that the sales numbers are going to go down, but so far they've held pretty steady," said Yvonne DeLaRosa Green, co-owner of 99 High Tide Collective, doing business as 99 High Tide.
Green said 99 High Tide is the only dispensary in Malibu that sells recreational marijuana. It saw a 50% increase in sales in March, according to Green, who attributed the increase to new customers as well as 99 High Tide's online ordering and delivery services, which have been in place since the store opened in 2015.
Thanks to strong local demand, Luke Burrett, marketing director of Medicine Woman Group, said the Bellflower-based dispensary had a 30% monthly increase in sales in March, and it's keeping up the momentum in April.
"Sales haven't dipped at all," he said, adding that many customers still shop in-store. "Everyone is wearing masks and has got their gloves on, and we're wiping down the counter nonstop, like 20 times a day," he said.
"We think April will be a very strong month given that it is the month of 420 and believe that there are plenty of reasons to feel positive about May, too, but there are a lot of macroeconomic variables that could shift at any time," said Weedmaps' Feijoo.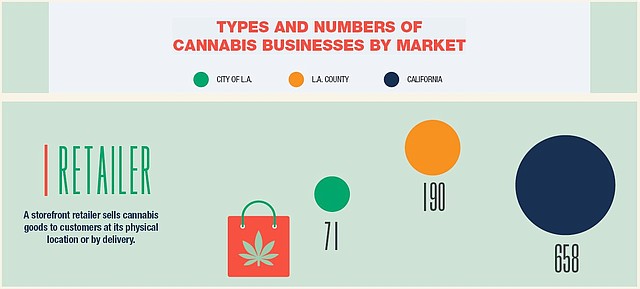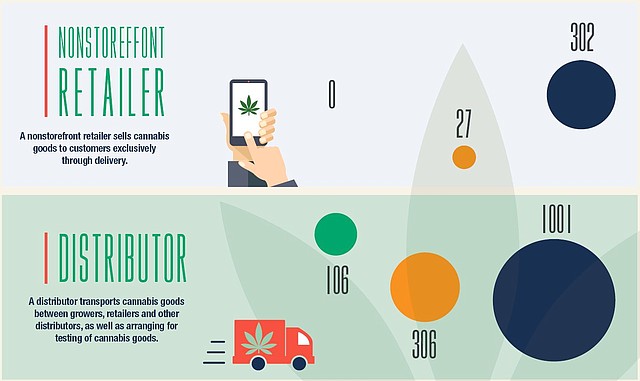 For reprint and licensing requests for this article, CLICK HERE.