LAX Posts Sharp Drop in Traffic
Car rental, storefront operators also hit hard in early April
Monday, April 20, 2020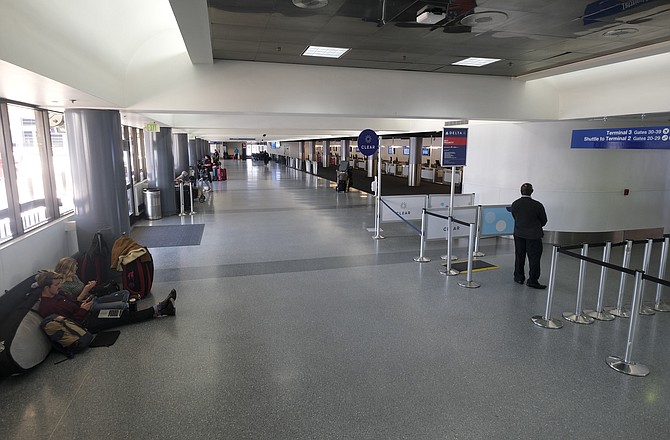 The Covid-19 crisis is taking a severe toll on every aspect of business at Los Angeles International Airport.
Air passenger traffic dropped nearly 95%, car rental revenue fell roughly 90%, and almost 70% of the airport's storefronts closed during the first week of April, according to officials at Los Angeles World Airports, the agency that oversees LAX.
The airport has also shut down one terminal and most of another as airlines have slashed the number flights in and out of LAX.
At an April 9 teleconference meeting of LAWA's Board of Airport Commissioners, interim Chief Executive Justin Erbacci said that departing air passenger traffic during the first week of April had fallen between 93% and 95% compared to the corresponding period last year, in line with the national figures of between 94% and 95.5%.
"We're doing a little bit better than the national average, but we've had only about 6,000 people checking in for flights in (each of) the last few days where we had 100,000-115,000 just a year ago," Erbacci said. "This significant decrease in passengers has significant impact on all of our partners and also our revenue."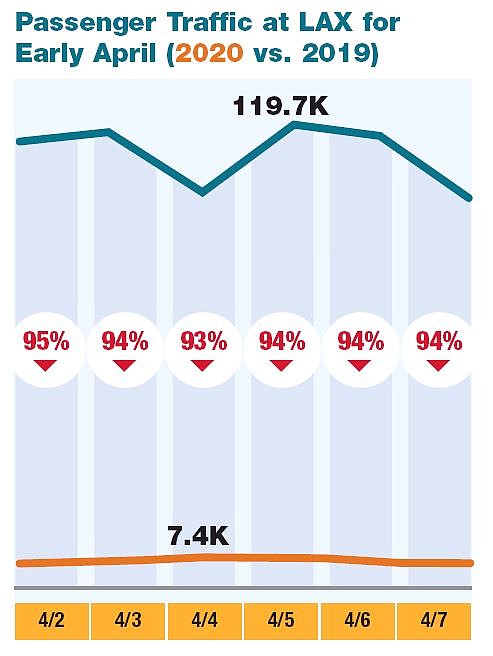 As passenger counts have been falling, airlines have been reducing flights to and from LAX.
Chicago-based United Airlines Inc. announced April 7 it was cutting 20 daily flights at LAX, bringing the new total to just 13. New York-based JetBlue Airways Corp. said in a separate announcement that it had cut roughly 85% of flights in the five largest metro markets it serves, leaving just five daily flights at LAX.
"We understand that the other major airlines also will be reducing their flights and routes in significant ways in the near future," LAWA Board President Sean Burton said at the meeting.
Burton called the Covid-driven falloff "the greatest disruption to air travel in history."
The cutbacks have prompted at least two airlines with multiple terminals at LAX to consolidate operations, Burton said. During the first week of April, Atlanta-based Delta Air Lines Inc. closed operations in Terminal 3 and consolidated them into Terminal 2, leading to a complete shutdown of Terminal 3.
And Burton said that after United's April 7 announcement, LAWA has been coordinating with the carrier on closing most of Terminal 8 and shifting those operations into Terminal 7.
"This provides an opportunity for us to work with our airline partners to reassess our operations," Burton said.
LAX is not alone in terminal closures. On April 8, Hollywood-Burbank Airport announced it was closing one of its two terminals and consolidating all operations into the remaining terminal.
The sharp downturn in passengers at LAX, along with local and state social distancing orders, has also led to a steep drop in airport revenue from concession operations.
Burton said revenue plunged between 80% and 90% for the first week of April, compared to the same period last year.
Erbacci said 68% of the airport's roughly 230 storefronts — including eateries — within the nine terminals were closed as of April 9.
"We are keeping open at least some shops in each terminal for passengers to have the capability to get food and beverages," Erbacci said.
The store closures have been across the board. Several of the 11 duty-free shops for international travelers were closed. And among the stores that have remained open, many have cut their hours, he said.
One major airport concession operator, Hudson Group of East Rutherford, N.J., which has six storefronts at LAX, filed a notice with the state Employment Development Department, saying that it had laid off 165 people. Only one of Hudson's locations had closed; the rest were operating on reduced hours, according to an April 14 listing from LAWA of all concessions at LAX.
The URW Airports division of Paris-based Unibail-Rodamco-Westfield, which oversees concessions at LAX terminals 1, 2, 3, 6 and Tom Bradley International, declined to answer questions about the closures, but a URW Airport spokesman released a statement from the company. "We are actively partnering with LAWA and our retail partners to provide the best possible hospitality services in support of essential airport workforce and guests," the statement said. "We are grateful for the support and commitment from LAWA, our operating commercial partners, and their employees to sustain businesses during this unprecedented event."
Burton said revenues at the 10 car rental operators serving LAX were also down nearly 90%. All of the individual car rental operators at LAX are owned by national or international car rental chains with roughly 90% of the market owned by just three companies: Enterprise Holdings Inc. of St. Louis, Hertz Corp. of Estero, Fla.; and Avis Budget Group Inc. of Parsippany, N.J.
LAWA has crafted measures to help concessionaires and car rental companies stay afloat during the closures.
On April 16, the LAWA board agreed to defer concessionaire second-quarter rental payments until the second half of 2020. LAWA also changed the rental formula from a combination of a revenue percentage fee and minimum annual fee to just a revenue percentage fee.
In addition, the board gave more flexibility to car rental operators with off-airport lots to pay their fees to LAWA. Through the first quarter, those operators paid annually. They'll now have the option to pay 10% of revenues instead.
Meanwhile, on April 14 the Department of Transportation announced allocations of funds for airports under the $2.2 trillion CARES Act.
The money is to offset airport revenue losses from airline flight cutbacks, concession closures and reduced payments from car rental operators. LAX is slated to receive $324 million, Burbank Airport will get $21 million and Long Beach Airport will receive $18 million.
For reprint and licensing requests for this article, CLICK HERE.