Closings, Layoffs Mounting in LA
Filings by manufacturers show a sharp increase
Monday, April 20, 2020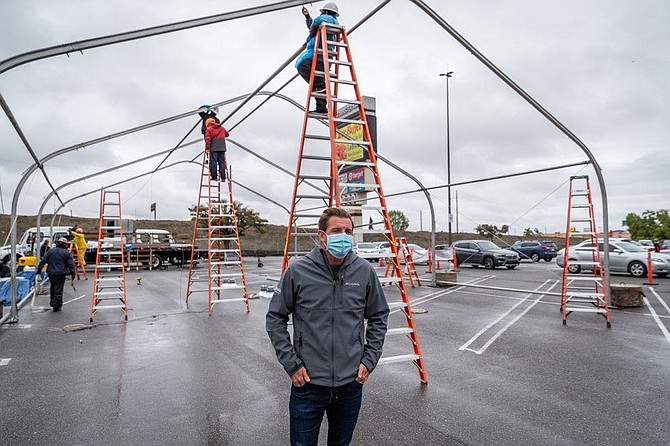 The state Employment Development Department has processed more than 1,240 notices announcing temporary layoffs and closures since February. It has also received 233 letters from companies stating that closures and layoffs will be permanent.
The latter includes about 30 businesses in Los Angeles County that said they are closing their operations or have no plans to rehire their employees in the near future.
IPC Studio Inc. said it shuttered its jeans manufacturing plant in South L.A. and laid off 124 employees. Its clients were well-known brands, including Joes Jeans, Hudson Jeans, and Rag & Bone.
"Due to the Covid-19 pandemic, the company has suffered significant loss in business," IPC President Peter Chung wrote in a filing with the EDD. "Because it is currently unknown when and if business will resume as normal, no employee who is being laid off should count on being recalled to employment with the Company."
Choura Events, founded in 2007, specializes in procuring tenting, furniture and staging for events, including the Golden Globes and Summer X Games. Chief Executive Ryan Choura said he reduced the company headcount by 45 and closed its office in Compton.
"Due to the Covid-19, many of our clients have canceled their events, such as BNP Paribas and Coachella," Choura wrote in the letter to EDD. "These cancellations have had a massive toll on our business, and we have therefore had to begin layoffs and are considering additional furloughs."
The company recently pivoted to providing tents for hospitals to be used for triage, testing or as overflow facilities for treating Covid-19 patients.
CCM California, a subsidiary of Mississippi-based Channel Control Merchants that sells name-brand clothing, footwear, furniture and housewares at steep discounts through its network of some 100 retail stores, said it will close its warehouse in Vernon on May 30 and lay off 131 workers.
Head West Inc., maker of mirrors and glass decor, will shutter its manufacturing plant in Compton on May 12 and lay off 100 workers. Its client list included Hilton and Sheraton hotel chains, Kohl's Corp. and Bed Bath & Beyond Inc. The closure was in part caused by the coronavirus pandemic, according to Maria Pacheco, Head West's human resources director.
"It's hard. Some of us have been here 25, 30 years," Pacheco said.
Watts Healthcare Corp. said it plans to lay off 107 employees working at five locations, including Watts Healthcare Crenshaw Community Clinic. It cited "business circumstances related to Covid-19 that were not reasonably foreseeable," as the reason for the layoffs.
Other companies permanently laying off staff include Spirit Clothing Co. with 80 employees in Vernon; Athas Capital Group Inc. in Agoura Hills letting go of 172 workers; and RGGD Inc., doing business as Crystal Art Gallery, parting with 170 employees.
For reprint and licensing requests for this article, CLICK HERE.