Positive News Boosts Molina to Record High
Analyst upgrade lifts insurer
Monday, April 13, 2020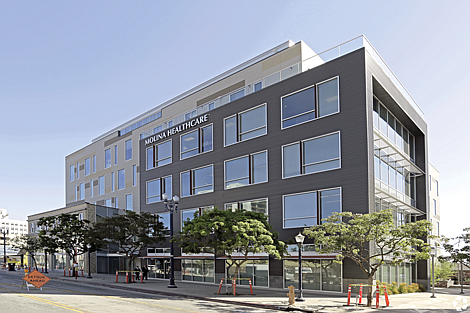 While markets have swooned in recent weeks, shares of Long Beach insurer Molina Healthcare Inc. surged to an all-time high April 8 after an analyst raised its rating two notches to the equivalent of a "buy" and news that Sen. Bernie Sanders, I-Vt., was ending his presidential bid.
Molina's stock jumped 12.5% to $157.56 on April 8, surpassing its previous peak of nearly $154 in early June. That capped a 39% rally from a March 16 low for 2020 of $113.75. (By comparison, the S&P 500 rose 23% between March 16 and April 8.)
Share prices of publicly traded health insurers rose across the board on news of Sanders' April 8 withdrawal from the race for the Democratic nomination with many investors apparently taking that as an end for now to a "Medicare for all" plan that would eliminate private health insurance. Indianapolis-based Anthem Inc. shares rose 10.3%, while Minnetonka, Minn.-based UnitedHealth Group Inc., the nation's largest private health insurer, rose 8%.
But Molina's rise outpaced both companies, possibly because just hours earlier Kevin Fischbeck, an analyst with BofA Securities, issued a report on Molina with an "overperform" rating (essentially a "buy" rating). That was two notches up from Fischbeck's previous "underperform" (or "sell") rating. The report moved the target for Molina to $171 a share from the previous $125 a share.
While single-notch upgrades from analysts are common, an instantaneous double-notch upgrade from "sell" to "buy" is relatively rare.
Fischbeck cited progress Molina has made in boosting margins. He also said the insurer is positioned to do well in the current recessionary environment because of its focus on low-income populations through Medicaid programs.
Some of Molina's Medicaid contracts were at the center of another recent positive development for the company. The Texas Health and Human Services Commission canceled its latest round of Medicaid managed care contract awards on March 25, according to a Molina filing with the Securities and Exchange Commission.
Molina and other health insurers had challenged the Texas commission's Medicaid contract award procedure last fall. That process had resulted in Molina being stripped of five regional contracts, with those contracts going to other insurers. (Molina did retain one contract and picked up a contract in another region.)
Molina said in the filing that the commission is "currently deliberating next steps with respect to the reprocurement." No timeline was given for those next steps.
The result is that Molina gets to keep the five contracts it had previously lost, for at least the next several months, providing the company with additional revenue it had not expected.
For reprint and licensing requests for this article, CLICK HERE.