Long Beach Port Turns to Incentives
Initiative follows success of competing LA program
Friday, September 27, 2019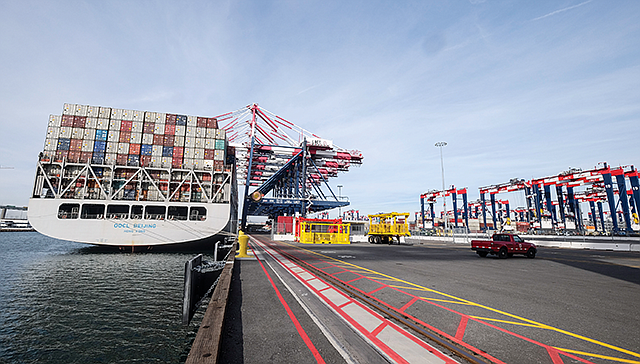 Trying to combat declining cargo shipments, the Port of Long Beach will begin paying ocean carriers to bring in more cargo. The incentive program is expected to cost the port about $4 million to $6.5 million in the fiscal year beginning Oct. 1.
The payment program follows a similar effort launched in September 2018 by the Port of Los Angeles. That initiative has boosted cargo volumes and cost an estimated $6 million to $7 million.
The program has helped the Los Angeles port retain its title as the nation's busiest even as overall volumes in San Pedro Bay have sunk.
"We saw an opportunity to use this incentive program to stabilize our container volumes in the short term," said Noel Hacegaba, deputy executive director at the Port of Long Beach.
The twin ports, which are viewed by the shipping community as a single hub for trade with China, have seen imports slide or remain flat for several months as the trade war between the world's two largest economies drags on.
But there has been a stark difference between volumes at the two ports. In August, imports fell 5.9% at Long Beach compared to a year earlier while Los Angeles saw imports rise 4.1% during the same period.
Under Long Beach's program, the port pays carriers $10 for every 20-foot equivalent unit, a standard measure of cargo, that is above last year's volume and overall market growth.
The payments are capped at $2 million a year. And since most shipments are usually 40 feet, the standard payout is usually $20 for each piece of qualifying cargo. But unlike L.A.'s program, Long Beach does not count empty cargo boxes.
It's unclear whether the dueling incentive programs will do much to boost overall growth at the ports. With the trade war in full effect, manufacturers like Guess Inc. have been looking for ways to offset the costs of tariffs on Chinese goods.
As manufacturers move production away from China, they're turning to locations in Southeast Asia that provide similar services. Imports from those countries have increased over the last year.
"Supply chains that have been rock solid are now in flux. It's now the Wild West; the model is changing," said Steve Ferreira, chief executive of Ocean Audit Inc.
The San Pedro Bay ports have already been losing market share to other ports. Some analysts say retailers could begin to shift their distribution channel to the East Coast, where much of the nation's population lives.
For reprint and licensing requests for this article, CLICK HERE.