LAX Delays Cargo Facility
Airports: Major project pushed back by two years
Friday, September 27, 2019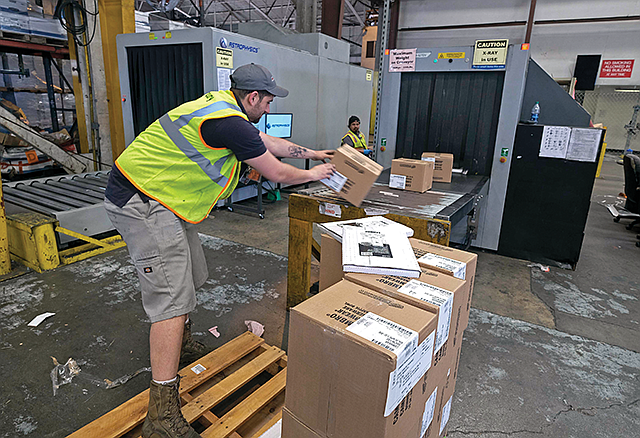 Los Angeles airport officials have delayed by at least two years an air cargo handling facility costing up to $450 million that was intended to reduce cargo congestion.
The unusual delay, which came after four preliminary bids had been received, puts the project on the back burner while other multibillion-dollar airport improvement projects are moving forward.
The decision comes amid a downturn in cargo moving through Los Angeles International Airport where tonnage has declined 5% through the first eight months of 2019 compared to the same period last year.
Airport officials attributed much of this drop to fallout from the trade war between the United States and China.
The cargo tonnage slowdown did not factor into plans to push back the cargo terminal project, LAX officials said.
Instead, they explained, more planning was needed to ensure the project doesn't conflict with other infrastructure work at the airport, including the $2 billion people mover and $5 billion-plus worth of terminal rehabilitations.
"We have a lot of megaprojects happening at the same time, and we are trying to coordinate the work on all these projects so we don't end up doing things such as laying pipes twice," said Heath Montgomery, spokesman for Los Angeles World Airports, the city agency that oversees LAX. "So, we're taking a step back to better align this project with all the other projects going on. We still intend to move forward with the project in 2021."
Congestion relief?
When it was unveiled by airport officials about 18 months ago, the air cargo terminal was envisioned as a two-story, 450,000-square-foot facility on the south side of Century Boulevard.
Located just outside the central terminal area, it would replace and expand upon 200,000 square feet of cargo space in several buildings on the south side of the airfield and along Century Boulevard.
It was to be the first of several multistory cargo facilities at LAX, all intended to consolidate cargo operations and reduce cargo-related vehicle movements on and around the airfield.
Shippers and handlers have long complained that the scattered layout of the facilities has led to congestion and bottlenecks in cargo movement.
Four companies or teams of companies had submitted preliminary proposals to build the facility, which airport staff estimated would cost between $325 million and $450 million. Those proposals have now been shelved.
One of the preliminary bidders was Mercury Air Cargo, a unit of Torrance-based Mercury Air Group Inc. that handles roughly one-fourth of all air cargo moving through LAX.
Mercury Air Group Chief Executive Joe Czyzyk declined to comment on the decision to delay the cargo project. He previously noted to the Business Journal that most of the current cargo facilities at LAX are decades old, cannot accommodate today's larger aircraft, and have only one entrance/exit area, which creates frequent logjams.
Even as the company awaits a new facility, Mercury Air Cargo has taken steps to deal with these logjams. Mercury Air President and Chief Operating Officer John Peery, in a July post on the company's website, said Mercury Air has reconfigured space and some operations to improve cargo flow at several of the facilities it operates. Peery added that the company plans to complete automation of its import delivery system by early October.
Air cargo drop
For the time being at least, the cargo crunch at LAX has eased a bit, but not for reasons the air cargo industry had hoped. Through August, 1.52 million tons of air cargo had moved through LAX this year, a drop of 4.7% from the same eight-month period last year. The chief culprit, according to John Carver, deputy executive director of special projects at LAWA, has been the tariff war between the United States and China.
"Earlier this year, I would not have said that the slowdown in cargo was due to the China tariff issue," Carver said. "But in recent months, the tariffs have spread, and now they cover things like components used in mobile phones, and those components are chiefly shipped by air. So yes, now the China tariffs are having an impact."
For LAX, this drop is a sharp reversal from 2017, when air cargo tonnage surged 8.2%. Last year, air cargo growth slowed, coming in at 2.4%.
Impact from the trade tariffs has been felt at other major international air cargo airports, including Chicago's O'Hare International Airport and New York's John F. Kennedy International Airport, according to Michael Webber, associate vice president in the Austin, Texas, office of Cincinnati-based Landrum & Brown, an aviation planning firm that has done consulting for LAWA.
For the first six months of this year — the latest figures available — air cargo tonnage was down 2.7% at JFK and was up 0.1% at O'Hare.
"Of the four major airports that handle large volumes of international air cargo, LAX has been the most impacted by the China tariffs, since 45% of all the international cargo at the airport comes from or goes to China," Webber said.
(The fourth airport, Miami International, saw a 0.5% increase in air cargo tonnage; Webber said that modest increase was due to increased trading between the United States and Latin America.)
A secondary factor in the drop in air cargo at LAX, according to both Carver and Webber, has been a slowdown in several of the world's major economies, especially in Europe.
For reprint and licensing requests for this article, CLICK HERE.