Family Affair
Sibling-powered developer Jamison conquers new territory
Friday, September 27, 2019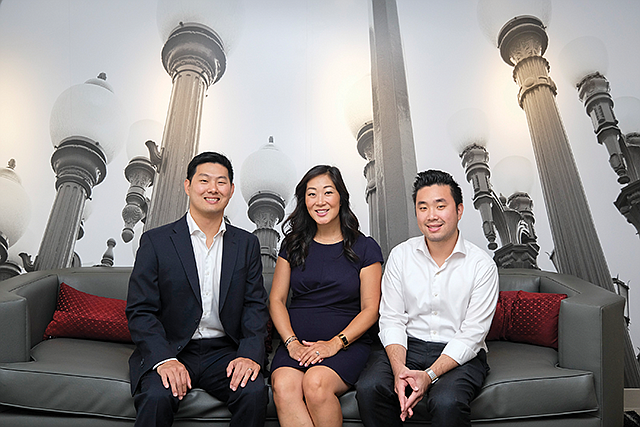 What does it mean to you to do this in your hometown?
JL: We grew up in Koreatown, coming here at a time when we were just emerging from the riots, and Koreatown was certainly not the cultural center or even the geographical center it is now. Our commitment with our generation is really seeing what is the path forward for this neighborhood, and how do we continue to develop and improve it for future generations.
Jamison was once known for office properties. What got you interested in residential buildings?
GL: After the recession, the office market took a big hit from a lot of small businesses going out of business and moving out. Our buildings, a lot of them had a big drop in occupancy. At the same time, the opposite was happening with the residential market, and rents were starting to rise to the point where it made sense to actually build apartments. One of our strategies was to vacate an office building and relocate as many people — long-term tenants — as possible to other properties we had to help them out and continue that relationship. And once that building was vacant, to convert it to apartments. We were able to hit about 95% occupancy on the apartments pretty quickly.
Why pursue ground-up developments instead of sticking to adaptive reuse projects?
JL: We started looking at the cost of development and zoning in Koreatown and seeing that there were opportunities with existing parcels of land that made sense to develop. When we first started to look at it, land was $250 to $300 a square foot. Downtown at the time was $600. Now downtown is well over $1,000 a square foot, and Koreatown has gone up.
How important are amenities to buildings today?
GL: Very important. With the amount of new product that's coming online, you really have to stay competitive and give something different to prospective residents. People are redefining how they look at multifamily. It's become a lot more hospitality focused in terms of design and amenities and services. A lot of buildings now are offering package lockers, dry cleaning pick-up, dog walking, dog daycare, vending machines that are always stocked.
Jamison recently purchased a property in West L.A. Is the company looking to do more on the Westside?
GL: Definitely.
PL: It's all about opportunity — finding the right mix of land value and areas that we understand.
For reprint and licensing requests for this article, CLICK HERE.