Family Affair
Sibling-powered developer Jamison conquers new territory
Friday, September 27, 2019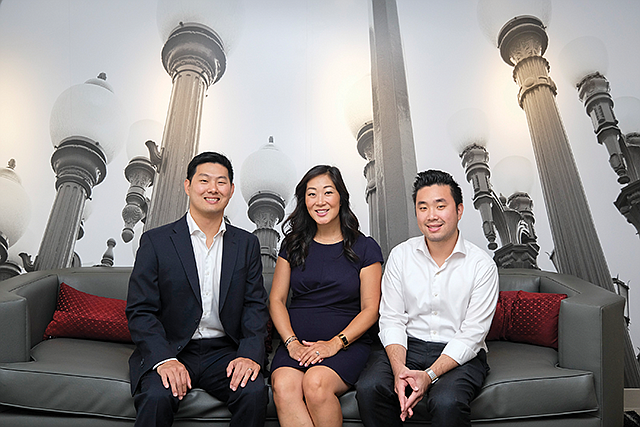 At Koreatown-based developer Jamison, it's family first.
Launched in 1995 as a side business by practicing physician David Lee, the company now boasts 18 million square feet of office space and thousands of multifamily units.
While Lee remains involved, he has handed off management of the company to three of his children.
Jaime Lee oversees commercial leasing as chief executive of Jamison Realty Inc. Phillip Lee serves as chief executive of Jamison Services Inc., guiding asset and property management. And Garrett Lee, the youngest of the three, manages development as president of Jamison Properties. Their other brother, Brian Lee, is not involved in the business.
Together, the Lee triumvirate has pushed Jamison into new areas. Once known primarily as landlords for Class B office buildings in Koreatown, Jamison now reaches from downtown to the Westside.
And the company has shifted to multifamily developments, both as adaptive reuse projects and as new builds. That includes the Circa, a massive residential and retail effort at 1200 S. Figueroa St. with 648 luxury units and 48,000 square feet of retail space.
The younger Lees sat down with the Business Journal to discuss the family dynamic, the company's roots in the 1992 L.A. riots and expansion into new markets.
The three of you really have L.A. in your DNA. You grew up here, and your dad has long been a major player in local real estate. How did watching him prepare you for your roles at Jamison?
Phillip Lee: It was forced preparation basically. He's the kind of person who doesn't ever stop working. He was still practicing medicine when we were growing up and doing real estate. When I was learning to drive with my learner's permit, he would have us drive by buildings to check them out and look at new properties.
Jaime Lee: I've been working for my dad since I was 5, whether it was going on rounds with him at the hospital when we were kids on the weekend or going to his medical office. Very early, he was ingraining in us that it's a family endeavor, that it's a team effort for us all to continue to work together.
Garrett Lee: I got that experience when I started full time about five years ago. He's pretty much in the office every day all day, just working so hard. That constant exposure made it a lot easier to pick up on real estate philosophies and how he got the business to work.
Prev Next
For reprint and licensing requests for this article, CLICK HERE.