Micro-Units Loom Large
REAL ESTATE: Builders, renters trying small apartments
Friday, September 20, 2019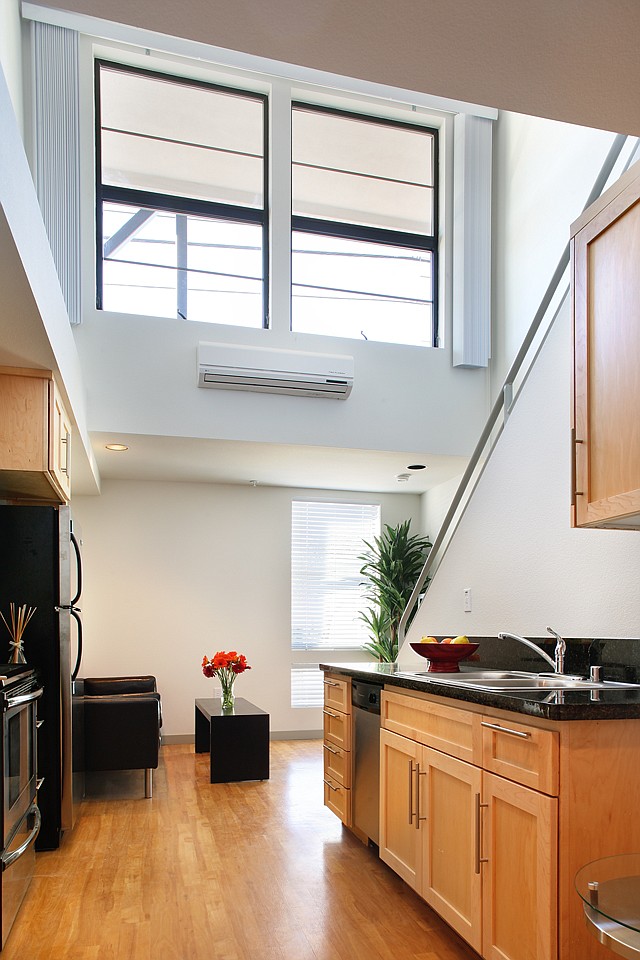 Micro-units, those shoebox-sized apartments that have long been part of New York's rental market, are making their way to L.A.
And local developers — attracted by substantially higher per-square-foot rents and motivated by the city's tight housing market — are betting that many renters are ready to go small.
Defined by the Central City Association of Los Angeles as apartments that run 140 to 350 square feet, micro-units are generally more affordable for renters than other offerings and are usually positioned near public transit.
In L.A., micro-units can ask rents that are 25% to 100% higher per square foot than larger apartments, according to the CCA.
"We look at micro-units as being part of the spectrum that doesn't currently exist," said Jessica Lall, president and chief executive of the CCA. "Micro-units aren't going to be for everybody, but they do appease and appeal to a certain demographic."
Anthony Muhlstein, a managing director at Newmark Knight Frank, agrees. "Micro-units are a newer approach to an urban infill experience for millennials who struggle with homeownership, affordability and the ability to rent in newer, well-ammenitized projects," he said.
Gaining momentum
Requirements allowing for increased density and fewer parking spots near transit stops are big reasons why these projects are being developed now, according to the CCA.
Los Angeles City Councilmember Gil
Cedillo introduced a motion Aug. 30 to explore a pilot program to develop micro-units near transit.
"Los Angeles is in a housing crisis that is placing a severe burden on low- and moderate-
income residents, exacerbating homelessness, straining state and city budgets, and jeopardizing the continued growth of our economy," Cedillo's motion stated.
Micro-units have helped address housing issues in other parts of the country, experts agree, making homes more affordable for people without using public subsidies.
Laurie Lustig-Bower, an executive vice president at CBRE Group Inc., said the smaller apartments offer an array of benefits.
"Micro-units produce a very high price per square foot in rent, and that can help make a development project economically feasible," she said.
Lustig-Bower added that the tenant pool that can afford a micro-unit is much larger than that for a high-end larger apartment.

Growing interest
Although some investors are intrigued by the new asset class, they also have concerns.
"We are interested, but it's a qualified limited interest," said Eric Jordan, vice president of fund development at Sawtelle-based Calmwater Capital. "The concern we have is the unproven nature of this niche asset class in certain markets."
One of the flashiest micro-unit projects to date is NMS Properties Inc.'s Olympic Lofts in Santa Monica. The units are roughly 400 square feet, slightly larger than other micro-units.
The development was designed by KFA's Wade Killefer, who said it was the firm's first micro-unit project in the area. It has since done more, mainly as permanent supportive housing.
Killefer said micro-units are not new, but market-rate micro-units are. "There's a trend now in building smaller units and having more amenities in the projects," he said. "It's almost like a reverse hotel. … You get to live a good life but in not many square feet."
Another well-known project with some micro-units is One Santa Fe in downtown's Arts District. The development has a total of 438 units. Some studios are only 343 square feet.
And more projects may be on the way. A 60-apartment micro-unit complex has been proposed for Pasadena. The project, on a vacant lot between Hill and Holliston avenues, would have units around 220 square feet. It is being designed by Tyler and Kelly Architecture.
In May, Gershwin Apartments in Hollywood sold for $46 million. The Gershwin, built in the 1920s as the St. Francis Hotel, is a 172-unit complex, with 105 units at less than 300 square feet.
While experts say a number of micro-units will be ground-up developments, some, like the Gershwin, are hotel conversions.
The Mikado in Little Tokyo was designed as a hotel in 1914. It was vacant for more than 30 years before development group Capital Foresight purchased it in 2014. The building was restored and now has 42 "micro-suites." Each has its own kitchenette and bathroom.
The Flat, a building with a mix of apartment sizes, opened downtown in August. Its smallest units are 350 square feet. The building was originally built as a hotel in 1969 and operated as such for more than 30 years. In the mid-2000s, the owners began operating the property as apartments. It was then purchased by Waterton and Kor Group in 2014.
"The fact that it was operated as a hotel leads you to believe that some of the units were pretty small," said Matthew Masinter, senior vice president of acquisition at Waterton.
He added that converting a hotel into apartments is not that costly because there are already systems like plumbing in place.
Neighborhoods as amenities
Some areas are fighting the small dwellings. In March, Santa Monica passed a temporary ban for units under 385 feet that aren't affordable housing.
But that doesn't seem to be slowing the tide of micro-units. Experts agree that the future will bring more tiny apartments.
"For an investor, the interest is in having an interesting, unique product that is in high demand," Masinter said. "We like properties that are highly occupied, and we see this trend happening around the country. We aren't scared of operating these."
Kitty Wallace, an executive vice president at Colliers International Group Inc. who represented both the buyer and seller in the Gershwin deal, said she expects to see more micro-units in metro areas "where rents are just too high." She said areas like downtown, Koreatown and Hollywood with older, smaller buildings are more likely to get them.
Lall agreed that downtown was an area especially primed for micro-units as it was an area where people would "use the neighborhood as the primary amenity."
The trend "is one of the ways of the future." Killefer said. "It's a good way to bring the cost of an apartment down even though the square footage cost is very high. Since there is less square footage, it makes it more affordable."
For reprint and licensing requests for this article, CLICK HERE.