Carmaker Canoo Feels Need for Speed
AUTOMOTIVE: EV startup prepares to unveil first vehicle
Friday, September 20, 2019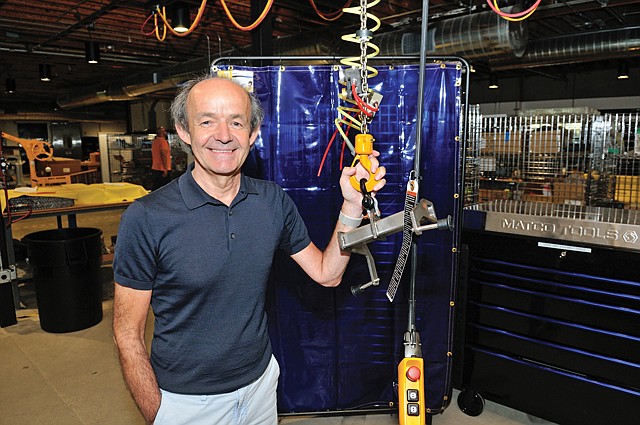 Electric car startup Canoo Inc. has the pedal to the metal.
The Torrance-based company took just 10 weeks to make design decisions — a process that normally takes 18 months, according to Chief Technology Officer Ulrich Kranz who's currently overseeing the company's operations — after its incorporation in late 2017.
"Since we are a startup, there isn't a big hierarchy, and we can make decisions very fast," Kranz said. "We were well aligned when we started the company."
Quick-moving Canoo takes another big step forward Sept. 24 when it is set to unveil a prototype of its electric car at an event downtown. Kranz describes the vehicle as "a loft on wheels."
Canoo's car has yet to reach production. It won't be mass marketed until 2021 at the earliest, the company said.

But the vehicle has already attracted interest among the automotive community and analysts who are eager to see what the latest contender in the small but growing EV market has to offer.
Jeremy Acevedo, manager of industry analysis for Santa Monica-based auto research firm Edmunds.com Inc., said Canoo picked the right place for the vehicle's coming out party. "California has an outsized role (in electric vehicle adoption)," Acevedo said. "Fifty-six percent of electric vehicles sold nationwide are sold here."
The price is right
It's not just Canoo's vehicle that is drawing attention. The startup also plans to pursue a unique business model that relies on user subscriptions rather than outright car ownership.
Canoo has not yet determined pricing for its subscription ownership packages, but Kranz said the monthly fee will include maintenance and repair, insurance, and registration with the Department of Motor Vehicles through Canoo's forthcoming mobile application.
Acevedo said vehicle subscriptions account for "far less than 1% of the (auto sales) market. It's a really tiny section."
But, he added, Canoo's bundling of multiple services in a subscription could be an effective strategy for attracting new drivers.
Kranz said the monthly subscription is more flexible than traditional car ownership and could appeal to younger drivers or those skeptical about purchasing an electric vehicle outright.
"Based on our feedback and all the information we gathered so far from our audience, we don't see any problem with the subscription model, especially (with) younger generations," Kranz said. "They are not willing to buy or sign contracts anymore."
Kranz said he believes that avoiding contracts "minimizes the risk for consumers."
Canoo also plans to avoid dealerships and deal directly with customers, saving the company cash, which can be used to offset steep electric battery costs. The remainder of the savings, Kranz said, will be passed onto the consumer via a lower price point.
"Looking at Canoo, it's clear right away it is a brand that is looking at the future and rethinking the way people own vehicles," Acevedo said. "Whether or not the market is ready for it is the real question for the brand."
Prices of electric vehicles vary greatly. A commuter electric vehicle like the Prius from Toyota Motor Corp. can retail for roughly $30,000, whereas some cars made by Tesla Inc. sell for upwards of $100,000. Kranz and Canoo are targeting a price point somewhere in the middle.
Beta testing begins
Founded in December 2017 by Kranz and Stefan Krause, both former employees of BMW's electric vehicle lab, Canoo was originally named Evelozcity.
After rebranding in March, the company continued raising funds to finance vehicle production. Kranz wouldn't disclose how much Canoo has raised but noted it takes the average startup roughly $1 billion to get an electric car to market.
Research, design and development of Canoo's vehicles happen at the company's headquarters in Torrance, while the carmaker contracts out manufacturing. Two companies are already working with Canoo though Kranz wouldn't disclose their names or locations.
"We invited them in early stages of research and development, so our systems are designed for production," Kranz said.
In August, Krause stepped down temporarily from his role with the company for personal reasons. He will continue as an adviser and will remain involved with financing.
The departure hasn't slowed Canoo, which has leaned on Krause's 33 years of BMW experience to help create a methodical approach to developing its EV.
The company is determined to avoid the road traveled by struggling electric vehicle manufacturers like Gardena-based Faraday and Future Inc., which was established in 2014 but has yet to deliver a car to customers.
Canoo is testing two beta models in simulations to ensure the cars are safe before they are even manufactured and will do so again for all cars that come off the line. Once the prototype vehicle is revealed, testing will increase, said Kranz.
"We did lots of simulations, and the simulation results look good," he said. "But when it comes to vehicle testing and crash testing, you have to prove that with hardware. We will have the first test results of our beta car at the end of the year."
For reprint and licensing requests for this article, CLICK HERE.