Carmaker Canoo Feels Need for Speed
AUTOMOTIVE: EV startup prepares to unveil first vehicle
Friday, September 20, 2019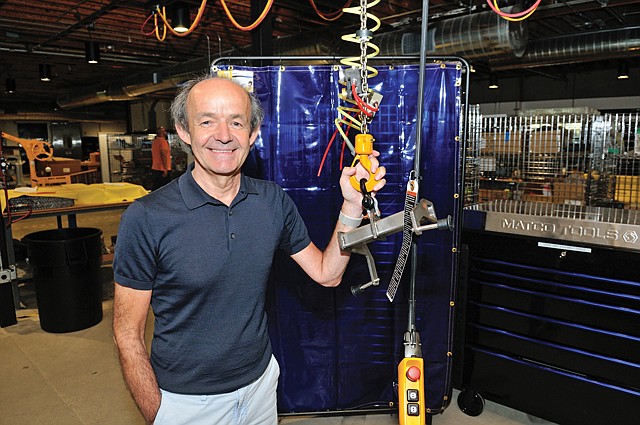 Electric car startup Canoo Inc. has the pedal to the metal.
The Torrance-based company took just 10 weeks to make design decisions — a process that normally takes 18 months, according to Chief Technology Officer Ulrich Kranz who's currently overseeing the company's operations — after its incorporation in late 2017.
"Since we are a startup, there isn't a big hierarchy, and we can make decisions very fast," Kranz said. "We were well aligned when we started the company."
Quick-moving Canoo takes another big step forward Sept. 24 when it is set to unveil a prototype of its electric car at an event downtown. Kranz describes the vehicle as "a loft on wheels."
Canoo's car has yet to reach production. It won't be mass marketed until 2021 at the earliest, the company said.

But the vehicle has already attracted interest among the automotive community and analysts who are eager to see what the latest contender in the small but growing EV market has to offer.
Jeremy Acevedo, manager of industry analysis for Santa Monica-based auto research firm Edmunds.com Inc., said Canoo picked the right place for the vehicle's coming out party. "California has an outsized role (in electric vehicle adoption)," Acevedo said. "Fifty-six percent of electric vehicles sold nationwide are sold here."
The price is right
It's not just Canoo's vehicle that is drawing attention. The startup also plans to pursue a unique business model that relies on user subscriptions rather than outright car ownership.
Canoo has not yet determined pricing for its subscription ownership packages, but Kranz said the monthly fee will include maintenance and repair, insurance, and registration with the Department of Motor Vehicles through Canoo's forthcoming mobile application.
Acevedo said vehicle subscriptions account for "far less than 1% of the (auto sales) market. It's a really tiny section."
But, he added, Canoo's bundling of multiple services in a subscription could be an effective strategy for attracting new drivers.
Kranz said the monthly subscription is more flexible than traditional car ownership and could appeal to younger drivers or those skeptical about purchasing an electric vehicle outright.
"Based on our feedback and all the information we gathered so far from our audience, we don't see any problem with the subscription model, especially (with) younger generations," Kranz said. "They are not willing to buy or sign contracts anymore."
Kranz said he believes that avoiding contracts "minimizes the risk for consumers."
Canoo also plans to avoid dealerships and deal directly with customers, saving the company cash, which can be used to offset steep electric battery costs. The remainder of the savings, Kranz said, will be passed onto the consumer via a lower price point.
For reprint and licensing requests for this article, CLICK HERE.
Prev Next