Bed-Maker Hit by Trade War
TRADE: Commerce company finds itself on a 'roller coaster'
Friday, September 20, 2019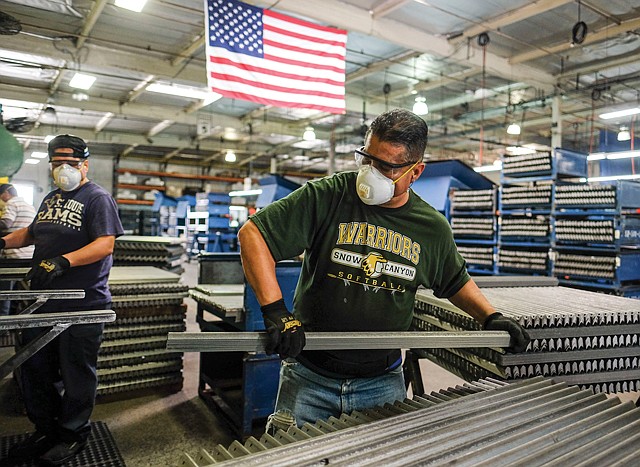 Jason Harrow saw profits dwindling last year as steel tariffs raised his costs. Then came more tariffs.
Harrow runs Commerce-based Hollywood Bed & Spring Manufacturing Co. Inc., a third-generation family-owned company founded in 1945.
His business is one of the few in the country that makes steel bed frames, competing head-on with Chinese companies.
Hollywood Bed, like a lot of Southern California businesses, has been on a roller coaster over the last year and a half as tariffs have forced manufacturers to shift supply chains and eaten away at profits.
"At first, it was crippling for a company like us," Harrow said.
Tariffs on steel and aluminum from a range of countries hit in the spring of 2018 as President Donald Trump sought to reinvigorate struggling American metal producers.
The move drove up Harrow's steel costs by about 20% as domestic producers raised their rates. Then came a wave of tariffs on billions of dollars' worth of Chinese goods, including bed frames, as Trump shot back at China, accusing them of subsidizing businesses and stealing American trade secrets.
About two-thirds of all Chinese goods now face some kind of levy. And on Dec. 15, nearly all remaining Chinese imports — about $160 billion worth of goods — will be subject to tariffs.
There are signs the trade war is beginning to slow global economic growth and that it will hit consumers hardest. But in a twist, tariffs on Chinese companies also hurt Hollywood Bed's competitors, giving Harrow some room to raise prices and catch up with the losses caused by the steel tariffs.
"What happened here is a great example of how tariffs are squeezing the economy willy-nilly," said Katheryn Russ, an economics professor at UC Davis. "It's almost arbitrary, which tariffs are hitting what industry."
Regional impact
The tariff ups and downs faced by Harrow's company provide a glimpse of how businesses around the region have been grappling with Trump's trade policies and the ongoing trade war between the world's two largest economies.
Downtown-based apparel maker Guess Inc., for instance, has moved some production out of China.
Data from S&P Global Market Intelligence Inc. research unit Panjiva shows big box retailers like Target Corp. and Burlington Coat Factory appear to have cut back on imports ahead of a new round of tariffs.
Those reductions have an impact on the ports of Los Angeles and Long Beach, which have seen imports fall and rise as producers and sellers stockpiled goods ahead of higher tariffs.
"Companies in Los Angeles are dealing with the changing tariffs on a daily basis," said Stephen Cheung, president of World Trade Center Los Angeles. "They are on a roller coaster ride, and it's really difficult for them to start focusing on what they need to do, (which is) business growth and business retention. Rather, they are planning various types of contingency plans."
Harrow takes pride in the fact that his company uses mostly American-made products. That strategy landed him a partnership with Walmart Inc. years ago after the retail giant rolled out a made-in-America initiative and vowed to purchase $250 billion in homegrown products by 2023.
The deal helped Hollywood Bed. It operates out of a 100,000-square-foot operation in Commerce where the factory churns out 1 million steel bed frames every year for Walmart and other retailers like Costco Wholesale Corp.
Harrow estimates his business, which generates $25 million to $50 million in annual revenue, accounts for one-third of the U.S. bed frame market.
U.S. steel
Although Hollywood Bed uses domestic steel, Harrow said after tariffs went into effect, his prices shot up 20%. And the company's profits went south.
"When those tariffs went into place, it was like 'boom,'" Harrow said.
But he didn't want to raise prices, fearing he would lose customers. Instead, the company cut costs, investing in automation for packaging and paint systems.
In the meantime, one of his main competitors, Leggett & Platt Inc., a Missouri-based manufacturer of home and automobile products, shut down its fashion bed division at the end of 2018, citing weak demand and higher material costs.
Steel prices, which rose through the end of last year, tapered off this year, according to data from the Bureau of Labor Statistics. But Harrow said he's still paying more for carbon steel than he did before the tariffs.
The saving grace for Hollywood Bed came as Trump began to ratchet up other tariffs on China last year. The tariffs on Chinese goods raised costs on some component parts Harrow ordered from China, forcing him to switch to suppliers in Vietnam and India.
By the beginning of 2019, Harrow said, another round of tariffs on Chinese imports hit competitors, forcing them to raise prices. He followed suit.
The price hike helped Harrow restore profitability, but he's hardly comfortable as U.S. and Chinese officials resume trade talks.
"For me the hardest part is the unknown," he said. "If I knew these tariffs (on China) were going to stick, I would plan accordingly. I don't. It's hard to operate a business if you don't know."
For reprint and licensing requests for this article, CLICK HERE.