Science Projects
Santa Monica venture capital firm seeks out and supports disruption-minded startups
Friday, September 13, 2019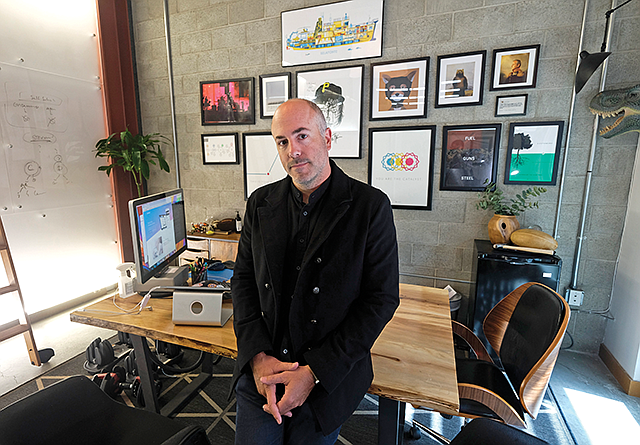 Science Inc. founder Mike Jones knows where the money is in Silicon Beach.
Prior to creating the incubator and investment firm in 2011, Jones was chief executive of MySpace Inc.; invested in and served on the board of Santa Monica-
based advertising technology company GumGum Inc.; and backed Culver City-based Maker Studios Inc., which was acquired by Walt Disney Co. for $675 million in 2014, according to PitchBook Data Inc.
For Jones, the key factors when evaluating a potential investment are brand and product differentiation. If a business has the potential to engage the consumer in a new way, then he's interested.
"I love to invest in extremes whether it's extreme price disruption or extreme brand disruption," said Jones.
Since its launch eight years ago, Jones and his team have built Science into one of the most recognizable venture capital brands in Silicon Beach.
The firm's offices, however, are a low-profile contrast to Science's status in the VC community.
Science's office, tucked inside a quiet office building next to a city parking structure in Santa Monica, is home to startups it's incubating — such as camping equipment rental company Arrive, entertainment firm Mammoth Media and canned water brand Liquid Death.
Using the offices as a base, this new generation of Science-incubated companies takes advantage of the Science facilities and easy access to mentors.
Looking for the exit
The startups are hoping for big exits — following in the footsteps of Science-backed winners including Santa Monica-based grooming subscription service Dollar Shave Club Inc., which sold to Unilever in 2016 for $1 billion, and San Francisco-based August Home Inc., a smart door-lock startup that Swedish firm Assa Abloy bought for $150 million in 2017.
"We typically do a lot of follow-on investments, and we stay highly involved with our companies," Jones said. "Eighty percent of the capital in the fund goes to companies that have been incubated within Science, and our checks come with a lot of involvement."
Not every Science investment is successful, something Jones said he has come to expect after a decade of investing. Of the 28 exits Science has facilitated since its founding, 12 companies have gone out of business following sales, according to industry tracker PitchBook Data Inc.
"If we're not having some failed investments, we're probably not being risky enough with our capital," Jones said, adding that if the company's problem isn't the founder, it's because "sometimes we get really excited about getting into markets where the fundamental economics just won't work, and the cost to obtain a customer is just too great."
Areas of business that Science tends to avoid are the food and beverage industries, though Liquid Death is an exception because Jones was enamored with the brand. He noted that the firm's recycled aluminum cans are heavy to ship, and the product itself isn't cheap — a 12-pack retails online for roughly $20 — but said, "they're not going for price disruption. While I'm happy with the quality, we are paying a premium for the brand."
Science has also backed e-scooter start up Bird Rides Inc. and high school esports league organizer PlayVS Inc., both based in Santa Monica. And Science-incubated pet-sitting business DogVacay Inc. was acquired in March 2017 by pet-sitting startup Rover Inc.
Believe in the brand
Science portfolio company Arrive, which operates an outdoor gear rental service, launched in June 2017.
Chief Executive Rachelle Snyder said the company is headquartered at Science's facilities and maintains a storage warehouse in Culver City's Hayden Tract district where it houses, assesses and rents out gear.
Arrive's main customers are urban professionals who want to hit backpacking trails or campsites but don't have the resources or space to own or store their own equipment.
The company rents gear to clients on a short-term basis and delivers it to their door through a recent partnership with FedEx Corp.
In August, Arrive reached an agreement with ReserveAmerica Holdings Inc., a
Dallas-based online campsite-booking service, to promote its gear rentals.
"We tested everything, and we landed on our core brands, and now we are at the point where we're partnering directly with brands who are creating new products for us to help us with our rental model," Snyder said.
She added that working with Science is "like hiring a football team to have your back."
"They're incredibly eager to help us. But they're also still respectful that we lead our individual companies as individuals," Snyder said.
Jones said he was optimistic about Arrive's capability to grow as a brand based on the broader outdoor equipment market. In the most recent data available, the Bureau of Economic Analysis said the outdoor recreation industry contributed $412 billion to U.S. gross domestic product in 2016.
Another outfit that shares its DNA with Science is Mammoth Media. Mammoth was founded by Benoit Vatere and has raised roughly $15.5 million since its 2015 launch. Headquartered at Science, the company develops mobile-focused entertainment content that it distributes across platforms including Facebook Inc.'s Watch service and Snap Inc.'s Snapchat.
"At the end of the day, data is all that matters when it comes to running a business, and Science's infrastructure allows entrepreneurs to spend time on what they're best at: building and scaling," Vatere said. "We're also in an environment where we get to interact with incredibly smart people on a daily basis, which ultimately contributes to our success as a company."
Staff reporter Samson Amore can be reached at samore@labusinessjournal.com or (323) 556-8335.
An earlier version of this story, which ran in the September 16 issue and online, misstated the sale of DogVacay Inc. to Rover. Financial terms of the acquisition were not disclosed. The story also misstated the total exits Science has faciliated since launching in 2011, a total of 28.
For reprint and licensing requests for this article, CLICK HERE.