Ports See Slowdown
Friday, September 13, 2019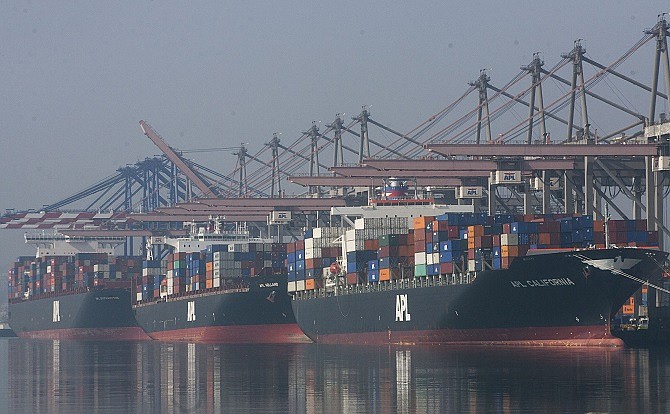 Imports at the San Pedro Bay ports were flat in August while exports slid 3.8% compared to the same month last year as the U.S.-China trade war dragged on.
The ports of Los Angeles and Long Beach, the nation's largest hub for Asian trade, imported 760,393 20-foot equivalent units (TEUs) — a standard measure for container cargo — according to data released this week. That was down 0.4% from 763,602 TEUs that came through the docks in August 2018. This marks the second consecutive month that imports have been near flat.
Exports at the port fell to 271,259 TEUs from 282,012 in August 2018.
Volumes slipped in May and June, a period that normally sees a ramping up ahead of the busy summer shipping season.
A wide range of consumer goods from China were hit with 15% tariffs at the start of September, and those fees will be extended on Dec. 15 to cover a total of $300 billion in Chinese imports.
Last year, both ports saw trade volumes hit record highs as distributors rushed to beat anticipated tariffs.
With another round of tariffs looming, the National Retail Federation and Hackett Associates, a maritime strategy and trade logistics consulting company, said commercial ports saw more volume in August. They expect to see a similar bump in volume during November.
But the head of the Los Angeles port warned that a repeat of last year, when volumes surged, was unlikely.

"We don't expect to see those kinds of volumes in the months ahead," said Gene Seroka, executive director at the Port of L.A. "We need a negotiated settlement of the U.S.-China trade war to restore global trade stability."
Ahead of trade talks next month, President Donald Trump postponed the implementation of a new round of 5% tariff increases on $250 million worth of Chinese goods from Oct. 1 to Oct. 15.
For reprint and licensing requests for this article, CLICK HERE.