Car Rental Project Kicks Off at LAX
$1 billion consolidated facility to open in 2023
Friday, September 13, 2019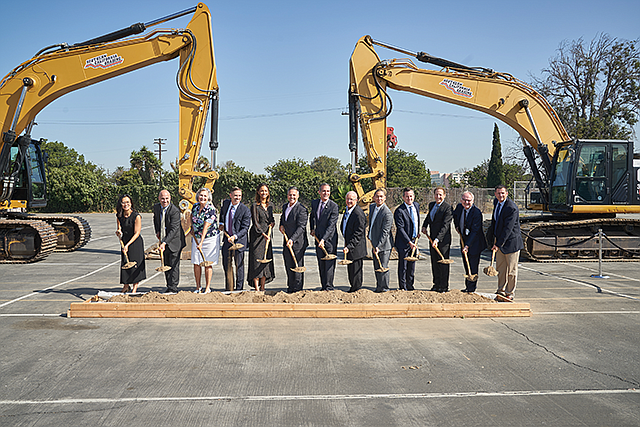 L.A. airport and city officials broke ground Sept. 12 on a $1 billion consolidated car rental facility — yet another project related to the massive renovation of Los Angeles International Airport.
The 5.3-million-square-foot project is located east of the terminal area near the 405 freeway.
The Board of Airport Commissioners and the Los Angeles City Council approved a $2 billion contract last fall for an 11-company consortium known as L.A. Gateway Partners to build, operate and maintain the car rental facility.
L.A. Gateway Partners is led by three equity partners providing construction financing: Toronto-based Fengate Capital Management Ltd.; PCL Investments USA, a unit of Denver-based PCL Construction Enterprises Inc.; and MVI Finance.
The general contractor is PCL Construction Services Inc., another unit of PCL Construction Enterprises. The lead architects are downtown-based AC Martin Partners Inc. and Pierce Goodwin Alexander & Linville Inc. of Houston.
According to Los Angeles World Airports, the city agency that runs LAX, consortium members have experience designing, building and operating nearly 30 consolidated car rental facilities around the globe, including at Atlanta's Hartsfield-Jackson International Airport, Boston's Logan International Airport and Nashville International Airport.
The car rental facility, slated to open in 2023, is one of the main elements of the $5.5 billion landside improvement program at LAX. It will consolidate operations of about 20 car rental car companies scattered throughout Westchester, El Segundo and other communities near the airport.
"The ConRAC Facility will provide a rental car experience worthy of a world-class airport," Sean Burton, president of the Board of Airport Commissioners, said in a statement accompanying the groundbreaking. "This project doesn't just benefit those renting cars — it benefits the local economy and community through the creation of 1,000 jobs and by relieving vehicle congestion on the roads in and around LAX."
The facility is located 2 miles east of LAX, on the west side of La Cienega Boulevard near the 405 freeway. It will connect to LAX terminals through a $2 billion automated people mover system, also now under construction.
The four-story facility will feature customer counters for each rental car company; 6,600 parking stalls for ready and return rental vehicles; 10,000 spaces for idle rental vehicles; 1,100 rental car employer parking spaces; and more than 2,500 spaces for airport employees.
Besides providing a single point for travelers to rent vehicles, the facility will also eliminate the need for hundreds of car rental shuttles now circulating through the airport terminals and surrounding neighborhoods.
For reprint and licensing requests for this article, CLICK HERE.