New Coffee Brands Bring the Heat
BEVERAGES: Roasters blend innovation, ambition
Friday, September 6, 2019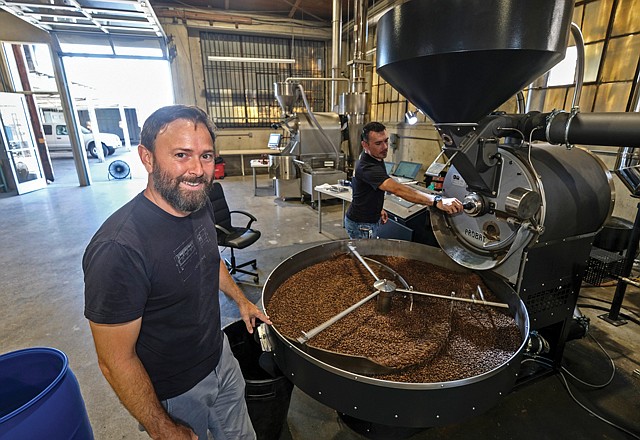 Roasters Charles Babinski and Kyle Glanville don't want to sell their coffee in your supermarket.
The founders of Go Get 'Em Tiger — which in the last year raised $4.7 million, launched its seventh location and opened a 16,000-square-foot roasting facility in Vernon — have loftier ambitions.
"We want to be an institution in Los Angeles," Glanville explained.
That will be no small feat. Coffee competition is fierce in Los Angeles, and it's getting stiffer by the day.
In coffee circles, L.A. is considered the forefront of the West Coast's third-wave coffee movement. The new breed of purveyors is reshaping the industry with their curated coffees and plant-based drinks.
Glanville is a high school dropout who started GGET operator G&B Coffee with Babinski seven years ago. G&B launched as a pop-up that eventually became the trendy Sqirl restaurant in East Hollywood.
Competing with Starbucks Corp. and other industry giants, micro-roasters like G&B are pushing for a more nuanced approach to coffee-making and staking their claim in L.A. amid a renaissance in the city's culinary culture. It's part of a $51 billion U.S. coffee and snack shop industry, according to Ibis World Inc. But there are signs these companies are influencing the industry. Starbucks, which accounts for nearly a quarter of the market share, has recently introduced their own high-end brand.
Purveyors of the third wave often highlight their sourcing as part of the experience, and many embrace minimalist Scandinavian-like design in their cafes.
"At the national level, people are looking to Los Angeles as one of those special coffee cities, the way they were looking at Seattle or San Francisco in years past," said Peter Giuliano, researcher at the Specialty Coffee Association.
One reason is that baristas have been creating interesting chilled coffees that are perfect for the warm climate. Influences from Latin America, Australia and Asia — along with California's healthy lifestyle — have also seeped into cafe venues, creating an innovative culinary movement.
There are drinks like the horchata latte made by Tierra Mia Coffee Co., or GGET's iced almond-macadamia milk latte, which the New York Times called "almost certainly" the best latte in the United States.
Fueled by innovation
"For such a long time, specialty coffee was defined by cappuccinos and cafe lattes, and people like G&B, their menus are a lot more innovative," Giuliano said.
These new-breed roasters and baristas are going far beyond what second-wave companies like Starbucks and International Coffee & Tea did. They're selling a more artisanal experience and, in the case of GGET, one that eschews wholesale distribution.
Prev Next
For reprint and licensing requests for this article, CLICK HERE.