Lawyer Up
Neville Johnson stares down entertainment's power players
Friday, September 6, 2019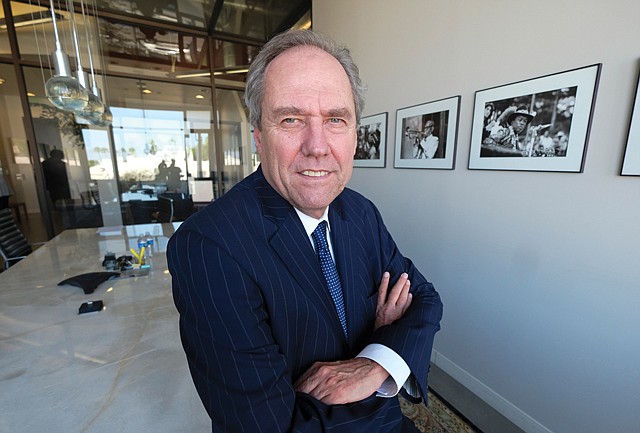 For 40 years Neville Johnson has sued studios, networks and record labels on behalf of talent.
The colorful attorney has won defamation cases against American Media Inc.-owned National Enquirer and brokered a $26 million settlement with Comcast Corp.'s Universal Studios over home video royalties for movie stars.
He's currently litigating on behalf of musicians who say Warner Music Group and Sony Music Entertainment Inc. are not paying them royalties for songs streamed internationally.
For the last 12 years, Johnson has partnered with Douglas Johnson (no relation) at the firm Johnson & Johnson. He spoke with the Business Journal in his Beverly Hills office about the problem with payments from Netflix Inc., how musicians really make money and Richard Simmons.
What is Johnson & Johnson's business model?
Like many firms, we work on an hourly basis for clients, and we take on some cases that are a hybrid model of an hourly fee and receiving some contingency. And we do some cases pure contingency where we'll front the costs. The contingency cases are where the serious profits occur. But it's a gamble because we may end up spending seven figures going up against a movie studio or a record company that has unlimited resources.
How many companies are you suing right now?
There are 30 cases the firm is taking on right now, and they vary in size. Some have millions of dollars invested in them, and others are much lower. Some of the cases I'm working on include representing Richard Simmons suing a private detective who put a tracker in his car — a detective In Touch magazine hired. That's a righteous case.
Why would In Touch have allegedly put a tracker in Simmons' car?
Because there has been a rumor that he was getting sex change surgery. In Touch moved to dismiss the case, and we defeated their motion. Now the case is on appeal.
What is a big, career-defining case you worked on?
There is a case called Sanders v. American Broadcasting Cos. about invasion of privacy involving the use of hidden cameras. The California Supreme Court decided the case in 1998. ABC had sent a reporter with a hidden camera into an office of tarot card readers who told people's fortunes after they dialed a 900 number. The story humiliated the people who worked there. It was deceptive journalism, and the case put limits on the practices of media companies.
Prev Next
For reprint and licensing requests for this article, CLICK HERE.