Design Begins on Terminal Addition
INFRASTRUCTURE: Concourse will help with passenger connections
Friday, September 6, 2019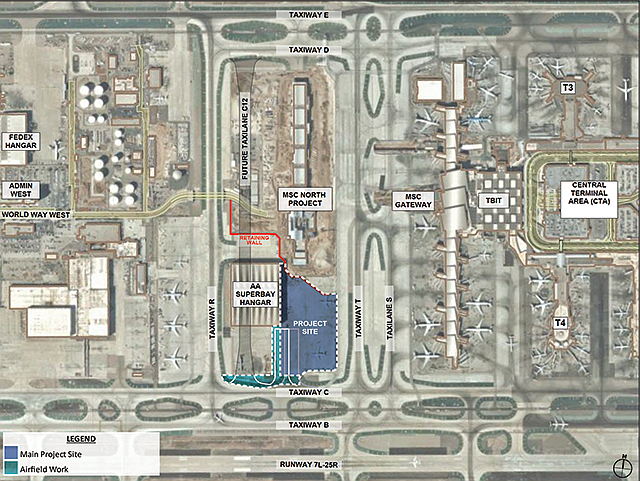 More construction will soon be coming to Los Angeles International Airport now that design work has begun for the southern half of a new passenger terminal.
The Board of Airport Commissioners awarded a contract worth up to $12 million to Melbourne, Australia-based Woods Bagot on Aug. 6. The architectural firm is designing the southern section of the Midfield Satellite Concourse, which will be located on the airfield behind the Tom Bradley International Terminal.
The goal of the Midfield facility is to speed up connections between domestic and international flights and reduce reliance on remote gates that require busing of passengers.
Construction began in early 2017 on the northern half of the terminal, which will have 12 gates covering 750,000 square feet and is expected to open next summer. That portion of the terminal will be able to accommodate jumbo aircraft such as Airbus' A380. New York-based Turner Construction Co. and Denver-based PCL Construction Inc. are leading the $1.6 billion construction effort.
The terminal's southern half will cover roughly 150,000 square feet with eight gates that can accommodate mid-sized aircraft such as Boeing Co.'s 737 and the Airbus A320. Construction is set to begin sometime late next year, with a target opening date of 2023.
No construction cost figure has yet been presented for the southern half of the terminal though the facility's smaller footprint means the cost will likely be substantially less than the northern half.
"The MSC South project will economically deliver new domestic contact gates that provide our guests with a significantly improved experience and allow them to take advantage of our recent investments at Tom Bradley International Terminal and MSC North," Hans Thilenius, deputy executive director for LAWA's Terminal Development and Improvement Program, said in a statement.
Woods Bagot beat out five other bidders for the design project.
Carsten Voecker, director at Woods Bagot, said the company plans to draw upon its previous airport terminal design expertise, which includes the newly opened Harvey Milk Terminal at San Francisco International Airport.
CORRECTION: An earlier version of this story misstated where PCL Construction Inc. is located. The company is headquartered in Denver.
For reprint and licensing requests for this article, CLICK HERE.