LAX Passenger Traffic Rises 1.8% in September as International Travel Slide Ends
Monday, October 28, 2019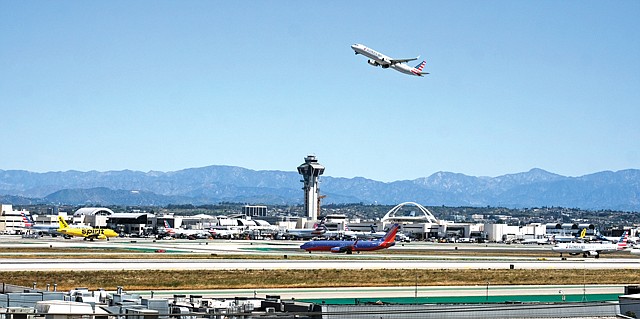 September passenger traffic at Los Angeles International Airport edged up 1.8% from a year earlier as a monthslong decline in international passenger traffic came to an end, according to figures released Oct. 28 by the airport's operating agency.
The data from Los Angeles World Airports shows an increase of about 123,000 passengers in September to just over 7 million compared to last September. Domestic passenger traffic rose by 125,000, or 2.6%, to 4.9 million, while international traffic was essentially flat at 2.1 million.
For the first nine months of 2019, total passenger traffic rose 0.8% to 66.7 million. Domestic passenger traffic rose 1.75% to 47 million while international traffic fell 1.4% to 19.6 million. These growth rates are all lower than the comparable period in recent years.
Meanwhile, air cargo tonnage continued its steep slide amid fallout from the U.S.-China trade war. The airport saw 185,000 tons of cargo in September, a nearly 12% drop from September 2018. For the first nine months, air cargo tonnage was down 5.5% to 1.7 million tons compared to the same period last year.
The picture was quite different at Ontario International Airport, the only other commercial airport in the region to report September figures so far.
September passenger traffic at Ontario jumped nearly 12% from September 2018 levels to reach nearly 470,000 passengers, according to the Ontario International Airport Authority. The increase was led by a 30% jump in international traffic to 23,000; domestic traffic rose 11% to 446,000.
For the first nine months of 2019, passenger traffic was up 8% to nearly 4.1 million compared to the same period last year. Domestic traffic rose 6.5% to 3.8 million while international traffic surged 42% to 224,000. The airport's first nonstop transoceanic flights to Asia started last year with service on Taipei, Taiwan-based China Airlines Ltd.
Air cargo tonnage at Ontario International Airport was down slightly in September, dropping 0.4% to 61,189 tons. For the first nine months of this year, air cargo was up 2.3% to 557,283 tons.
Education, energy, engineering/construction and infrastructure reporter Howard Fine can be reached at hfine@labusinessjournal.com. Follow him on Twitter @howardafine.
For reprint and licensing requests for this article, CLICK HERE.