Feeling the Heat
LA's office market shows no sign of cooling, could hit $8 billion in 2019
Friday, October 25, 2019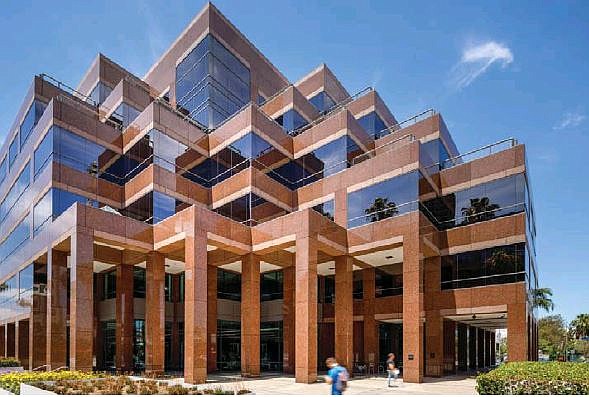 When it comes to office properties in L.A., the market is hot.
Roughly a dozen buildings this year have either sold or recapitalized for more than $100 million, according to data from CoStar Group Inc.
Year-to-date office sales in L.A. have hit $6 billion, according to Kevin Shannon, co-head of capital markets at brokerage Newmark Knight Frank. He expects sales for the year to finish at $8 billion.
While Shannon said this will represent a slight uptick from last year, sales volume is lower than in 2016 and 2017.
"That's due primarily to a lack of product, not a lack of demand," he said. "That's one of the big reasons velocity is down." What buyers are really looking for, Shannon explained, is value-add deals. Right now, though, there aren't many available.
When those properties do come up, they're in high demand. For instance, Shannon and a team from NKF represented Vereit Inc. in the $138.5 million sale of 101 Continental in El Segundo to TA Realty. The building received a lot of interest as a value-add opportunity.
Adam Tischer, a senior vice president at Colliers International Group Inc., agreed that there was high demand for good product, citing the growing popularity of the Arts District.
"I expect more activity in downtown L.A. and the Arts District as investors further realize that rents are under market value relative to the Westside market and wish to purchase buildings and properties to capitalize on what can be continually improving rents in the office market in those areas," he said.
As streaming and the demand for content gears up, so has the demand for studio space. Some of the biggest deals so far this year have involved a media component.
The biggest sale was CBS Television City, purchased by Hackman Capital Partners for $750 million in February.
In August, Hackman announced the $650 million purchase of MBS Group from the Carlyle Group. MBS runs MBS Media Campus and MBS Services in Manhattan Beach.
MBS was not included in CoStar data on office sales because it is listed as a specialty asset class.
The Westside, in particular, is in high demand.
The Lantana Entertainment Media Campus was part of two of the biggest sales of the year: a two-building property at 3303 and 3301 Exposition Blvd. for a combined $210.9 million, and another two-building opportunity comprised of the Lantana Center at 3000 W. Olympic Blvd. and Lantana West at 2900 W. Olympic Blvd. for a combined $321 million.
And Breevast US Inc. purchased two buildings in Beverly Hills for a combined $153.5 million.
There were also two large recapitalizations on the Westside. Morgan Stanley Real Estate acquired a 49% stake in C3 in Culver City. PNC Realty Investors Inc. and IDS Real Estate Group kept a 51% stake in the property. It was valued at $260 million.
And Culver City-based Olive Hill Group recapitalized an office building at 520 Broadway in Santa Monica, bringing Artemis Real Estate Partners in as a partner. It was valued at $119.2 million.
For reprint and licensing requests for this article, CLICK HERE.