Credit Downgrade for People Mover
Fitch lowers $5 billion LAX project to BBB
Friday, October 25, 2019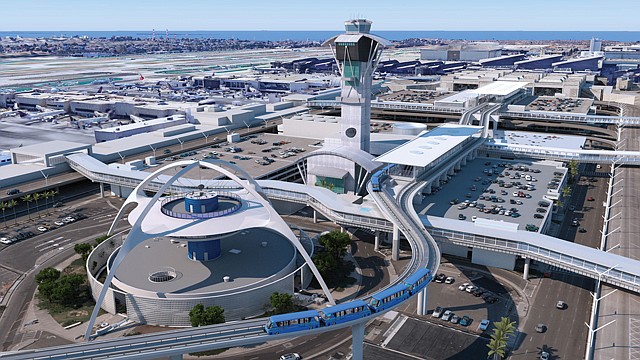 The bond rating for the massive people mover project at Los Angeles International Airport got knocked down a notch earlier this month and, paradoxically, the booming construction market is the main culprit.
New York-based Fitch Ratings Inc. downgraded the California Municipal Finance Authority's approximately $1.2 billion senior lien revenue bonds on Oct. 11. The notes were issued on behalf of the contractor team for the $5 billion contract to design, build, operate and maintain the automated people mover project now under construction at LAX.
Fitch took the project's rating down to BBB from BBB+ and revised its outlook to "negative" from "stable."
The automated people mover project, which broke ground earlier this year and is slated for completion in 2023, will run 2 miles and connect the central terminal area with light rail and bus lines and a consolidated car rental facility, providing the first direct rail link to the airport.
Construction is estimated to cost around
$2 billion.
The project is a public-private partnership, meaning some consortium contractors have agreed to put forward their own financing.
The seven-member consortium, known as LAX Integrated Express Solutions, or LINXS, is comprised of Fluor Corp. of Irving, Texas; Balfour Beatty of London; ACS Infrastructure Development Inc. of Coral Gables, Fla.; Dragados USA Inc., the New York-based U.S. subsidiary of Madrid-based Grupo ACS; Hochtief PPP Solutions of Essen, Germany, another Grupo ACS subsidiary; Flatiron Construction Corp. of Broomfield, Colo.; and Bombardier Transportation, headquartered in Montreal.
Several of these contractors have global revenue in the tens of billions.
Jeffrey Lack, director of global infrastructure and project finance for Fitch and one of the analysts who rated the people mover project, said the downgrade was principally because of some slippage in the credit ratings of some contractors in the consortium.
Recently, Lack said, "We've seen some deterioration of credit quality among the contractors. They are taking on more projects, maybe spreading themselves a little too thin, and their backlogs are growing rapidly."
Lack said this is typical during a boom period in the construction cycle.
Nonetheless, he said, the project's overall creditworthiness is still in a stronger position than if the contractors did not put up any of their own credit toward the project. "It's just not quite as strong as it was."
For reprint and licensing requests for this article, CLICK HERE.