Aggressive Plan for SpaceX
AEROSPACE: Seeks 2020 launch for manned mission
Friday, October 25, 2019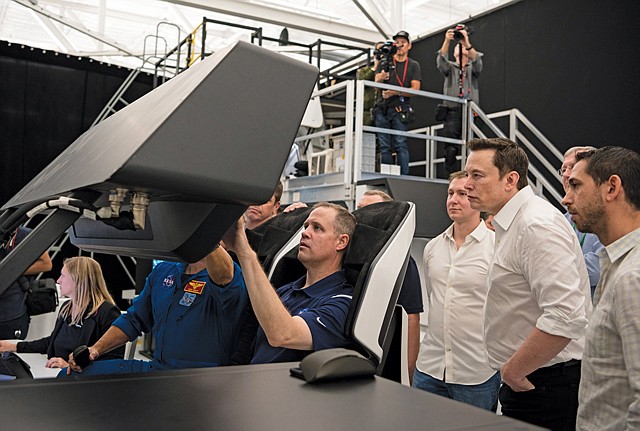 When he formed Space Exploration Technologies Corp. in 2002, Chief Engineer Elon Musk had an ambitious set of goals for the Hawthorne-based aerospace firm, ranging from creating recyclable rockets to colonizing Mars.
But perhaps the most important target, for both SpaceX and government partner NASA, was to send Americans into outer space on U.S.-manufactured rockets decades and to land astronauts on the moon again by 2024.
SpaceX says its technology is now capable of achieving the initial goal — putting people into space — by the first quarter of 2020.
And at a recent media event at SpaceX's Hawthorne headquarters featuring NASA administrator Jim Bridenstine, the private company and the public agency were optimistic about Americans soon reentering the cosmos on U.S. rockets.
If and when that mission is accomplished, it will mark a significant milestone for SpaceX, which in just 17 years has transformed the way aerospace companies approach launch services.
It would also mean SpaceX was responsible for reviving NASA's struggling commercial crew program, which hasn't launched a U.S.-based crew mission since retiring the space shuttle program in 2011.
Linking up
NASA first appeared on SpaceX's launch manifest in 2010 when the company launched a demonstration flight for NASA's Commercial Orbital Transportation Systems mission. Shortly after, SpaceX was sending regular resupply payloads to the International Space Station on its Falcon 9 rockets.
"For many years NASA and the federal government were the only game in town when it came to space flight," said Bloomberg Intelligence analyst George Ferguson. "I think they see commercial involvement as a driver of bringing innovation and driving down costs, which is good."
SpaceX's focus on bringing critical parts of its rockets back to Earth for reuse was a seemingly preposterous notion at the time it was introduced, but it reduced costs considerably, a former executive at the company said.
"Elon is incredibly well thought through in everything he does ... albeit at the time, some of what he does seems crazy. But those things turn out to be brilliant," said the executive, who asked not to be named.
It didn't take long for the SpaceX and NASA relationship to morph into co-dependence, with NASA providing critical launch business and SpaceX offering steep discounts on launch costs — sometimes $20 million below the average charged by competitors Lockheed Martin Corp. and Boeing Co.
So far, SpaceX has sent 23 NASA missions into space, but none were crewed by astronauts.
"Returning human launch capabilities to U.S. soil underscores NASA's commitment to the station and the research that the orbiting laboratory makes possible, including the advancement of scientific knowledge off the Earth, for the benefit of those on the Earth and to prepare for future deep space exploration," NASA spokesman Steven Siceloff wrote in a 2017 statement as NASA announced increased crew mission work with SpaceX and Boeing.
According to the SpaceX schedule, the company will launch roughly 24 missions for NASA through 2024.
There is a time-sensitive nature to this work. If SpaceX is unable to deliver a capsule capable of carrying crew to space by March 2020, NASA will have to renew its previous deal to purchase seats on Russia's Soyuz rocket, which cost roughly $80 million per astronaut.

Co-dependence
While NASA works with other legacy aerospace contractors like Boeing and Lockheed Martin, both part of the United Launch Alliance, its primary partner has become SpaceX.
NASA's Bridenstine visited SpaceX headquarters Oct. 10 to tour the factory and provide updates alongside Musk on the Commercial Crew Program, which includes the Crew Dragon system.
"Clearly the development of (Crew Dragon) pressures all those prime contractors that are working on capsules and the price they can bring it to the government for," Bloomberg's Ferguson said.
But an overreliance on SpaceX could back the government into a corner, Ferguson added. By pushing other competitors out, SpaceX could become "too important to fail" — a definite advantage for Musk but not an ideal position for the federal government.
"The government will want the cheaper cost of a supplier, so they can do more, but they have to make sure they're maintaining capability on a number of different contractors" to avoid a monopoly, Ferguson said. "I think (commercial crew flights are) a great thing for America, we just need to make sure we have other companies ready."

Lofty goals
Both Bridenstine and Musk were hesitant to set a specific date for the first test Crew Dragon launch, but they said it will happen in the first quarter of next year.
Musk said SpaceX could be ready to launch astronauts "within three to four months" and plans to send a finished Dragon capsule to its Cape Canaveral launch site by December.
"There are still things we could learn that could be challenging and we have to resolve, which is why we test," Bridenstine said.
SpaceX will continue to regularly resupply the International Space Station with essential payloads in the midst of its other work for the aeronautical agency.
Musk said SpaceX's work doesn't stop when the Dragon capsule is finished. "Once this vehicle is done, we expect to be making a Crew Dragon approximately every three or four months, so there will be a number of the craft," he said. "We want to get into a cadence of operational flights to the space station."
But SpaceX has a bevy of tests to conduct before it can put astronauts in space. During a test of its boosters in late April, a Dragon capsule exploded on the launchpad due to what SpaceX and NASA called "an anomaly."
Musk appeared undeterred by the accident, but Ferguson said it will likely impact the crew launch timeline.
"I don't see humans going into space next year in an American-made rocket," Ferguson said. "They need to show a lot of stability in their design in order to put humans in it, and a mistake like that takes a while to recover from."
Ferugson added that SpaceX should conduct more successful launch tests before takeoff.
But Musk, who is no stranger to taking losses in the short term in order to see long-term success, said he believes SpaceX can achieve his ambitious goals and satisfy NASA's missions as well.
"We're honored to partner with NASA to make this happen. This is a dream come true, really," Musk said of the Dragon project.
For reprint and licensing requests for this article, CLICK HERE.