Parking Breaks
Forward-looking developers aim to reduce and rethink garage spaces
Friday, October 18, 2019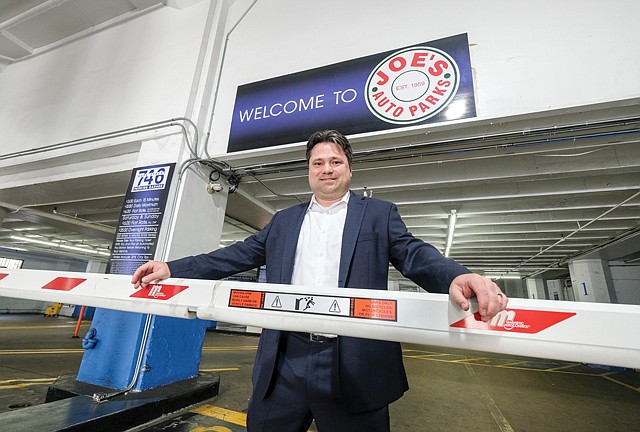 While the 405 and other freeways around Los Angeles might be a solid sea of cars during rush hour, some developers see a not-too-distant future when that could change.
The accelerating development of public transit, combined with the soaring cost of land in dense urban areas, means many builders are now looking at ways to reduce the number of parking spaces they must create.
Some developers are looking at stacked and automated parking options while others are seeking ways to one day convert parking garages for other uses. And some parking lot owners are even becoming landlords.
"We are in the beginning of a fairly big disrupter in our marketplace, but we are really at the infancy of it," said Jodi Meade, principal and national director at the Automotive Properties Group at Avison Young Inc.
"Not everybody is completely forward-thinking or on board, and a lot of it has to do with current building regulations and codes," Meade added. "It's a little bit of a challenge. Everybody is on a different page or different position on what they believe should or shouldn't be an impact."
Many developers are tearing out surface parking lots. Take Koreatown-based Jamison, which has been building ground-up developments on some of these properties.
"There were a lot of underutilized pieces of property in Koreatown and in downtown, too — a lot of surface parking lots," said Garrett Lee, head of the family-owned company's development arm.
"L.A. is a historically car-driven city," he added. "These lots were necessary before. Now with Uber, more Metro, the scooters, the demand and (people working remote), the need for these huge parking lots in the middle of the most dense areas of the city became very impractical."
Marty Borko, executive director, L.A. District Council of the Urban Land Institute, called surface lots a "holding opportunity for future development."
Many projects, Meade said, now include a decreased number of parking spaces, and others are just finding smarter ways to build parking lots.
"There's a more creative approach to the way parking is going to be structured," she said.
Some surface lots, Meade added, "have sold for ridiculous amounts of money."
Stacked and automated
Many developments now feature stacked and automated parking. One of the most active names behind that offering is CityLift Parking.
The Oakland-based company has one working facility in Los Angeles, one that it will begin construction on soon and has three more permitted. The company has a handful of additional developments either in the planning or design stage. It also has projects in Santa Monica and Long Beach.
"We've grown significantly over the past five and a half years," said Melissa Kakuk, a vice president at CityLift.
Kakuk said that a lot of projects in L.A. are space constrained and "can only go vertical." Instead of taking up an expanse of land for parking, the company builds stacked and automated facilities that allow for more parking in a smaller footprint.
CityLift lots can hold 40% to 80% more cars than traditional parking lots.
Developer Walter Marks' planned $400 million, 42-story multifamily development in Miracle Mile is expected to include an automated parking garage.
Tenants will be able to drop off their cars in a parking bay. A mechanism will then lower the car into underground storage. When the tenant is ready to leave, they scan a keycard and their car will be brought up.
Marks has already opened an automated parking structure at the Helms Bakery complex in Culver City with AutoParkit. The garage can accommodate 200 cars, which is 70 more than a traditional lot that size would be able to hold.
Other groups working on automated parking include downtown-based Automated Parking Solution, Park Plus Inc. and Unitronics.

Convertible parking
Some parking lots and portions of developments are now being built with the idea that one day they could be converted for other uses.
Kakuk said one of the benefits of stacked parking is that the buildings have no ramps or slopes, which makes them easier to repurpose.
"It gives you what you need now and prepares for a change in parking later," she said.
Long Beach-based Studio One Eleven is working on parking lots that may one day be converted, such as a parking structure the company designed for the Westside Gateway.
The facility was created so that it could easily be replaced with housing, offices or amenities. To do that, the architecture firm designed the building with relatively flat floor plates and higher ceilings than other parking structures, which Founding Principal Alan Pullman said gave the structure "future value."
Borko said the "trick" to making parking structures that can convert to other uses was utilizing high ceilings and level floors.
"It's more expensive up front, but … you are seeing developers starting to do that," Borko said.
Some developers say it's not worth the extra cost, but Borko said Los Angeles is "at a tipping point" where the long-term benefits may make sense.
Leasing out space
A handful of parking companies are also landlords, like L&R Auto Parks Inc., which runs Joe's Auto Parks. The company's ground- floor retail tenants include Shake Shack Inc. and Reliant Medical Group Inc.
Kevin Litwin, L&R's chief operating officer, said Joe's is unique in that it doesn't just manage lots but also owns and develops them, either independently or in joint ventures with builders like Geoffrey Palmer.
Litwin oversees 27 parking structures downtown as well as surface parking lots and transportation services totaling 20,000 parking stalls.
The company even has creative office space above some of its parking lots. Litwin said L&R's tenants are now more diverse than ever before.
A lot of this, he said, is driven by high demand for space in desirable areas.
Meade said that when there's less demand for parking, many parking owners lease out space to auto dealers for inventory overflow storage.
For auto dealers, it is often expensive to buy land near dealerships. Securing space in parking lots is more cost effective.
"That is their first choice when they are identifying additional parking areas for that inventory," Meade said.
A five-year plan
Experts agree that a lot of changes are in store for parking over the next few years.
Litwin said he's still waiting to see what happens once construction wraps on projects now underway in downtown.
"Over the next five years, I would expect to see a lot of this unknown building and construction to come to fruition, at which point you can say 'What do we do now?'" he said.
Borko added that in that time, more Metro stops would be up and running, more companies would experiment with new technology like automated parking, and surface parking lots would become development sites.
And while most CityLift development now is for multifamily projects, Kakuk said she expects to see more automated lots at office buildings and even retail projects as users get more comfortable with the concept.
Meade added that cities are looking in greater depth at how much parking development is needed.
"As time goes on, the requirements for parking are becoming less and less," she said. "It's an advantage to developers who can design less parking."
For reprint and licensing requests for this article, CLICK HERE.