Imports Fall Again at Ports
Thursday, October 17, 2019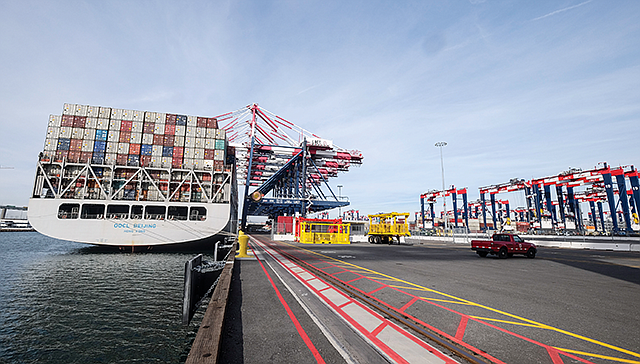 Imports were down at the San Pedro Bay ports in September compared to the same period in the previous year, a signal that an 18-month trade war between the United States and China continues to hurt the ports.
The nation's two largest ports have seen five months of declining or flat imports and 11 months of falling exports, which port officials attribute to trade tensions.
The twin ports brought in 757,239 20-foot equivalent units (TEUs) — a standard measure for container cargo — in September. That was a 1.9% drop from the 771,583 TEUs that passed through the port in September 2018.
Exports fell more dramatically to 253,984 TEUs, down 5.4% from September 2018 when 268,561 TEUs shipped out of the ports. Overall volume dropped 2.8% to 1,486,859 TEUs.
The region's ports are the nation's biggest gateway for Chinese imports, and port officials are waiting to see if a tentative truce in the trade war limits or even halts proposed tariffs.
On Oct. 11, the Trump administration announced a "first phase" deal with China that would address intellectual property concerns raised by the United States. That proposal would also increase purchases of U.S. agricultural products by China.
The United States, in turn, agreed to hold off on an increase in tariffs planned for Oct. 15 when $250 billion worth of Chinese goods would have faced a 30% levy.
The first phase deal has yet to be signed, and another round of tariffs is slated for December.
Until recently, import numbers have often been viewed as a sign of consumer appetite. But with the ongoing tensions between the two countries, port data has recently been seen as a better barometer.
Those two factors appear to be merging as signs of a slowing global economy are partly blamed on the tensions between the two mammoth economies.
On Oct. 16, the U.S. Commerce Department reported retail sales dropped in September — the first decline in seven months, an indication of slowing consumer spending.
Manufacturing, retail and trade reporter Rachel Uranga can be reached at ruranga@labusinessjournal.com or (323) 556-8351. Follow her on Twitter @racheluranga.
For reprint and licensing requests for this article, CLICK HERE.