Two Office Buildings Top $40M Each
REAL ESTATE: San Pedro, LAX properties handled by Newmark Knight Frank
Friday, October 11, 2019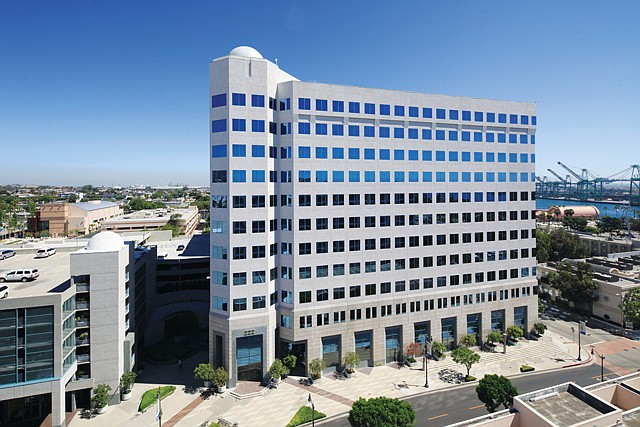 It's been a busy time for office building sales. Last week, two high-profile properties sold for more than $40 million a piece.
In the first deal, a partnership led by El Segundo-based North Sea Capital Advisors Inc. acquired a roughly 306,000-square-foot office building near LAX from Roxborough Group and downtown-based Ruth Group for $45 million.
Newmark Knight Frank, which represented the seller, announced the deal Oct. 9. The buyer was self-represented.
NKF's Kevin Shannon, Michael Moore, Ken White and Sean Fulp represented the seller in the transaction while NKF's David Milestone and Brett Green secured a $39.71 million loan for the buyer.
The building, at 5901 W. Century Blvd., is 92% leased.
The seller purchased the property in 2017 and put more than $8 million into upgrading the building with a renovated lobby and common areas, a clubhouse and a dog park.
"The seller completed more than 220,000 square feet of new leases, expansions and renewals during that short timeframe at rents up to and exceeding $3.00 FSG, which are historic highs and demonstrates amazing leasing velocity for this submarket," Shannon said in a statement.
Matt McCormick, managing director of San Francisco-based Roxborough Group, said the property was still considered an "affordable option for tenants priced out of Playa Vista, El Segundo, and other Westside 'Silicon Beach' submarkets."
The second big sale last week was the Topaz building in San Pedro. Harbor Associates purchased the 11-story property for $43.5 million, Newmark Knight Frank announced Oct. 8.
NKF's Kevin Shannon, Ken White and Scott Schumacher represented the seller, Jupiter Holdings.
The roughly 293,000-square-foot office building is located at 222 W. 6th St. There is an adjacent seven-story parking structure and roughly 13,000 square feet of retail space.
The building was constructed in 1990 and was occupied by defense contractor Logicon Inc. The company was later acquired by Northrop Grumman Corp., which vacated the building in 2010.
Jupiter Holdings acquired the property after Northrop Grumman's move and put $10 million into renovations.
"Downtown San Pedro and the Los Angeles waterfront are undergoing a major transformation into a true live/work/play destination with major projects in various stages of construction. All of the new development, along with many new walkable restaurants, breweries and retail amenities, bodes well for Topaz as it's the only true Class A office building in San Pedro," Shannon said in a statement.
The building comes with redevelopment potential, brokers say.
For reprint and licensing requests for this article, CLICK HERE.