Skin Deep
JANE WURWAND I Dermalogica Inc.
Friday, October 11, 2019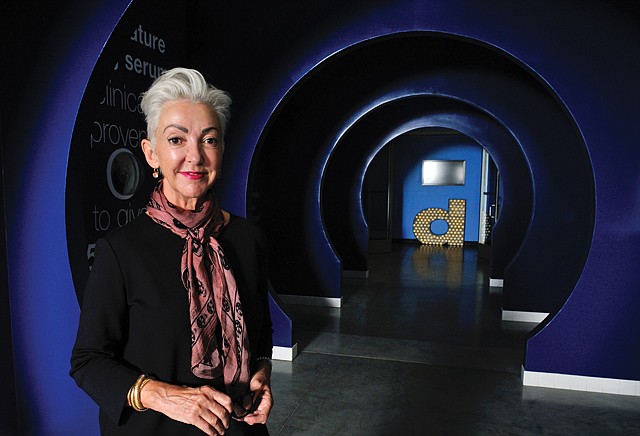 ane Wurwand, co-founder of Carson-based Dermalogica Inc. and co-founder and self-described chief disruptor of the Wurwand Foundation, seems to take delight in shaking up the status quo, if only to make sure the world is paying attention.
At Dermalogica's expansive creative space offices, a contemporary artwork consisting of the company name in free-standing lower-case letters sits against one wall. During a recent visit from the Business Journal, British-born Wurwand confessed she has considered rearranging the letters during the night to read "dream logic" just to see if employees would notice in the morning.
Her favorite creative disruptors include David Bowie and Oscar Wilde.
Wurwand, who famously started her career as an apprentice in an English beauty salon, is these days most focused on the foundation's extensive philanthropic work supporting local entrepreneurship — particularly for women, immigrants and minorities.
In August, the Wurwand Foundation announced a round of new grants through Found/LA, an initiative to back 1,500 local entrepreneurs. The organization plans to expand with a goal of empowering communities by supporting 25,000 such companies by 2025. Wurwand hopes the model might eventually be adopted in other cities as well. "It's about finding what we call invisible entrepreneurs," she said.
Immigration is an issue that hits home for Wurwand and husband Raymond, her co-founder in the business and the foundation. The couple could not secure a loan to launch the company in 1986 because they were immigrants.

"We self-funded on $14,000," Wurwand said of Dermalogica, which has grown into an international business with reported annual revenue of more than $250 million. The company was acquired by Unilever in 2015.
Wurwand said Dermalogica was built on the idea of "skin positivity," not beauty.
"Instead of talking about this idea of whether we are beautiful or pretty or handsome, we need to talk about identity," she said. "If you are true and authentic to your identity, you are going to shine."
Added Wurwand, "I approach my style and my work in the same way: Take your work very seriously, but don't take yourself too seriously. Oscar Wilde said. 'Be yourself; everyone else is taken,' and I think that's what makes your life special. If you want to put on that pair of hot pink heels, put them on, and I don't mean that to be gender specific. Do whatever you want to do."

For reprint and licensing requests for this article, CLICK HERE.