LA Port Rolls Out EV Cargo Stackers
Emission-free handlers lead green initiative
Friday, October 11, 2019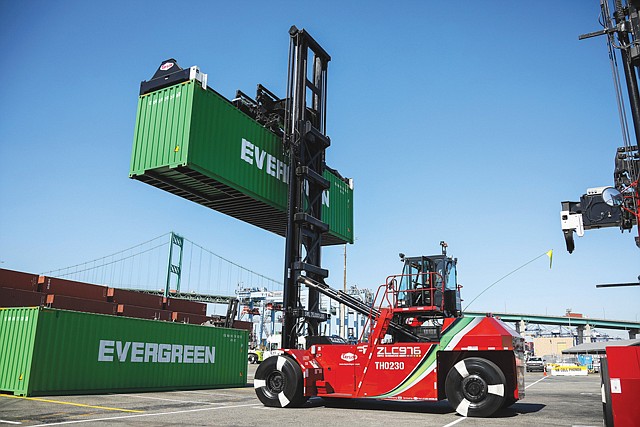 Mayor Eric Garcetti and Los Angeles port officials took another step toward cleaning up one of the region's biggest polluters with the introduction of the world's first all-electric cargo-stacking vehicle.
Top handlers, as the machines are known, are considered the workhorses of the port. Each vehicle is capable of piling cargo boxes weighing up to 70,000 pounds on top of each other.
The battery-charged vehicle from Taylor Machine Works Inc. was unveiled at the Everport Terminal in San Pedro on Oct. 2. The emission-free top handlers operate on a 1-megawatt battery that runs for 18 hours.
Garcetti and port officials believe they can transition all of the port's cargo handling equipment to zero-emissions by 2030. All trucks coming in and out of the port will be expected to follow suit by 2035.
To achieve those goals, money has poured into the development and growth of green technology at the site. Since 2017, the Port of Los Angeles has taken in more than $80 million in grants to fund a program for green technology aimed at cutting pollution.
State and federal officials, meanwhile, are slated to pump $1 billion into clean vehicles and equipment that will be deployed over the next three years.
"We want to be a market-maker," said Chris Cannon, the port's director of environmental management. "We have to demonstrate that it can work and handle the duty cycle to get it to the point that it can be available at a commercially viable price."
Earlier this year, port officials unveiled the first fuel cell, electric heavy-duty truck developed by Toyota Motor North America Inc. and Kenworth Truck Co.
Top handlers pose a specific problem because they require a lot of battery muscle. There are about 200 at the Port of Los Angeles, and all run on pollution-emitting diesel. But at $600,000, they are much cheaper than their electric counterparts, which cost $1.8 million, Cannon said.
Replacing all the top handlers, along with hundreds of tractors that ferry cargo boxes along the terminal, would cost about $1 billion.
Still, that price tag pales in comparison to the next challenge: converting all trucks to zero-emission. Cannon said next year the port will put out a bid request to make larger fleets of nonpolluting big rigs.
For reprint and licensing requests for this article, CLICK HERE.