Beverly Hills Site Gets $190M Loan
Wilshire multifamily project will have 54 residences
Friday, October 11, 2019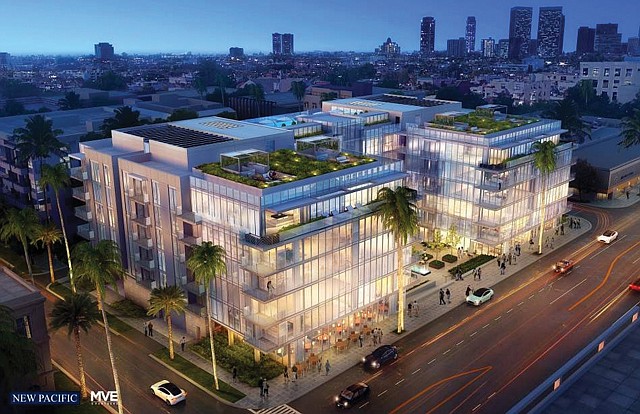 Multifamily development is going strong across the county, including on Wilshire Boulevard.
A joint venture has secured a $190 million construction loan for a project at 9200 Wilshire Blvd. in Beverly Hills.
Shvo, Bilgili Group and Deutsche Finance purchased the property in May for $130 million.
Acore Capital provided the loan. Lotus Capital Partners arranged the financing.
Once completed, the development will have 54 residences, a rooftop pool and nearly 7,000 square feet of retail space.
"This is a rare opportunity to build something unique and exceptional in an irreplaceable Beverly Hills location," Michael Shvo, chairman and chief executive of Shvo, said in a statement. "With financing now secured, we look forward to creating an iconic property for residents and visitors in Beverly Hills."
MVE and Partners is designing the project, which is expected to be completed by the end of 2021. The 9200 Wilshire Blvd. project is the third joint venture between Shvo, Bilgili Group and Deutsche Finance.
It's not the only multifamily project planned for Wilshire Boulevard.
In the Miracle Mile area, developer Walter Marks has announced plans to build a 42-story, $400 million luxury apartment tower. The project will have a dog exercise area, pools, a bowling alley and a yoga studio. It is being designed by architect Richard Keating.
Nearby, developer Jerry Snyder has started construction of the Wilshire Curson. The development will have 285 apartments.
During the first half of 2019, multifamily and industrial cap rates tightened the most of any asset class, according to a survey by CBRE Group Inc. The greater L.A. and Orange County areas were among the top 10 in terms of lowest cap rates.
The area experienced 10% year-over-year growth for multifamily properties.
For reprint and licensing requests for this article, CLICK HERE.