Port Truckers Brake for AB5
LOGISTICS: Companies, drivers see big changes ahead
Friday, October 4, 2019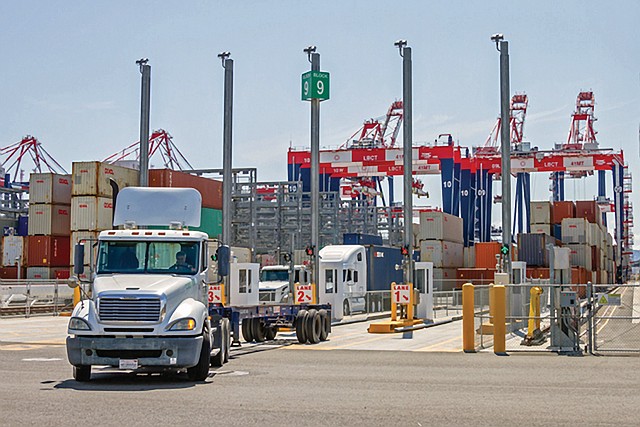 Does the truck stop here?
That's the question being asked about Assembly Bill 5 by the trucking companies that ferry billions of dollars of goods to and from Southern California ports.
The trucking industry is one of dozens bracing for potential changes from the so-called gig worker rule, which could upend freelance work throughout California.
For now, many trucking businesses have no plans to change their contractors to employees, preferring instead to see what happens in the courts and at the ballot box.
AB5, which was signed by Gov. Gavin Newsom Sept. 18 and is set to take hold Jan. 1, redefines what it means to be an employee in California by mandating that certain contract workers be classified as employees.
Workers such as software engineers, musicians, video game developers and other professionals are grappling with how these changes will reshape their respective industries' business models. But nowhere has this issue played out longer than it has with truckers.
"We have been dealing with this issue for a long time," said Joe Rajkovacz, director of governmental affairs and communications for the Western States Trucking Association. "But now it's affecting nearly everybody who is an independent contractor.
About 17,000 truckers are registered to bring goods into the Los Angeles and Long Beach ports. Many of those are contractors who own or lease their trucks and don't receive workers' compensation or other benefits enjoyed by full-time employees.
"Most trucking companies are very fearful," Rajkovacz said. "People are looking for what they can do that is bulletproof."
For decades, unions and labor activists have accused port trucking companies of illegally using independent contractors to avoid paying costly benefits and to lighten their liabilities. But the practice has been standard since trucking industry deregulation in the 1980s despite years of strikes by the International Brotherhood of Teamsters and a volley of legal actions.
Court ruling
The union's argument got a boost last year when the California Supreme Court set out rules for what constitutes a company employee in the case of a delivery truck driver working for Dynamex Operations West Inc.
The court ruling laid out a standard that would make employees out of many truckers who own or lease their big rigs. It also laid the path for AB5, which largely codifies the ruling.
AB5 takes direct aim at ride-share services Uber Technologies Inc. and Lyft Inc., which used armies of freelancers to fuel their growth. While the regulation excludes some professions, such as doctors, lawyers and most hairstylists, many nontech workers will be subject to the rules.
Prev Next
For reprint and licensing requests for this article, CLICK HERE.