MEMORY BANKER
BETH KEAN • Los Angeles Museum of the Holocaust
Friday, October 4, 2019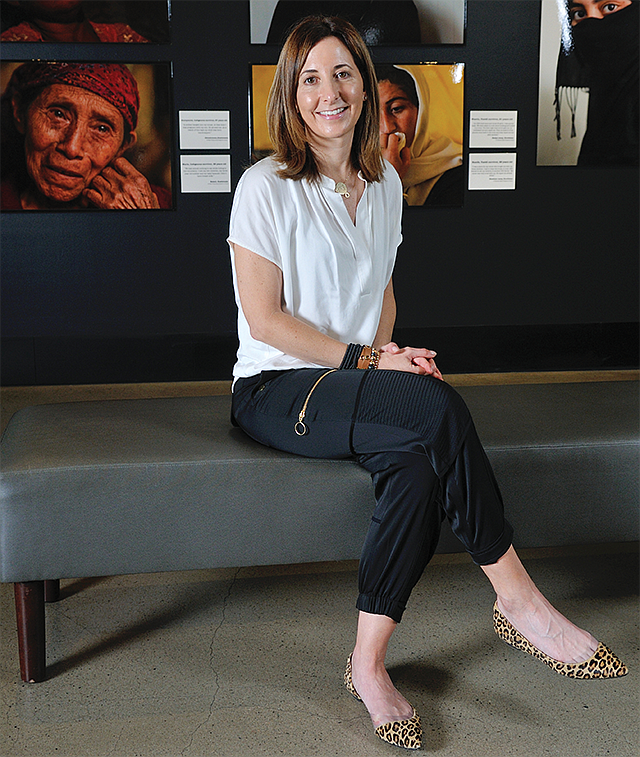 Beth Kean, chief executive of Los Angeles Museum of the Holocaust in the Fairfax District's Pan Pacific Park, said she is proud to be photographed for the Business Journal in a space used for touring exhibits. On this day, it's filled with a searing collection of photographs titled "Women at the Front Lines of Mass Violence Worldwide."
The museum usually focuses on a single period in history — 1933-1945. But the special exhibit includes Jewish Holocaust survivors, Roma women who survived genocide during World War II, indigenous women of Guatemala who were victims of internal armed conflict in the 1980s, and female Yazidi survivors of ISIS in modern-day Iraq.
Kean also said she is honored to be standing in this gallery because it is dedicated to her Polish grandparents, Arnold and Rose Rakoszynski, both Holocaust survivors.
It was Kean's grandparents who eventually led her to leave a high-powered career in wealth management to take the helm of the nonprofit museum, founded in 1961 by a group of Holocaust survivors who met when taking adult ESL classes at Hollywood High School.
The institution — the oldest survivor-founded Holocaust museum in the country — is not to be confused with the Museum of Tolerance in the Pico-Robertson neighborhood, which includes Holocaust materials but has a broad focus on worldwide racism and prejudice.
Kean grew up in New York hearing her grandparents' stories. When she moved to Los Angeles 22 years ago, she said, she visited the museum and met with survivors. "I heard their Polish accents, and it sounded so familiar to me," she said. "I felt at home and realized this is a place I needed to be part of." Kean served on the museum's board as treasurer and later as chairwoman before being named executive director in 2017.
The museum is launching a $25 million capital campaign for expansion, including a project to present holograms of survivors telling their stories.
Kean said she made her career switch in order to fight bigotry and hatred through knowledge. "We know what can happen when hatred goes unchecked," she said.
She dresses for a seamless transition between meetings with potential donors to museum tours to dressy evening events. "It's a bit of a stressful job," she admitted. "I'm always giving people tours, so I have to dress professionally but also have to think about comfort. I have to wear good walking shoes that are also chic — I mean look at these floors," she said, waving her hand at long hallways of hard, polished concrete.
"Because we have events at night, I have to wear things that take me from day into night seamlessly," Kean added. "So, I like to have my mule pumps handy." She also keeps workout clothes on hand in a stylish gym bag. "If I don't get my trail run in, or yoga, you don't want to be around me," she joked.
For reprint and licensing requests for this article, CLICK HERE.