LAX to Ban Curbside Ride-Hailing Pickups
Friday, October 4, 2019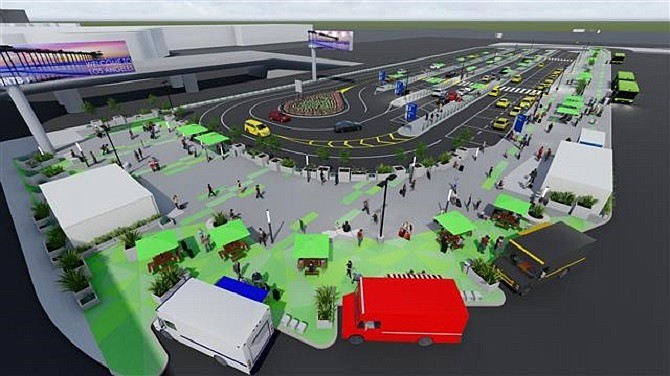 Los Angeles International Airport is set to ban curbside ride-hailing pickups as terminal-area construction work kicks into high gear, airport officials announced Oct. 4.
Starting Oct. 29, arriving passengers planning to use taxis or app-based ride services will have to take shuttles to a new pickup lot near the Southwest Airlines terminal. Passengers catching flights out of LAX can still be dropped off curbside at the terminals.
The move is part of the airport's larger reconfiguration of ride pickups that will also involve relocation of pickup points for hotel and car rental shuttle buses.
The changes are a response to mounting congestion in the central terminal loop where lanes are increasingly taken away to accommodate construction related to terminal upgrade projects and the $2 billion people-mover project. A trip around the loop can now take more than 30 minutes during peak travel times.
According to airport officials, roughly one-fourth of all vehicles using the central loop are operated by ride-share drivers, mostly under the Uber Technologies Inc. and Lyft Inc. banners. The ban is expected to remove about 15% of all traffic using the terminal loop.
It was only four years ago that Uber and Lyft were allowed to start curbside pickups at LAX. Prior to that, passengers had to exit airport property to access ride-share services.
The new curbside pickup ban only applies to arriving passengers who plan to leave LAX through services such as Uber and Lyft or via conventional taxis. Uber, Lyft and other ride-hail passengers on departing flights can still be dropped off curbside in front of the terminals.
Instead of curbside pickups, arriving passengers will have to take shuttles to a new lot, dubbed LAX-it, near Terminal 1, where they can be matched with rides. The pickup lot will have some amenities, including restrooms and food trucks. Similar ride-hailing lots have been in place for several years at entertainment venues, such as the Hollywood Bowl.
"LAX-it will provide an easy, efficient experience for guests using taxis and ride apps and reduce overall traffic in and around the central terminal area for all those driving to and from LAX and for our neighbors," said Keith Wilschetz, deputy executive director for operations at Los Angeles World Airports, the city agency that runs LAX.
The plan calls for shuttles to arrive at the curb at least every five minutes during peak hours, picking up passengers at each airport terminal. The shuttles will have a capacity of 26 seated and 14 standing passengers.
They will operate in a dedicated lane on the arrivals level where they will not compete with other airport traffic. To further speed passengers through, the buses will make a maximum of two stops before heading to the ride-hail lot. LAX staff will be available at each shuttle stop to help with luggage loading, answer passenger questions, and assist passengers with disabilities.
Airport officials said they expect shuttle rides to take no longer than 15 minutes. Wilschetz also noted that under the current curbside pickup system, passengers can sometimes wait up to 30 minutes for rides on Uber or Lyft and that occasionally the drivers cancel because they cannot get through the congestion to the pickup point.
Other airports facing mounting congestion from ride-hailing services in their terminal areas -- including San Francisco International and Boston Logan International -- have also banned curbside pickups.
For hotel shuttles, pickup points will be relocated from the lower level to the upper level, meaning arriving passengers will have to take stairs or an elevator. Rental car shuttle and shared-ride van pickup points will also be relocated, though they will remain on the lower level.
Education, energy, engineering/construction and infrastructure reporter Howard Fine can be reached at hfine@labusinessjournal.com. Follow him on Twitter @howardafine.
For reprint and licensing requests for this article, CLICK HERE.