Forever 21 Plots a Comeback
RETAIL: After Chapter 11, chain plans ecommerce rebirth
Friday, October 4, 2019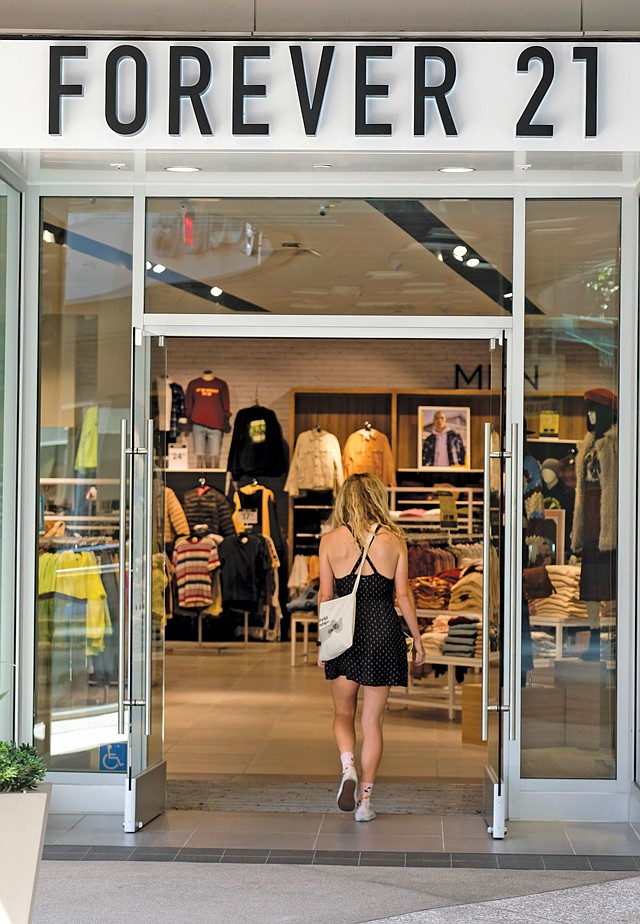 The fall of Forever 21 may be a bad sign for shopping malls, which have been hit hard amid a string of high-profile closings by traditional retailers.
But it doesn't necessarily signal the end for the fast-fashion brand itself.
Forever 21 Inc. says it plans to come back strong by leaning into the online shopping space where ecommerce brands like Fashion Nova and Revolve Group Inc. — some of the chain's fiercest competitors — make all their revenue.
"A big turnaround is possible," said Scott Stuart, chief executive of Turnaround Management Association. "I think as a restructuring strategy to try to create balance between ecommerce and the visibility of its stores nationwide is a positive in the current environment."
In a move that had been anticipated for several weeks, Forever 21 filed for Chapter 11 bankruptcy protection on Sept. 29. The Lincoln Heights-based company cited a steep drop-off in mall traffic and problems stemming from its rapid international expansion as key reasons for the filing.
"This was an important and necessary step to secure the future of our company, which will enable us to reorganize our business and reposition Forever 21," Executive Vice President Linda Chang, daughter of the company's owners, said in a statement.
Family-run Forever 21 — which started in 1984 as a single store in Highland Park and became a retail phenomenon by selling cheap but trendy clothes — owes $347 million to vendors and has about $227 million in loans, according to Jonathan Goulding, the company's restructuring officer.
Forever 21 expects to shutter as many as 350 stores worldwide, including up to 178 in the United States. The chain has 785 stores, with more than two dozen in Los Angeles County. The company said the restructuring will allow the chain to return to its core business.
At its peak, Forever 21 had $4.1 billion in annual sales and 43,000 workers. The rags-to-riches story of founders Do Won and Jin Sook Chang, a Korean immigrant couple, embodied the possibility of American entrepreneurism.
But the company was challenged by the shift toward online shopping and falling interest in fast fashion. Online retailers like Fashion Nova and Revolve cut into Forever 21's customer base while interest among Generation Z and millennials in secondhand and vintage clothing made disposable fashion less appealing.
Then there was the chain's weak digital strategy. Unlike its rivals, Forever 21 failed to successfully use social media to drive ecommerce.
Although Forever 21 has 16.4 million Instagram followers, it hasn't leveraged its following like Cerritos-based Revolve, which relies on influencers to peddle its goods and drive sales.
Online transactions account for 16% of Forever 21's sales, according to court filings. That's far below the industry average. But Forever 21 is betting it can expand its online customer base by 20% in 2019. The brand recently launched a mobile app for shoppers to rate their style and added a "Shop the 'Gram" section to its website.
Still, the company has had missteps in its recent forays into the world of influencers. Singer Ariana Grande sued the company for $10 million earlier this year, accusing Forever 21 of using a lookalike to sell products on social media sites.
To appeal to a broader audience online, the company said in filings, it will now look at carrying brands such as Levi's, Reebok and Champion in its online stores. That's a massive departure for the retailer, which is known for its copycat fashion and was sued by Adidas for knocking off its brands.
To help navigate a turnaround, the company added three board members who have worked with distressed brands. They include Russell Belinsky, a lawyer at the Los Angeles office of Duff & Phelps, which provides valuation and merger advice, and Lisa Gavales, a former executive at Bluestem Brands Inc., a holding company for ecommerce retailers.
Forever 21 also brought back Larry Meyer as chief strategist. He was an executive with the company from 2001 to 2012. Meyer left Forever 21 to become chief executive of Uniqlo USA. Both companies sought rapid expansion under his leadership.
In the 1990s, Meyer was chief financial officer at Toys R Us Inc. and later at children's retailer Gymboree Corp., both of which were among the wave of brick-and-mortar chains that shut down their stores after declaring bankruptcy.
Marcus Colabianchi, a partner at law firm Duane Morris who focuses bankruptcies, said those experienced hands can help retailers get through such a complex process.
"You want those that have gone through the process to be part of your process; it educates the board," he said.
For reprint and licensing requests for this article, CLICK HERE.