Solar Startup Heliogen Looks to Power Plants, Refineries
ENERGY: Company attracts backing of Soon-Shiong, Gates
Friday, November 29, 2019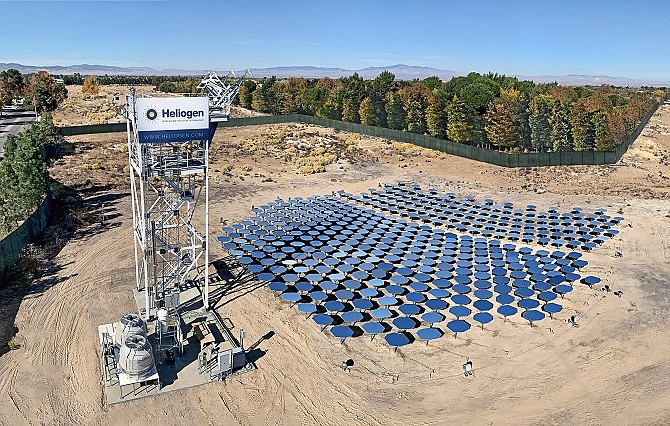 For decades, solar technology experts have sought to harness the sun to generate electricity.
But Pasadena-based serial entrepreneur Bill Gross is looking to change that with a new technology that swaps fossil fuels for solar energy to directly heat heavy industry units such as kilns, furnaces and forges.
Gross, founder of the IdeaLab tech startup incubator in Pasadena, last month launched one of his most ambitious efforts yet: Heliogen Inc., which uses solar thermal technology to produce heat intense enough to turn limestone into cement or to forge steel.
"For the first time, we can now heat chemical reactions directly using solar power instead of fossil fuels," Gross said. "That opens up the huge trillion dollar-plus industrial market to the use of renewable energy."
The technology is still in its infancy. Heliogen breached the 1,000-degree Celsius (1,800 degrees Fahrenheit) barrier for the first time last month at a test plant in Lancaster.
But the startup still has to prove it can sustain that temperature and go even higher if it wants to expand the types of industrial processes it can heat.
Heliogen has already attracted two big-name billionaire investors: Microsoft Corp. co-founder and philanthropist Bill Gates, and biomedical magnate Patrick Soon-Shiong. The latter is investing through Nant Capital, a division of his Culver City-based umbrella company NantWorks.
Menlo Park-based early stage venture capital firm Neotribe Ventures has also invested; Neotribe's founder and managing director, Swaroop "Kittu" Kolluri, has a seat on Heliogen's board as does Soon-Shiong.
Gross declined to say how much has been invested to date in Heliogen; a company spokesman said that information was proprietary. The company did disclose it has roughly 25 employees at its Pasadena office.
In the two weeks following the launch announcement, Gross said the company had fielded more than 1,000 inquiries from companies interested in using the technology.
Pavel Molchanov, equity research analyst in the Houston office of St. Petersburg, Fla.-based Raymond James & Associates Inc., said such interest is to be expected.
"There is undoubtedly plenty of appetite from industrial enterprises for decarbonizing their operations," Molchanov said. "In contrast to electric utilities, which already have a wide range of low-carbon technologies to choose from, industrial players have not historically had this choice."

Sun power
The technology behind Heliogen grew out of Edisun Microgrids Inc., a venture launched nearly three years ago by Gross. That company developed a miniature tracking device that could be placed in solar photovoltaic panels, allowing the panels to directly align with the sun throughout the day.
Prev Next
For reprint and licensing requests for this article, CLICK HERE.