Multifamily WeHo Site Brings $21 Million
Element fetches second highest price in the city this year
Friday, November 29, 2019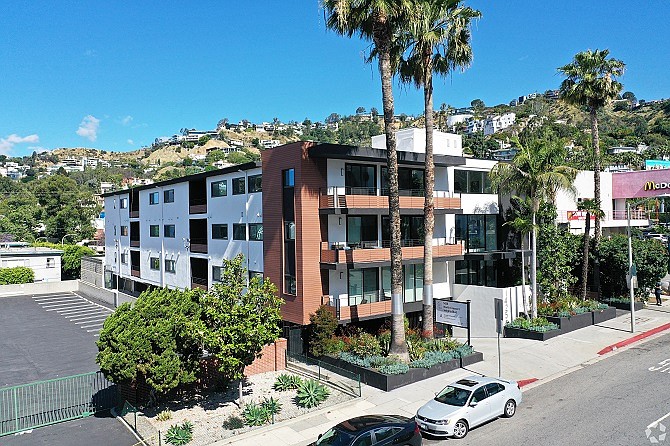 L.A.-based Roka Properties acquired the Element WeHo, a multifamily property in West Hollywood, for $20.6 million.
The seller was a New York-based investor.
CBRE Group Inc.'s Dean Zander and Chris Tresp represented the seller in the transaction.
The seller had acquired the property in 2015 for $8.9 million and renovated 22 of the 24 apartments. Updates included new doors, windows, in-unit washer-dryer additions and stone slab counters.
The 24-unit Element WeHo property is located at 1425 N. Crescent Heights Blvd. It was 90% leased at the time of the sale.
"At $856,000 per unit, the sale of Element WeHo represents a record achieved in West Hollywood for a property of its size and vintage," Tresp said in a statement.
"The impressive sale metrics were well-justified by the superb renovation and repositioning of the property by the ownership group," he added.
The property was built in 1959 and has a fitness center, courtyard and pool.
It was the second largest multifamily sale in West Hollywood this year, according to data from CoStar Group Inc.
The largest was the $103.2 million sale of the Domain Apartments, a 166-unit property at 7141-7155 Santa Monica Blvd. RREEF Management Co. purchased the property from Massachusetts Mutual Life Insurance Co. and Trammell Crow Residential in August.
That property was 92% leased at the time of the sale and includes 10% affordable housing units.
Multifamily is expected to continue to be a valuable asset class in 2020, according to a CBRE market outlook report.
The report did, however, mention industry concerns about rent control.
California recently approved rent control limiting annual rent increases to 5% after inflation and protecting tenants with barriers to eviction. The law goes into effect Jan. 1.
For reprint and licensing requests for this article, CLICK HERE.